Archive for October, 2009
Ok, we're back on speaking terms with the basement. After it gave us quite a hard time when we began our Dryloking-interrupted-by-oh-no-is-that-mildew adventure (read all about that right here), we're feeling victorious after conquering the first step towards turning our cinder block insect shelter into clean and functional storage space.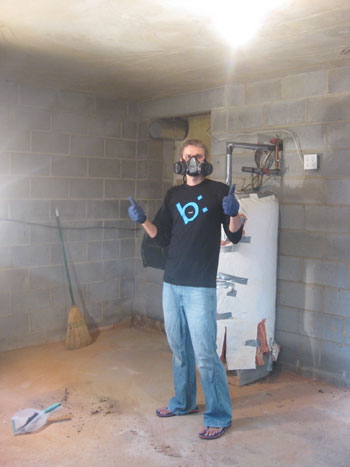 If you recall, we had already faced the grueling disappointment of mildew spots making their way through our first coat of white latex-based Drylok (which is like painting with Elmer's glue, btw)…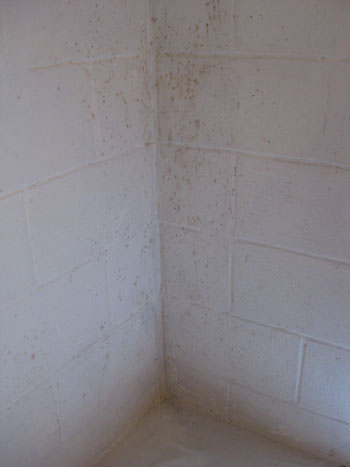 So with our second round of bleach-treatment having tamed the mildew a bit more, we crossed our fingers as we broke out the powerhouse oil-based Drylok (as recommended by the experts at True Value for being even more protective and durable).Talk about stinky. Sheesh. Thank goodness for our professional grade gas masks (we've read about people passing out without them when it comes to the oil-based formula). When it came to the consistency, it was like we had traded Elmer's glue for natural peanut butter (you know, the kind that you have to stir to mix the oil in?). But we furiously trudged ahead as quickly as possible while October graced us with a convenient little "heat wave" last week (Drylok has to be applied at 50+ degrees so last week's highs in the 70's were a blessing to our otherwise unheated basement).
After two 5-hour days and eight additional gallons of Drylok (yes, eight!) we finally finished slathering a second coat on the walls and floor plus two complete coats on the ceiling. And with that we officially sealed our beige box of a basement (yup, that's 13 gallons all together, totaling 325 beans- thank goodness for our True Value gift card!). And a few hundred bucks is still a small price to pay for a weatherproofed basement that can now serve as usable storage forevermore (in fact after the first coat we had about a week of rain and nary a drop of moisture seeped through, so the second coat convinced us even further that our basement was completely waterproofed for the long haul). And despite the premixed tan Drylok color being a little fleshy for our tastes (they offer it in white, tan, gray and blue- we went with tan to make it feel a bit less stark down there), it actually looks pretty good- especially compared to the raw cinder block "before."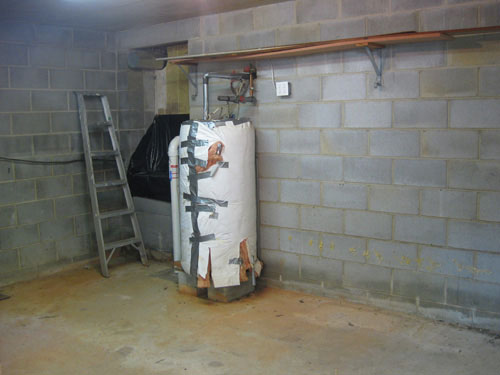 But the best part by far is no mildew (!!!) – even now, a week and at least two rainstorms later. Zero. Zilch. Nada. I guess the guys at True Value were right… that oil-based stuff is way better than the latex version.*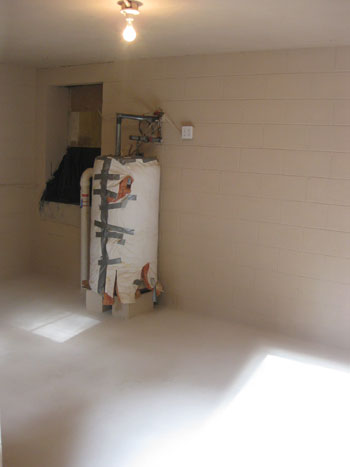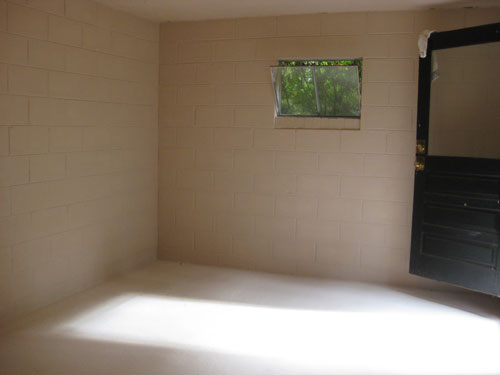 So with our Drylok finally packed away, this weekend we took care of the last bit of painting prep: the floor. See, we opted to use tan Drylok everywhere instead of painting with tan latex paint over white Drylok because painted Drylok can't be re-Dryloked, which is recommended every 15+ years or so. But we wanted to bring some color to the floors to break up the big beige box of a basement (all of our moisture problems stemmed from the porous cinder block walls, not the concrete floor, so we're confident in painting over it without worry that we'll need to re-Drylok the floor in a decade or two).
And in the spirit of being cheap using what we have, we broke out some leftover chocolate brown porch and floor paint from our sunroom floor-painting project (Valspar's Oil-Based Porch & Floor Paint in "Brownstone" in case you're wondering), slapped on one thick coat, and called it a day. We love that the dark color will hide dirt and outdoor footprints (since it's a separate entry basement that's always a plus because we'll always be trudging in from outside) and we also appreciate that the rich tone works with the rest of our home's mocha flooring to make it feel like a part of our casa, even if it is a bit disconnected.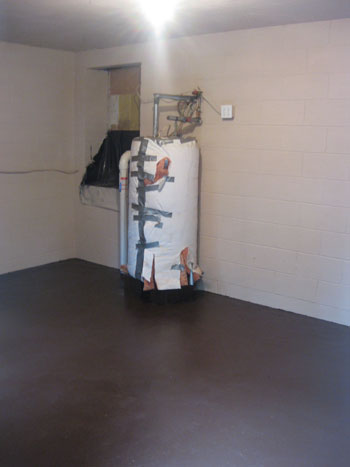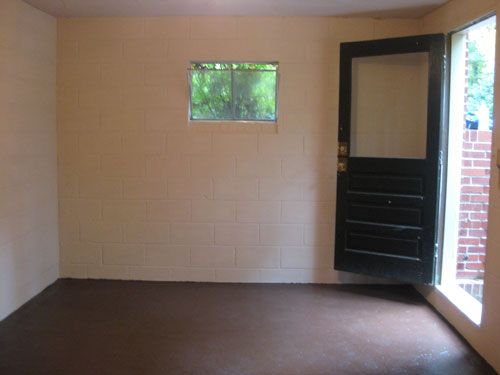 But of course this is all still just the beginning of the big basement overhaul. Once that floor paint has a few days to dry, we'll be back in there planning how to minimize eyesores like the big water heater in the middle of the room, brainstorming some storage solutions, tidying up a few more areas – including the access to our crawl space – and hopefully finishing this basement makeover before the whole lack-of-heating-down-there thing really makes this project uncomfortable.
Oh and while we're on the subject, tell us what you guys use your basements for. Are they storage only? Completely abandoned? Livable square footage with extra bedrooms and bathrooms? Man caves? Rooms where monsters live like in Home Alone? Spill it.
*I also mentioned our basement project to my very-expert-in-construction friend last weekend (at his wedding – I know, great "you just got married, but let's talk about Drylok" conversation skills on my part). First question he asked was "you used oil-based, right?" I quickly responded "of course," too embarrassed to admit our first coat mistake. Lesson learned.

&nbsp&nbsp&nbsp
Figuratively and literally. And we need your help.
Last week the drain in our bathtub started to act up a bit. Nothing too alarming since growing up with three sisters taught me that shower drains periodically get a little hairy and need some cleaning to keep going with the flow. Well, then our plumbing world came to a halt. The drain went from slowly letting water through to a no-drop-shall-pass policy in the course of one post-basement-painting shower.
Annoyed, but mostly unphased, we broke out some tried and true de-clogging techniques:
Fishing around with our fingers (gross, we know) dislodged a decent-sized Sherr-ball, but didn't open the floodgates as we expected.
Plunging released a few more items we'd rather not have seen again, but still no change in water level.
Even our 25 foot-long drain snake (i.e. auger) was a waste of time (though we had low expectations for it anyways).
So then we broke out the boiling water trick that had saved our kitchen sink last year. After five attempts we had only succeeded in adding more water to our tub.
That's when we turned to a technique suggested by some of you, a half-cup of baking soda followed by a cup of vinegar. We did that, watched our little drain volcano fizz, let it sit for five minutes, then flushed with hot water. Still no luck. Even our second attempt provided no relief, just more science project flashbacks.
Sherry even tried the $3 As Seen On TV quality Zip-It tool that someone suggested online. It didn't yield anywhere close to the über disgusting results shown in the video that we found below (THIS IS NOT ME, AND THAT IS NOT OUR HAIRBALL- in fact our Zip-It came out totally clean)- which we're half grateful for and half frustrated by.
We had renewed hope this weekend after detailing our issue to an expert at the hardware store. He weighed a couple of options for us, and ended up recommending an 100% biodegradable enzyme product called Roebic Laboratories Bacterial Drain Cleaner. It involved mixing two tiny capfulls into 12oz of warm water then dumping it down the drain to sit overnight. The next morning we were pleased to see the twelve ounces of water solution was completely gone (as in, some water had slowly drained!). But our smiles disappeared as soon as the tub started filling up again when we turned on the faucet.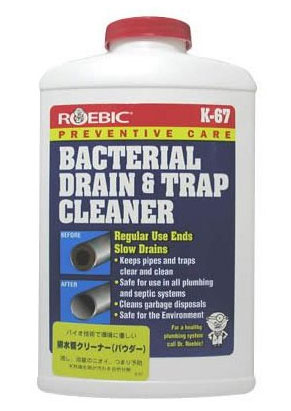 So after two nights of trying the Roebic solution and more showers-turned-baths than we'd like to admit (each followed by manually emptying the water that collected in the tub with a bucket, sigh) – we're just about ready to call in professional help….
… unless, of course, you guys have any genius solutions for us! Seriously, we'll try anything (well, anything within reason). Please shower us with suggestions – wait, scratch that water metaphor. Please inundate us with any drain unclogging tips that have worked for you (which we hope will end up solving this case and thereby serving as a great resource for anyone else with drainage issues). You know we'd love to DIY this bugger and declare victory over our clog-that-won't-quit and we're not ones to give up without a fight. Fingers crossed we'll get 'em in round six!
Update: Oh no we di'innnnnt! We just unclogged the dastardly drain. Woo to the hoo. Here are the details…
&nbsp&nbsp&nbsp