File this under sweet things for newlyweds (and beyond!). It's another one of my husband's cute ideas, and this time it's not vacation related, it's actually food focused. Yum. In an effort to keep us cooking in our new kitchen (and to encourage us to expand our recipe repertoire) John suggested that one of us select a new recipe every week (which can be found online, in a magazine, in a cookbook, etc) and cook it for the other person.
It's fun to research recipes every other week when it's my turn, and it's even more fun to devour John's delectable dishes on the weeks that are his responsibility. And best of all, we purchased a cute fabric covered notebook to document each and every recipe (some even have pictures when we remember to snap a few before digging in). Oh and we're responsible for naming our creations as well- some favorites include "John's Coco Loco Asian Chicken" and "Sherry's Nasty Italian Steak Mash"- they're delicious I swear.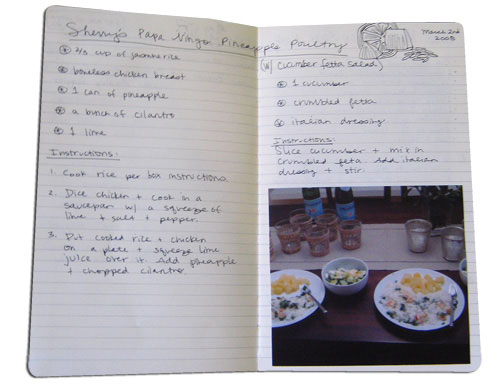 So why not start your own little personal cookbook full of new and exciting recipes? The only thing you have to lose is well, the ability to slip into those skinny jeans. But seriously, it's a fun family tradition that we might just pass on to our kids as well someday. Heck, if we have enough of 'em maybe we won't have to cook at all anymore…
&nbsp
&nbsp&nbsp&nbsp

&nbsp

&nbsp
If you enjoyed this post, please leave a comment or subscribe to the feed and get future articles delivered to your feed reader.
10 Comments
This comment section is currently closed.