*** This giveaway is now closed – see who won below! ***
After 10,000 interesting name origin stories, random.org has selected our winners as… Beth (who says "my dad picked it out and to this day I'm whole heartily a daddy's girl.") and Chelsea (who's name story is: "My parents got my name from the 1981 movie, On Golden Pond. 'Chelsea' was played by Jane Fonda") Congrats!
I realize from the name Online Fabric Store, you might have trouble guessing what this online store sells, so allow me to solve that mystery for ya. Fabric! And seemingly every kind of fabric – like upholstery, decor, quilting, apparel and even garden fabric. Which means that this week's two winners (who are each getting $250 to spend there) could tackle anything from sewing some pillow covers or making a duvet to redoing the curtains in an entire room. And the cool thing about their system is that the more yardage you buy, the cheaper each yard gets – and once you get over that $50 mark, your shipping in the US is free.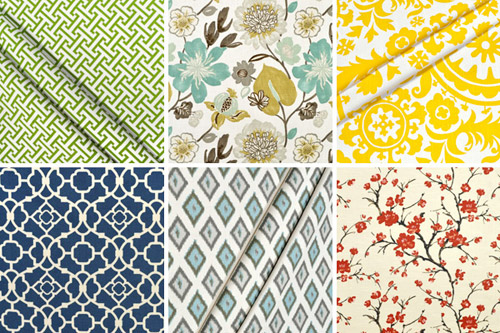 PRIZE: A $250 gift card to Online Fabric Store
TO ENTER: Comment on this post with the words "FABRIC ME!" and tell us…
BONUS QUESTION: …what's the meaning behind your name? Does it carry some special significance within your family? Or is there a cool story behind how your parents picked it? Have you always wished it was something else?
NUMBER OF WINNERS: Two
PRIZE SHIPS: Wahoo, this giveaway is available worldwide!
USUAL STUFF: One entry per e-mail address is permitted. The winners will be selected using random.org and announced on Thursday as an update to this post. That's right, come right back here on Thursday for the announcement of our winners. Good luck…
***COMMENT ISSUES? If you're trying to enter but keep getting a "duplicate comment" warning, click here to see how to solve it!
Note: We aren't paid or perked for hosting these giveaways, we just do 'em to thank you awesome folks for stopping in. See our Giveaway FAQ page for more info. Pics courtesy of Online Fabric Store.