You know how we hid a secret note in our first house to hopefully be discovered in a few decades? Well, we found one in our new house! It doesn't appear to be very old, so we're guessing it's from the previous owners (who lived here for 22 years, so it's still pretty amazing). Where was it? Tucked behind the large wall mirror in the hall bathroom. See that tiny nub sticking out under that wonky orange arrow?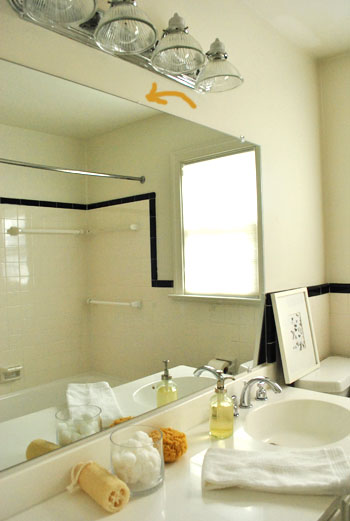 While John was giving Clara her bath I was hanging out with them slash standing-around-staring-at-things-I-can't-wait-to-update when I looked up and saw it peeking out of the top of the mirror. So I tugged on the corner, revealing a nice little printed note.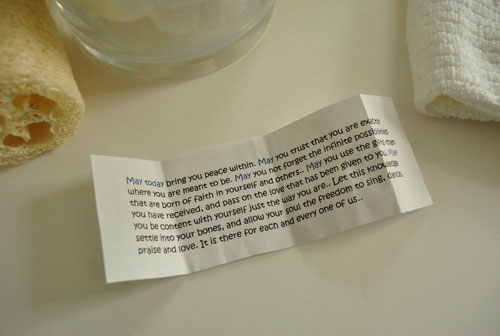 In case you can't make it out, it read:
May today bring you peace within. May you trust that you are exactly where you are meant to be. May you not forget the infinite possibilities that are both of faith in yourself and others. May you use the gifts that you have received, and pass on the love that has been given to you. May you be content with yourself just the way you are. Let this knowledge settle into your bones, and allow your soul the freedom to sing, dance, praise, and love. It is there for each and every one of us.
Isn't that sweet? I dunno if it's leftover pregnancy hormones or what, but it totally made me tear up. Because it's exactly how we feel. Like we're exactly where we're meant to be. How cool are the past owners of our house for hiding this little gem? We think they're the bee's knees.
Have you guys ever found any messages in your home? Any initials with hearts scrawled in a kids closet, letters carved into concrete outside, or beer cans and old newspapers in the walls? Somebody tell me you found vintage "men's magazines" somewhere. Scandalous.