Recently I was at Target (where else would I be?) with John's sister and we found ourselves meandering down the candle aisle when she asked me for a recommendation. John and I have always liked Method candles and we like Method even more now that we've greened up our home (since their candles are made of soy, they're a lot less of an air-quality issue than most of the other under-ten-dollar options).
So of course I pointed to the chic little glass Method candles and Emily grabbed two that tickled her fancy. One for the buffet between her living and dining area…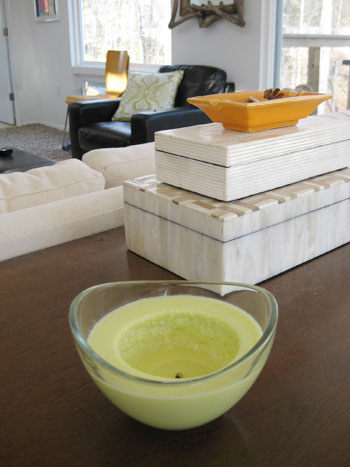 …and one for her kitchen counter: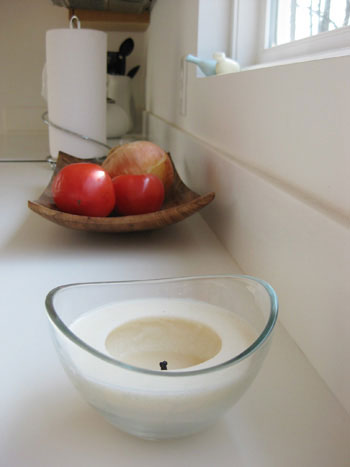 Aren't they purty? And here's the best part… we brainstormed a way that they can keep on giving: by reusing the glass containers as dip jars or little ice cream bowls when the candle is spent. Wouldn't they be cute with guacamole and salsa or a little bit of mint chocolate chip? I think they'd be effortlessly adorable (and blissfully free), even just stacked on an open shelf somewhere waiting to be used for everything from M&Ms to mixed nuts.
Oh and here's a tried and true tip for getting the old wax out of a glass candle holder: just stash it in the freezer for about an hour. The ice cold air will cause the wax to shrink up a bit, thereby popping it out of the glass jar, bowl, votive or cup (usually in one easy-to-remove piece). Wax on, wax off. Then just wash them with hot water or run them through the dishwasher to thoroughly clean them before putting food or condiments in 'em. Easy peasy.
How would you guys repurpose the bowls above? And while we're on the subject, what are your favorite candles these days? Any soy ones that really light your fire?
Wanna see more of John's sister's super fly house? Click here to crash her pad.