As many of you guys know if you follow us on Instagram or Facebook, Katie B and I did some thrift store trolling while we were in Destin last week. Which is pretty much a tradition at this point (check out our past adventures here and here). We didn't have our video camera on hand, but we snapped a junkload of photos for you guys. So without further ado, here are my finds – and you can see Katie's over on her blog if you'd like.
I'll lead with my favorites: these amazing woven twin-sized headboards. They were $29 each and I am COMPLETELY regretful that I left without them. Picture them painted white – or even soft blue or bold red. They're almost quatrefoil-ish in shape (picture the bed going on the bottom to complete the four-things-jutting-out shape), and I lurv-lurv-lurv them. Not only was there no room in the car for them, we have daybeds (two of 'em) so I just couldn't convince myself they were meant for our house. In my mind, they're the ones that got away though. Single tear. I hope someone takes them home and pets them every night.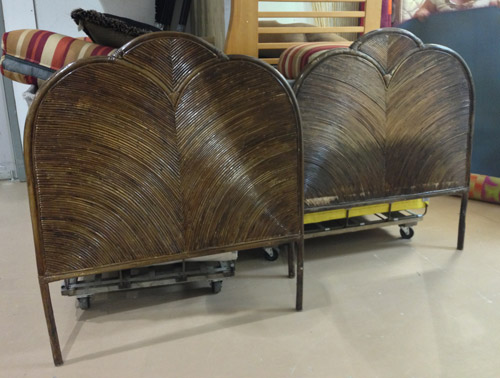 I thought this wicker based table was kind of cool, and although I wasn't crazy about the rounded-square glass shape, couldn't you see it with a large round wood top instead? Maybe all painted charcoal like a pedestal table with extra texture in the base?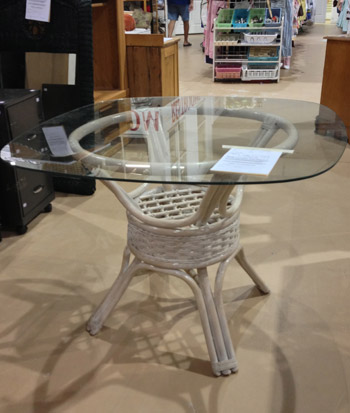 These two frames were $2.99 and although they're looking pretty gilded, I thought with some paint on those frames (white, black, yellow, emerald… anything really) and some new fabric inside of them, they could be really fun for a frame collage (it's nice to break up a lot of squares and rectangles with a few curvier shapes). The little dudes inside of them could even be fun if they were painted and added back into the mix, but they also could be removed completely so the new fabric could be the star.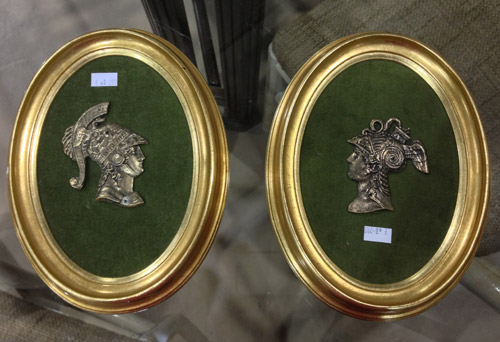 This leggy wooden side table was $29, which isn't cheap but it's also solid wood so I think it could be sanded down and oiled/stained or even painted (cottage red? crisp white? soft gray?) and used as a bedside table or an end table in a living room. You could even slip a woven basket underneath it for added storage.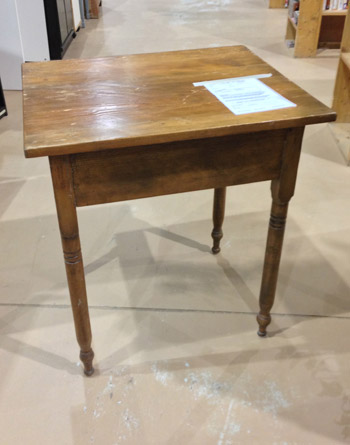 There were four of these guys for $19 each I think – and although they look a little bland right now (they remind me of oatmeal) I think some glossy white or black paint on the chair part with a new seat cushion (maybe an ikat or a chic little polka dot?) would completely change them. Here's another color/fabric idea. And of course there are these. The nice thing about chairs like this is that the seats are so easy to remove, both for easier chair-spray-painting and for a simple staple-gun-upholstery-session.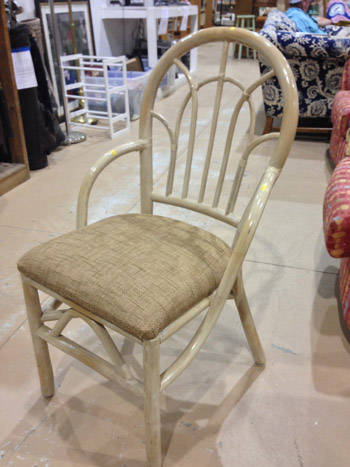 How cool would this sold wood three-drawer dresser look with a treatment like this or this or this? Just picture it stenciled, stained, hand-painted, or even nail-head studded with new hardware. Me-ow right? Or perhaps you're more of a wood purist who'd rather forgo those detailed designs? I could also see this stained a rich brown color (or even scrubbed with vinegar and water to weather it a la Restoration Hardware items). Add some cool knobs (I keep picturing bright white faceted ones for some reason) and you're golden. It was $59, so it wasn't dirt cheap, but it was solid wood and around the same price of a not-solid-wood dresser from Ikea.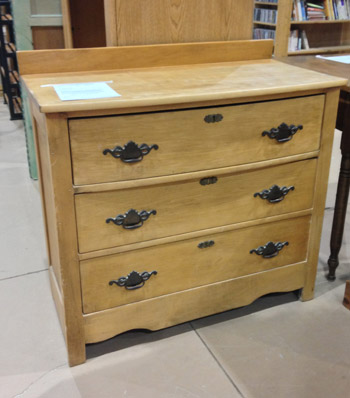 These chairs were $15 each (there were four of them) and I didn't mind them as-is (the medium wood was nice, and the bold cushions were in good shape) but they'd also be easy to paint/stain and recover for a completely new look. I could see them painted in a soft platinum color with a navy velvet seat. I know. I'm fancy.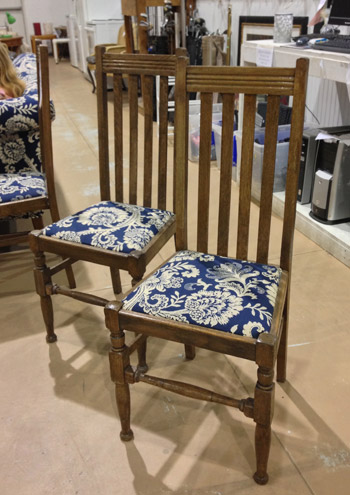 This little green light was another find that reminded me of something from Pottery Barn kids, and at $6 it was a lot cheaper. I prefer to buy newer-looking lights secondhand unless I'm going to rewire them (or pay to get them rewired by a pro) since older lamps can have weathered/faulty wiring which can result in scary things like shortages or fires.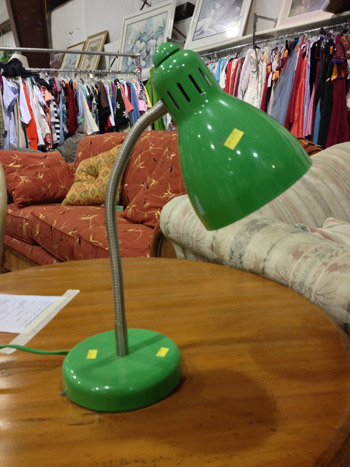 There were tons of textile finds as well, which can scare some people, but running them through the wash on high heat or the sanitary setting (even with some bleach if you're extra nervous) can clean secondhand clothes, sheets, tablecloths, etc. Gotta make Macklemore proud. So I never shy away from the idea of giving them a new home if you see something you love. This high contrast chevron-ish comforter was queen sized and $19. I could even see someone buying it just for the fabric… you could cut it up and make pillows, curtains, roman shades, etc. And it would break down to being around three bucks a yard.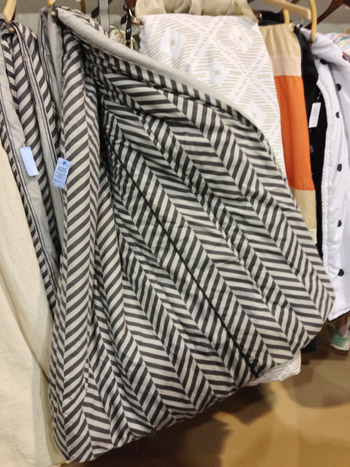 This twin sized Ikea duvet was going for $5.99. Once again it would be awesome to use for the fabric (a little red-heart table runner with matching napkins would be cute for V-day) or you could just toss it on a twin sized bed and call it good.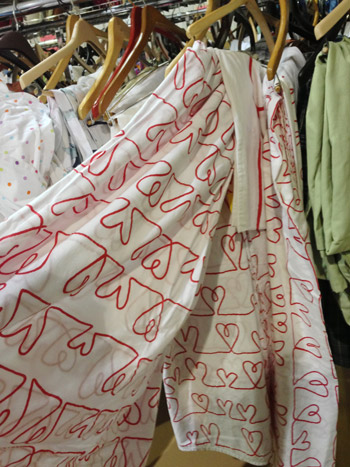 There were also a lot of lace tablecloths, which I pictured dying for a more modern look. How cool would a blue ombre pattern be? Or even just a solid emerald or plum. You can also use lace as a "stencil" (lay it over an old table and spray paint over it, then remove it to see that cool lace pattern translated onto the table).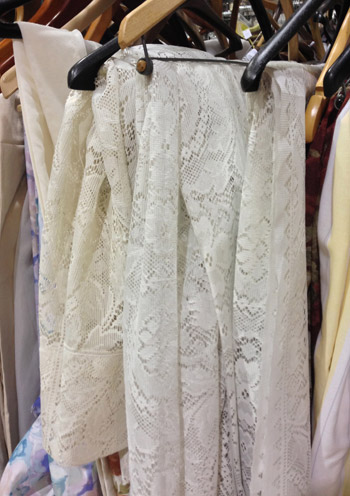 This polka dot twin sheet set had me at hello. It reminded me of the sets that places like Pottery Barn and Serena & Lilly sell, and it was 100% cotton (which is always something I look for in sheets). At $7 for the set, I was sold. These babies came home with me and are already on Clara's daybed. There's not much the girl loves more than polka dots these days, so she's just as smitten as I am.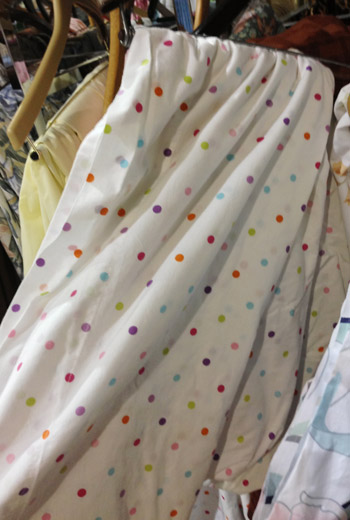 This is just a crazy picture of me displaying my sheet set like Vanna White.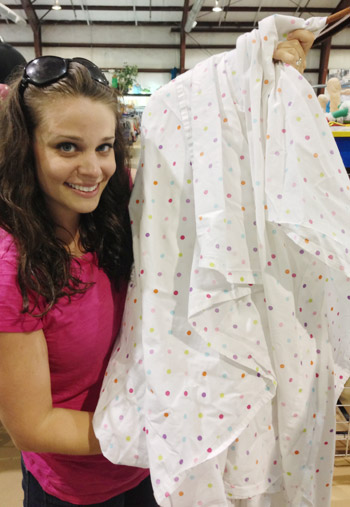 Duck!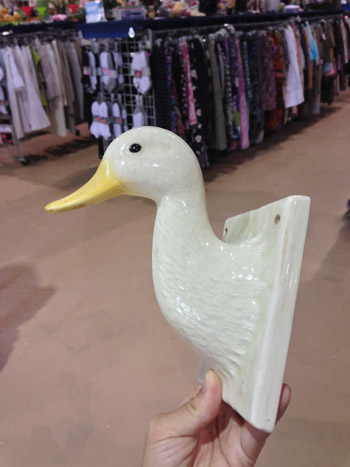 That was $1.99 and very enticing, but somehow I held it together and left him behind. I think my ceramic animal count might be in the double digits, so I thought it best to leave Mister Mallard for someone else.
Oh and don't forget to check out books at thrift stores! This one was $3.99 and giant (the picture doesn't do it justice – it was easily 18″ tall).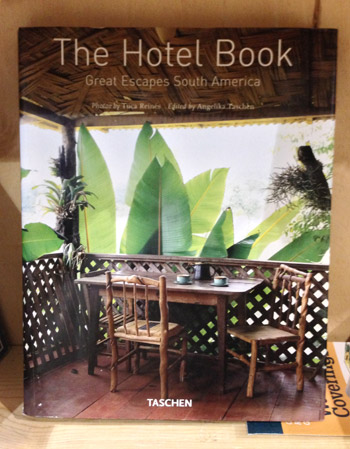 It had gorgeous color photos that could be cut out/blown up/framed and also would just be pretty on a coffee table or console (either closed with some other books stacked on top, or open to a pretty page. I'd switch the page every week or so, just to keep it spicy. I know you guys, I'm a wild woman.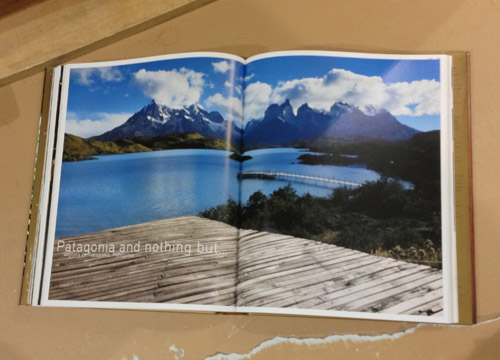 So there you have it, my thrifty finds. In the end I only popped one tag (those cute polka dot sheets) but the thrill of the hunt is the best part. Plus John would have had my head if I came back with ten bags of stuff to cram into the car for the drive home. #carpackingtyrant
What are you guys hunting for these days? Any thrift store scores going on in your neck of the woods? Do you ever go second-hand hunting on vacation? I'm a fan.