Our new washer and dryer are here!
Which of course means that our old ones are not. Fortunately our plan to craigslist them worked out swimmingly (thanks for buying 'em Leslie Ann!) even if it did leave us appliance-less for a few days (as you saw in the video house tour).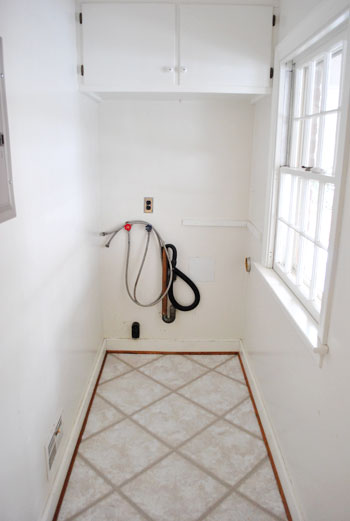 By selling them for $250 thanks to good old craig and his list, we in effect brought our already-super-discounted total down from $638 to $388. Although after the wall plug, the stack kit, and taxes it was closer to $460 spent. Either way, we're still feeling crazy good about the deal – and we're glad that so many of you were able to take advantage of it too (whether you also scored the additional 20% off that we begged for or the amazing base price of $399 per machine that Lowe's advertised online).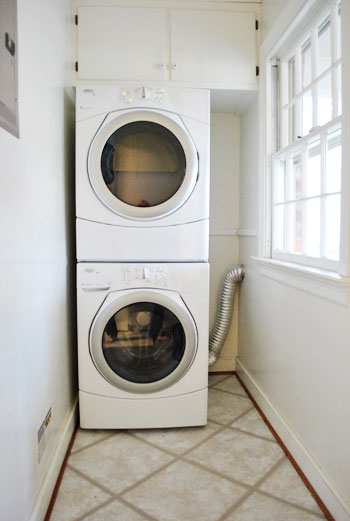 Delivery and installation by the Lowe's team was mostly uneventful, although they did forget to bring the stack kit (the thing that secures the dryer atop the washer) – even thought we ordered it on the same receipt as the washer & dryer to keep things organized – so one guy had to go back to the store to get it, adding about 30 minutes to the process. And we're pretty sure the guy that stayed back used part of that time to catch a catnap at our kitchen table while he waited (either that or he's just a heavy breather).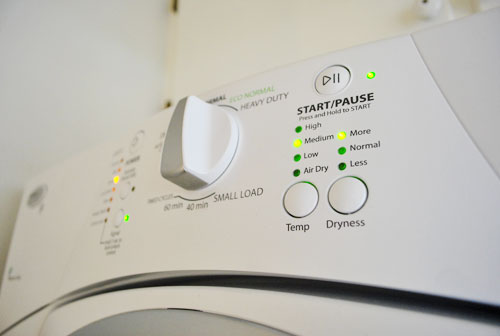 Even though these Whirlpool Duets are higher capacity than our previous Duet Sports, they have a sightly simplified control panel up top, which is fine with us. As long as they get our clothes clean and dry, we don't mind. And so far, so good.
Except for one thing. Our washer seems to think it's one of the Seven Dwarfs. It's got this whole "whistle while you work" thing going on. We noticed during our first load that it made a loud high-pitched whistle whenever cold water was being pumped in. It was literally whistling while it worked.
After adjusting the cold water supply a few times I couldn't make it any better, so I called the Whirlpool people and they came out yesterday to take a look. They said it's not a totally uncommon issue, and it's just a bum supply valve in the washer itself. Boo. But they've ordered the part and are scheduled to come back next week to fix it – which is all free since it's still under warranty (we didn't purchase any extra warranty from Lowe's but they're sold with some sort of built-in warranty for a year, which is really nice – especially given this problem).
In the meantime, we're just doing our best to distinguish when the laundry starts and when the tea kettle's boiling. Same exact sound. I kid you not. We're also already starting to mentally plan the shelves that we want to someday build next to the appliances and under the window for shoes, laundry supplies, and other mudroom-y junk. Someday being the key word (but that doesn't stop us from thinking up a million different approaches).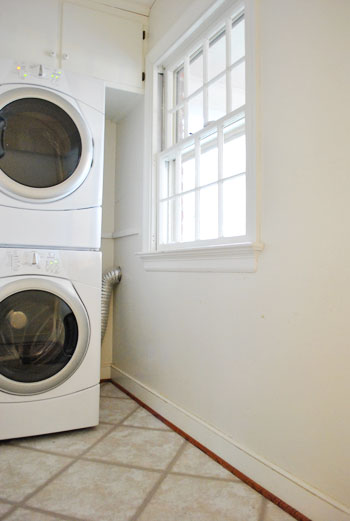 Any other appliance delivery success or horror stories out there? I'm sure someone can top ours.
UPDATE: Due to a somewhat surprising amount of inquiries about my 5'2″ wife (I like to call her pocket sized) being able to reach those top buttons, and three requests for an actual photo of Sherry demonstrating that fact, here you go: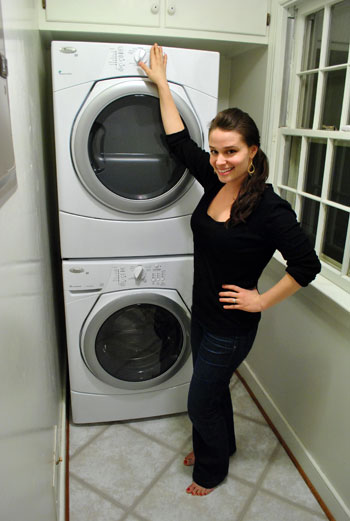 It's really not a stretch for her at all. Notice that her arm isn't fully extended and there aren't even tippy toes going on. Atta girl.

Psst- Thanks to signing up for Lowe's email list, I just got an alert that they're doing 20% off all Samsung Appliances that are $229 or more through Monday. You can score that deal at your local store or by checking out their website (you don't need a coupon code or anything). Just thought I'd pass that along in case anyone's still in the market.
Pssssst- The repair guys came out to fix our new washer within a week and eradicated the annoying whistle issue. Happy happy joy joy.