As of 5:30pm yesterday, our second big Homearama Showhouse deadline was hit. Phew. The builder was throwing a preview party at the house so everything had to be done, cleaned, and ready to be shown off to a whole slew of people (realtors, prospective buyers, generous local companies who donated furnishings/accessories to this cause, etc). Heck, the weather even cooperated in the final seconds and gave us this nice photo op.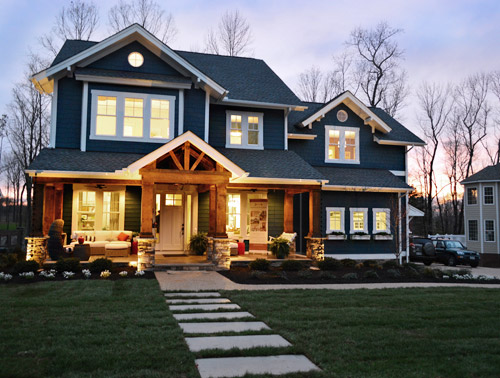 It was kinda weird yet exciting to have the place alive with people, music, and food. They brought in caterers to show off the kitchen/appliances, and Sherry and I pretty much gorged since we had been running around in hyper-drive all day. There were literally picture frames and window treatments being hung in the last few minutes, so it was one of those down-to-the-wire moments.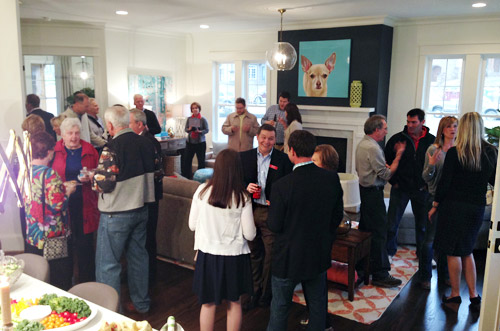 We were also able to begin snapping some "after" photos in a couple of the rooms (we figured they'd never look cleaner). And since we're hopelessly impatient, here we sit at 11pm, sizing and uploading pictures so that we can share them with you right away. I blame all the cookies I downed at the party.
So here's what we had time to photograph before the crowd rolled in: the study, the butler's pantry, and the main bedroom. Get ready for lots of photos and lots of source links.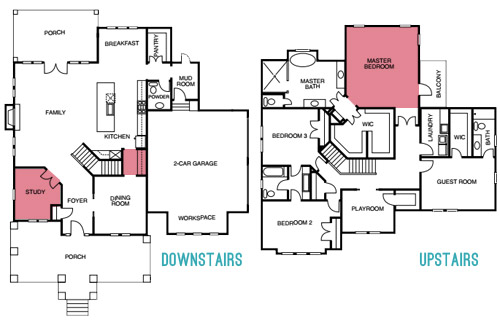 You've seen the office in various forms already, including this mood board, but here she is in her final state: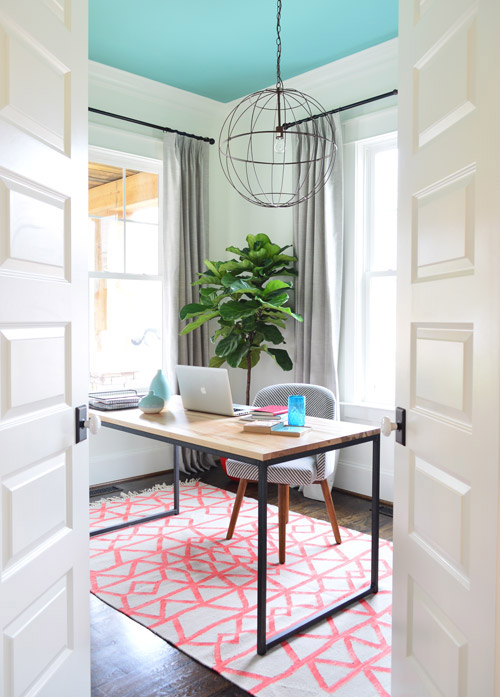 Here's a shot with the double-doors pushed fully out of view. The rug and chair were donated by West Elm, the table is from a local furniture purveryor called Green Front Furniture (I think the manufacturer is called Barkman, but I don't have a link), the light is from our Shades of Light collection, and the curtains were made by U-Fab, in this fabric (the curtain rods are from Lowe's). The walls are Simply White and the ceiling is Skydive (both by Benjamin Moore).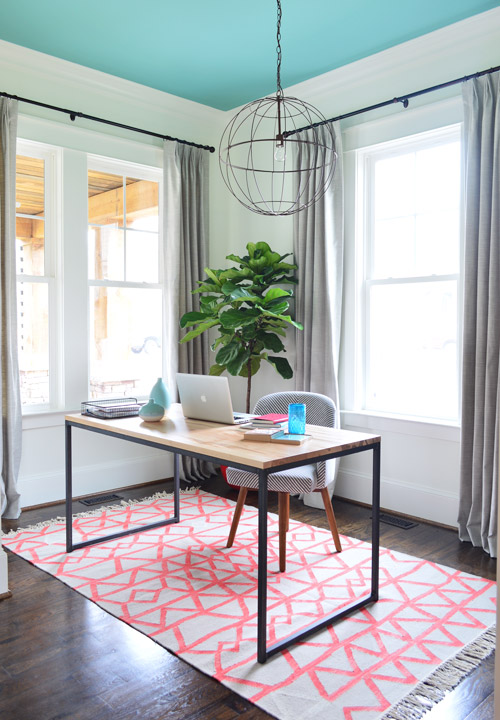 As we mentioned a while back, we wanted to stage a more feminine office than what we're used to seeing in other showhouses (they usually feel sort of study-ish and masculine). So Sherry had a blast planning a little spot she'd love to call her own.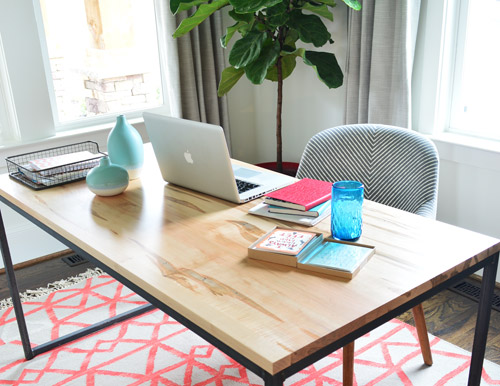 The metal tray and vases are from Target, and the big fiddle leaf fig is from a local nursery.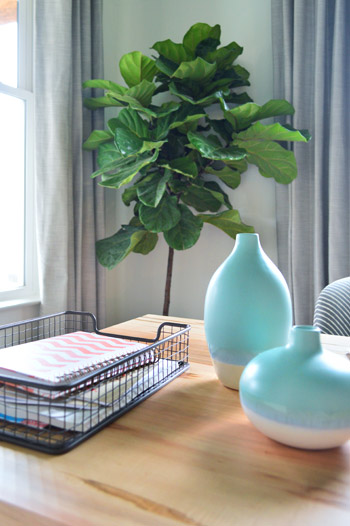 Tucked along the inside wall is a bit of open storage to help keep this fictional work-at-home mom organized. It's this whitewashed wood & metal shelf from West Elm.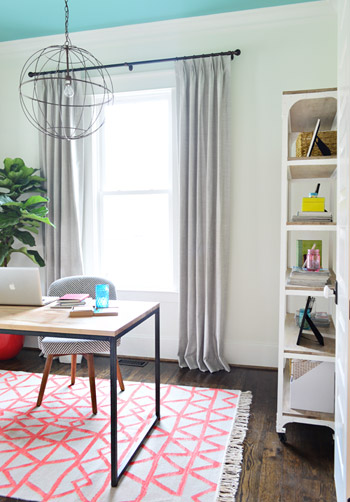 A theme with all of the shelves in this house is that they're a little bit more bare than we'd probably keep them in our own home (read: we have more clutter), but for budget, time, and practicality reasons we went a bit lighter for the showhouse (two weeks to outfit nearly 25 spaces = mad dashes like whoa). So even if it's not completely realistic, we tried to add a few office-y details (binders, boxes for file storage, a few frames, containers full of paperclips and rubber bands, etc) while keeping things from getting too busy.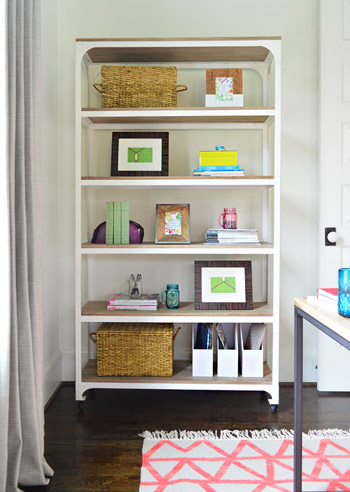 The shelves are mostly stocked with items from HomeGoods or Target, plus some magazines and books that we brought from home.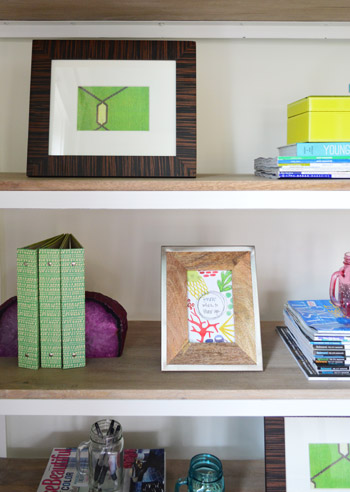 At a local craft fair this weekend we picked up some more of these motivational "wisdom cards" that we have scattered around our own house. This one says "know when to show up."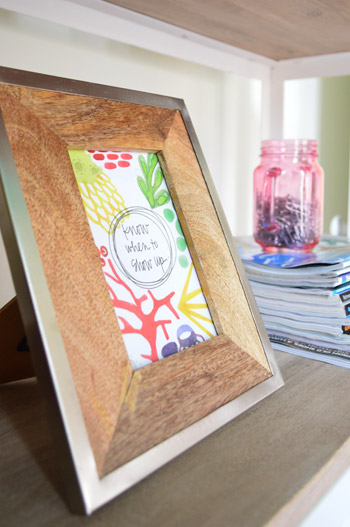 Speaking of motivational art, once the curtains were hung and that metal shelf came into the room we had less wall space to hang the two larger prints from Help Ink that we originally planned to put in here (we ordered large 24″ x 36″ prints) but they kindly sent along some smaller extras for us, which we were able to frame at the last second (literally minutes before we snapped these photos yesterday).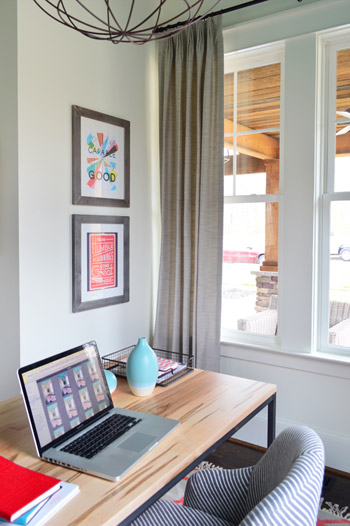 So yeah, the fictional gal who works in this study has pretty much zero excuse not to be motivated.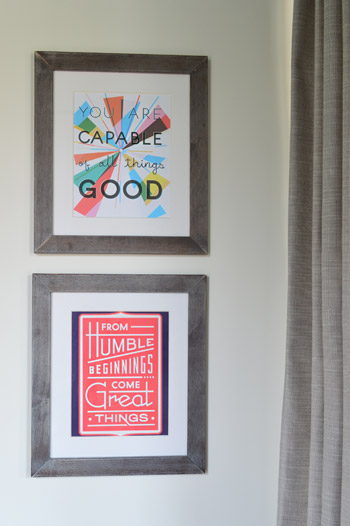 We were going to have the electrician add a floor outlet (for plugging in desk items, like the computer charger) based on our final furniture placement. But instead he'll probably just do it for the eventual owner so it can be customized to their furniture layout, and not ours. Especially since a real laptop won't be hanging out on that table for the show (we have a stack of notebooks that'll be in its place most of the time).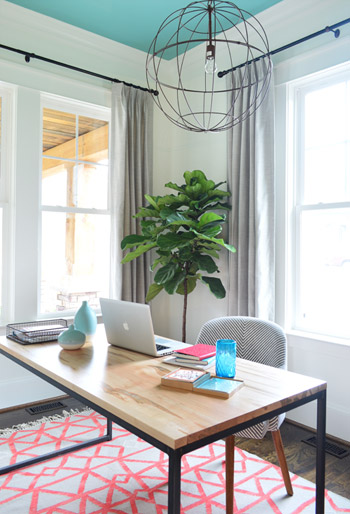 Now let's slip through the butler's pantry (i.e. the small hallway between the kitchen and dining room) which is nearly impossible to shoot since it's so small, but is such a fun accent in person (it garnered a lot of attention during last night's event, which was really fun to witness firsthand). We pictured it serving as a fun spot for a family to write out meals for the week, jot notes to each other, or even scribble up a drink menu for a party if they want to use the small space as a makeshift bar – but we wanted to set it up as a fun little coffee/wine station with a bolder look for the show.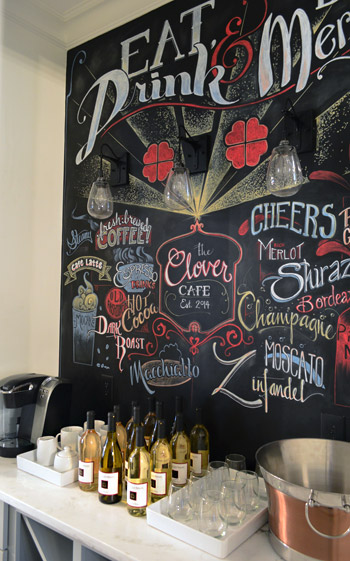 So we called up a local restaurant called Urban Farmhouse who is known for their chalkboard menus and signs (heck, we even Instagrammed one last summer). A few days later Li was there creating this masterpiece for us, all of which she hand lettered (any locals who want to hire her for signs and chalkboard art can email her at [email protected]).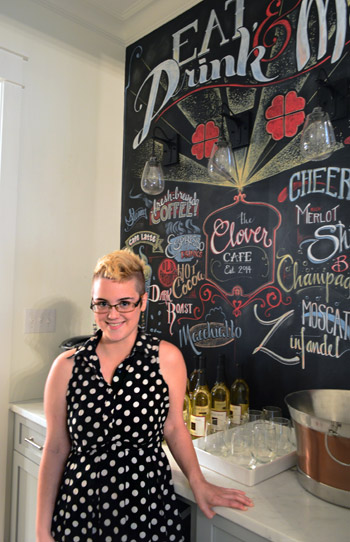 As Sherry mentioned yesterday, it's all done in chalk marker (so it's not dusty and can't be smudged) but it can be erased with a magic eraser (or just painted over if the eventual owners don't want it). But for the purposes of the show, it's a fun surprise to cap off our little coffee/wine set-up in there. And it was awesome to see how many people were taking their photos in front of it for the party.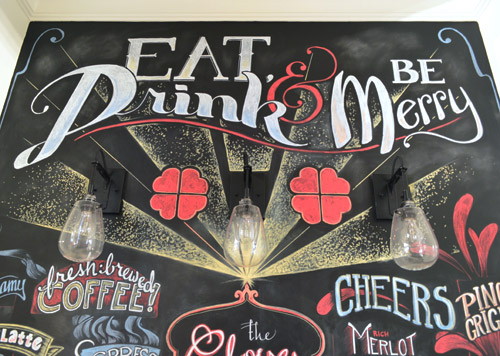 Let's switch gears and check out the main bedroom.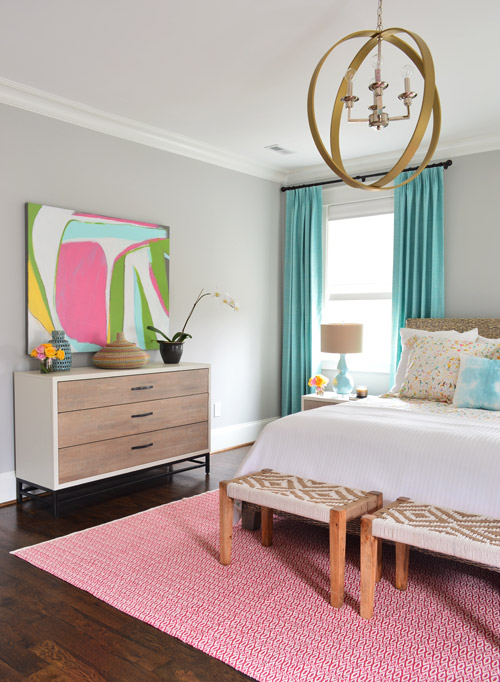 The funny thing about sharing the office and the bedroom in one post is that they both have a similar palette. The office's jumping off point was the rug Sherry found along with that awesome Help Ink art, and in here we were inspired by that awesome painting that was donated for the duration of the show by Lesli Devito (all of her art is for sale by the way, and she'll ship it anywhere in the US).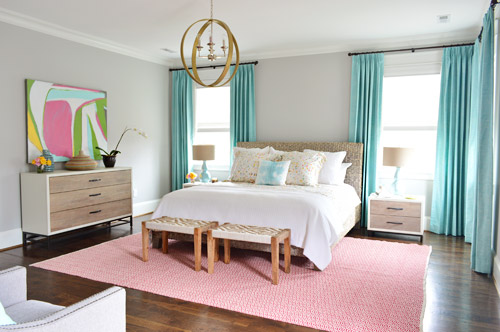 The king bed is a woven banana leaf frame from Green Front Furniture, which is also where the wood nightstands hail from, along with the dresser made by Universal. The curtains are the same fabric as the office ones, just in aqua (also made by U-Fab) and the walls are Stonington Gray by Benjmain Moore.
We haven't found the perfect thing for over the bed, so that's why it's bare (we figure bare is better than hanging something we don't like up there) but the camera was set on a low tripod, so when you walk through at eye height the light fixture hangs down into that spot and fills things in a little more, which is nice. Still wouldn't mind finding something for that wall before the show though…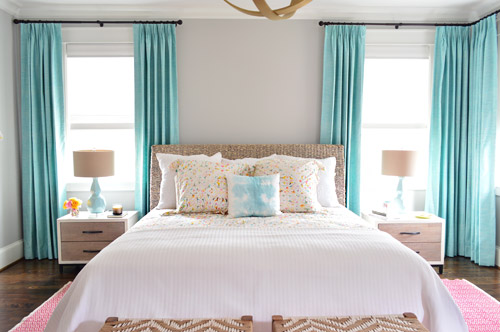 As you know, we've also experimented with mixing in some gold and brass accents throughout this house (we have two gold fixtures in the kitchen over the island, one in front of the fireplace in the living room, one in the hallway above the stairs, another one in here, and a few more peppered throughout). We didn't want to use gold/brass exclusively (we fell for a few other silver and oil-rubbed-bronze lights – and even a few colorful/painted ones), so we just mixed in enough of each type to feel intentional, so no light fixture is the odd man out.
In cases like this one over the bed, it's awesome that it's paired with chrome, so the fixtures in the nearby bathroom (which are all chrome) feel related. This wood ring chandelier was donated by Shades of Light.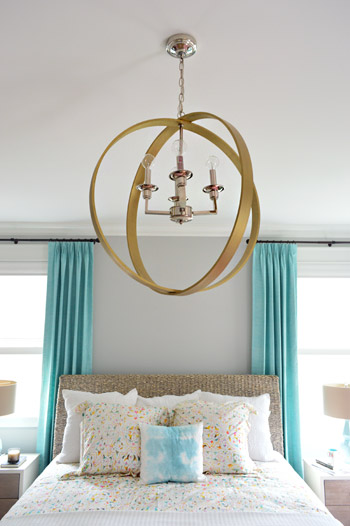 The rug is this Fair Isle 9×12′ donated by Dash & Albert and the bedside lamps are HomeGoods scores.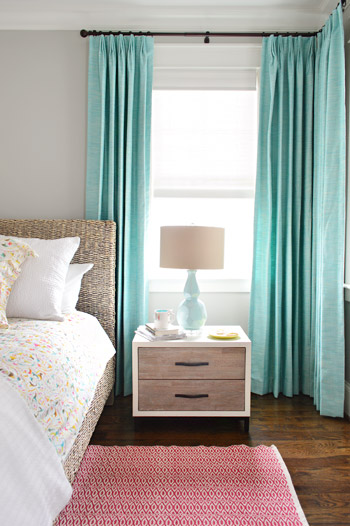 We kept the night tables simple, kinda like the cleaner version of what ours usually look like. Sherry picked up some inexpensive jewelry from World Market along with a simple mug and a plate (also from there) to casually hold the things that our imaginary lady takes off before bed.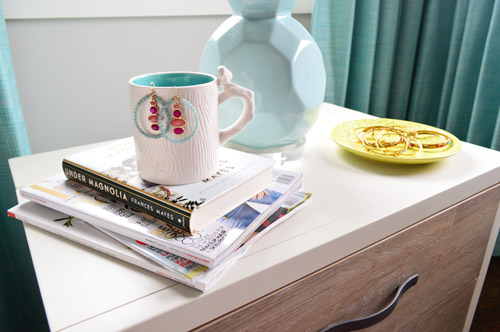 As we mentioned yesterday, the bedding's from Pine Cone Hill and we love how it relates to Lesli's art.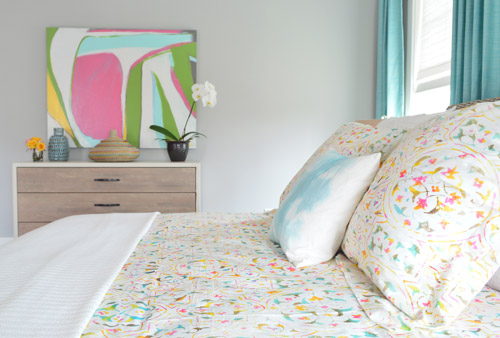 Our first instinct was to put more lamps on the dresser, but that made the room feel kinda lamp heavy (with two on the side tables already), so we went for plants and baskets.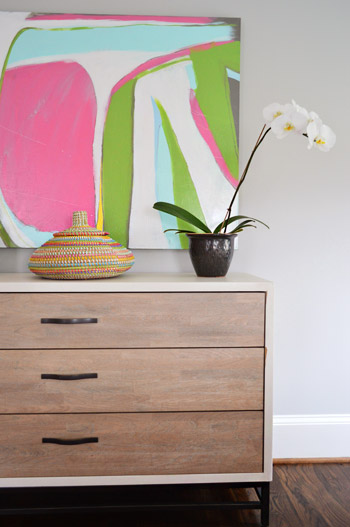 Two woven benches (clearanced down to $33 from Target) sit at the foot of the bed to round out the texture-heavy space (we love how they tie into the woven headboard). And you can see where one of our original Help Ink prints that we got for the office ended up since the color worked nicely in here. Oh the benefits of carrying a color scheme through more than one room…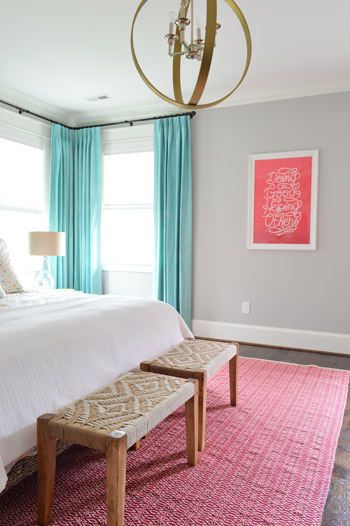 If we had the foresight, we probably would've ordered a version mounted on wood to tie into the wood furniture, but for now the simple white frame from JoAnn Fabrics does the job. There are definitely a ton of things we learned/would have done differently throughout this process, so we're thinking about writing a post like that for you guys when this whole show is said and done. There's a giant learning curve, so trial and error has really been our method along the way.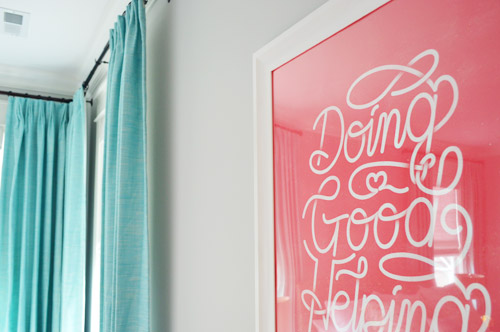 Across from the bed is where the feminine elements of the room get balanced out a bit, thanks to some gray nailhead chairs with blue pillows (all HomeGoods finds) and some gritty framed photography. The side table is from Target and the gold planter is from HomeGoods. In the background you can see a bit of the "atrium" as we're calling it (with a Shades of Light driftwood fixture and West Elm brass-framed mirror).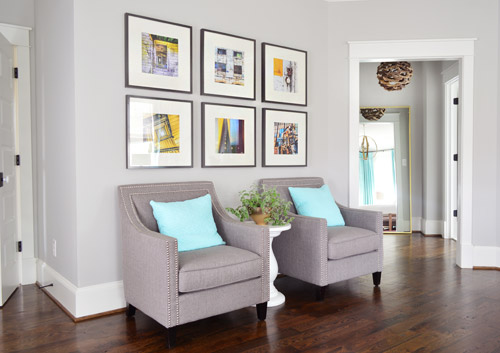 A local shop called Modern Artifacts was kind enough to lend us some artwork for the show, so at the last minute (i.e. yesterday afternoon) we picked up some of these yellow-hued urban photographs by Bill Dickinson. They relate to some of the yellow in Lesli's artwork and hey, you get a little peek into the bathroom there.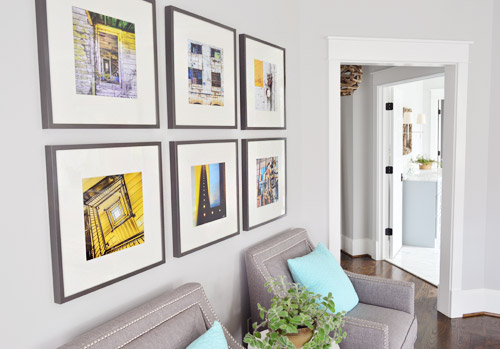 The party started before I could finish photographing the main bedroom's en-suite bathroom, but we can't wait to share that room with you guys (it's one of our favorites). But this post is long enough anyway, so we hope to be back at least one more time this week with more after photos and sources.
Psst – Wanna see more showhouse info & photos? Click here for Our Full Showhouse Tour, which includes final pictures of every room, the floor plan, budget info, a video walk-through, and shoppable showhouse furniture & accessories.