This whole kitchen thing started because we wanted to widen two doorways (from the den to our kitchen, and from the living & dining room to our kitchen). In our typical 50's brick ranch, just about every room is connected by a narrow doorway. It's got great bones (and a fantastic all glass sunroom) but we just want to improve the flow of the house and make everything a little more open.
I, whether brilliantly or foolishly, suggested we close off a third door in our kitchen that leads to our current dining room (so we can convert the dining room into the third bedroom that we bought it as), move the dining area into our already giant and open living room and rearrange the whole kitchen to get more cabinet and counterspace.
I suggested this as a "way-down-the-road" project, but within days we had contractors coming by to give us estimates. I guess I had forgotten that we operate on a very short road in this household.
After a great deal of measuring (both of the kitchen and the capacity of our bank accounts), here's our grand scheme: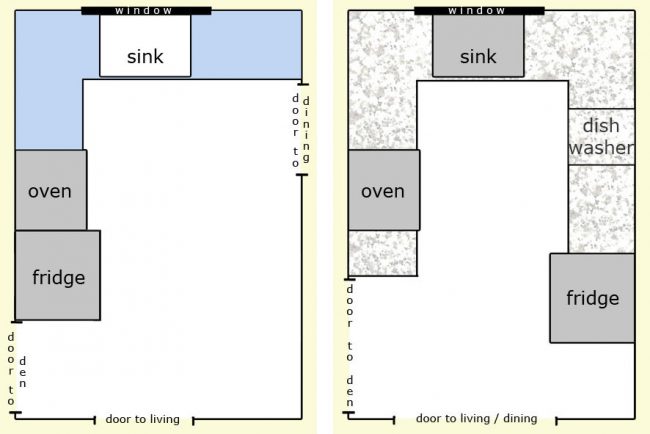 We've already given a kitchen designer all the measurements (more on that later) and had her cabinet & counter guy come measure the space. We're planning to meet with her next week for the verdict on just how close we can get to our dream kitchen…and how much it'll cost us.