Here's a tip – use craigslist to get your yard work done for free.
Our backyard is beautiful, we can't lie. Beautiful enought that we got married there. But with that craziness over, it's not worth the trouble to maintain – trimming bushes, weeding gravel pathways, etc. Plus our ferocious eight pound puppy would appreciate more room to hunt bugs.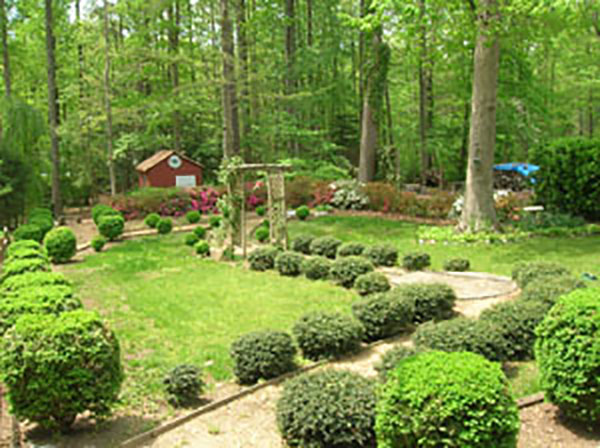 So, we're making it all grass… beautiful, beautiful, already-have-the-mower-out-for-it-anyways grass.
Our first challenge was getting rid of all the stuff in the way – bushes, pathway, etc. And we hate to just throw all that stuff away, especially since I just put new pea gravel down 3 months ago for the wedding.
Enter craiglist. Sherry posted a listing Tuesday morning at 9:30 with this picture, offering the bushes for FREE. I never thought it'd work.
But by 10:30 our driveway was filling up with people armed with shovels and pick-axes. And when I got home from work there was barely anything left… except for a couple sweaty, shirtless strangers still digging. One guy even gave us 100 beans to steak his claim on six big bushes!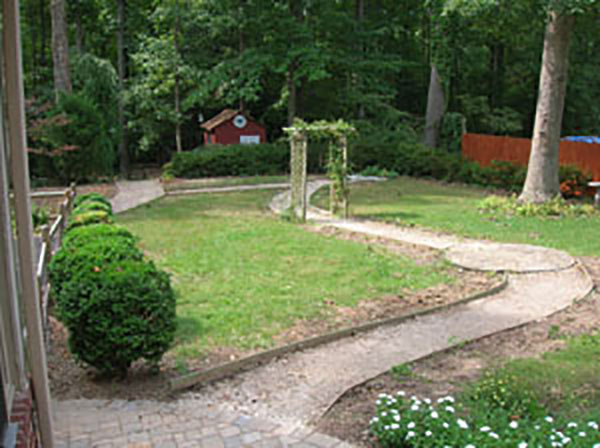 We repeated the experiment on Wednesday morning with the pea gravel. Sure enough, by that evening virtually all of it had been raked, shoveled and wheel-barrowed out of our yard. "Free" is definitely the universal language.
We didn't lift a finger – except to deliver some water to aforementioned sweaty strangers – and now our yard looks a little bit ravaged, but a lot more ready for grass seed.
PS: We're going to try to save the arch and move it elsewhere in the yard. We did get married under it, after all.