Day 2 with the crew was a rocky one, but still had its share of successes. The good news is:
The electrician installed a new switch so we can finally turn off the kitchen light.
The Parker boys finished closing off the dining room door with new dry wall.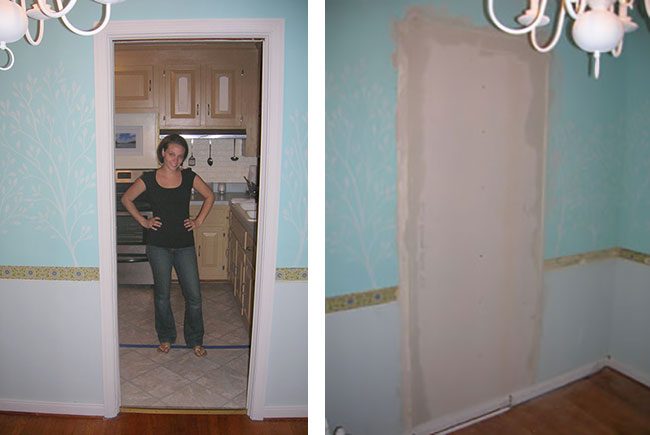 They also successfully widened the doorway that leads to the sunroom from the den. Now we have a nice, airy back entrance (the picture doesn't do it justice) that will look great with our new washer and dryer in the newly opened nook to the right of the door.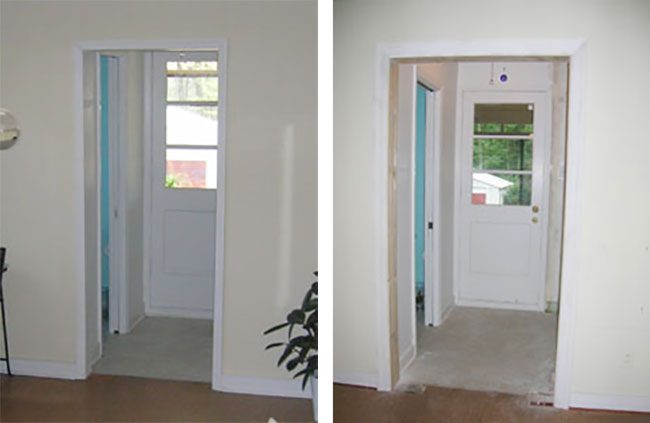 Now, the rocky parts:
The electrician showed up so early (7:45am) that he caught me in my underwear carrying the dog back in from the yard.
The Parker boys gave up on widening the brick-framed door between the kitchen and den. They just couldn't figure it out. They refunded our money but we're now on an emergency hunt to find a skilled mason who can do the work (hopefully without allowing our roof to collapse in the process).
Some paint cans the Parker guys were hauling away for us EXPLODED under the pressure of the demo'd cabinets in their trailer, sending paint all over our new-ish driveway. Fortunately, Sherry + some patience + a hose = problem solved.
Today, the crew's back doing some touch ups and we're continuing the mason hunt. We want the last doorway done by Tuesday so we can keep the floor guy on schedule for Wednesday. Cross your fingers!