After 15 painfully slow days of waiting impatiently, our kitchen remodel picked back up again this Monday with the arrival of our replacement corner cabinet.
Which means that the installer could come over yesterday (right at 8am, no less) to put in the final cabinet (which had to be reordered from KraftMaid due to the fact that the first one was backwards). Mike The Install Guy also took care of a few other finishing touches while he was here: adding toe kicks & shoe molding, venting the hood up through the attic and attaching the last part of our hood- all little things but they made a world of difference (proving that the devil really is in the details).
Tell me that's not a sexy hood.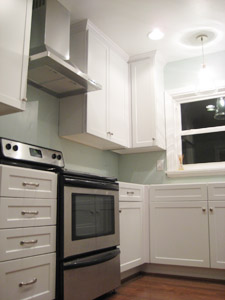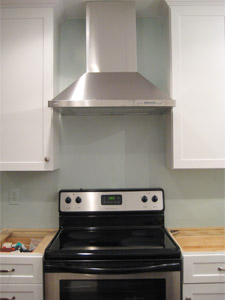 And miraculously, after half a dozen frustrating phone calls to the Stonemark Granite people over the past two weeks we actually got them to agree to come out later today to start measuring for the countertops (even though we were originally told we'd have to wait 9 more days).
That means that our new granite countertop is a mere 2-3 weeks away from being installed. Wahoo. I know 2-3 weeks doesn't exactly qualify as "mere," but let a guy lie to himself a little, will ya?