Clara's first birthday last Saturday made for a natural conclusion to 52 weeks of fabric-filled photo-y goodness (click here to see 'em larger).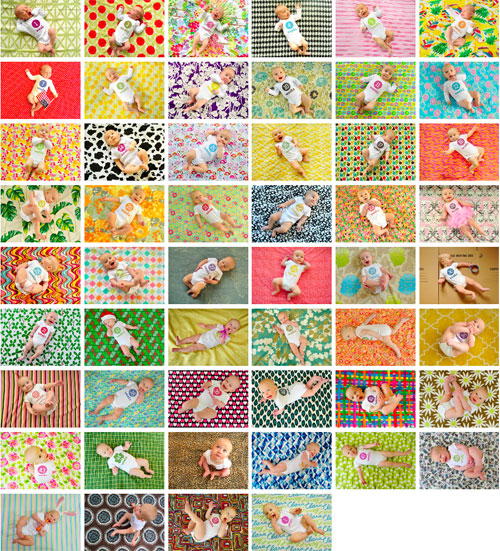 But we're going to keep going. Kind of. Before we move on to that though, let's talk about the last photo-filled year.

We're just as surprised as anyone that we managed to maintain our weekly ritual fifty-two times in a row. In fact, today is the first Friday in 12 months that we haven't busted out the camera, a yard of discount fabric, and a white-onesied Clara, and then used Photoshop to add the week number to her onesie after the fact. It's kinda sad in a way. But just looking at all of the photos that we captured of our growing bean cheers us up pretty quickly. And it really surprised and flattered us to hear from many of you who were doing your own version of the project with fabric and photoshop too. The craziest thing about our weekly photo session is that our project actually got featured in a book about photographing kids: Mamarazzi, by Stacy Wasmuth. Yeah, we're kind of in shock. And the grandparents went freaking crazy ("our grandbaby is famous!").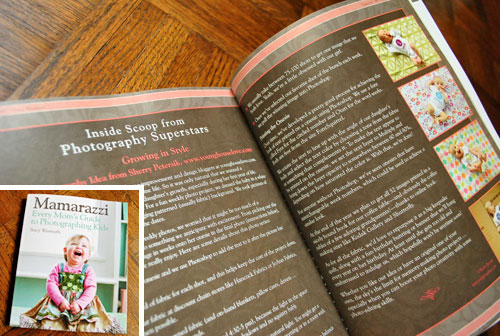 And of course there were all of the sentimental items that the project spawned around here – like the bound photos books that we've ordered for ourselves and the grandparents (more on those when they arrive), the photo display that we created at Clara's party…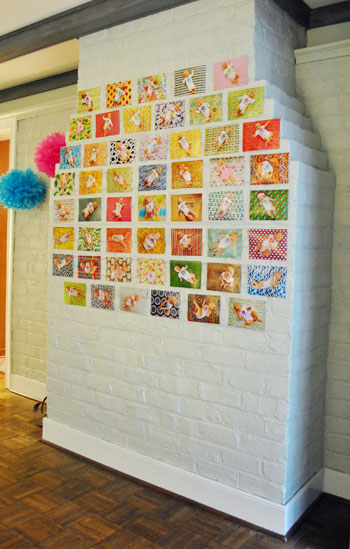 … and the items that Sherry sewed out of the leftover fabric – like her birthday banner and quilt: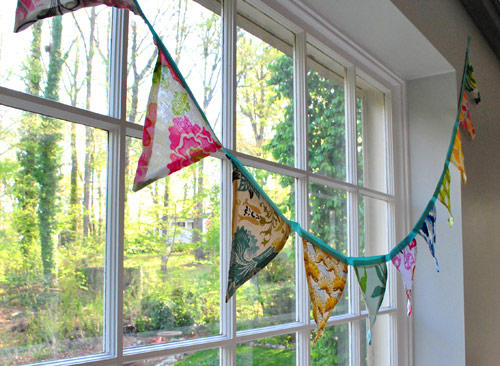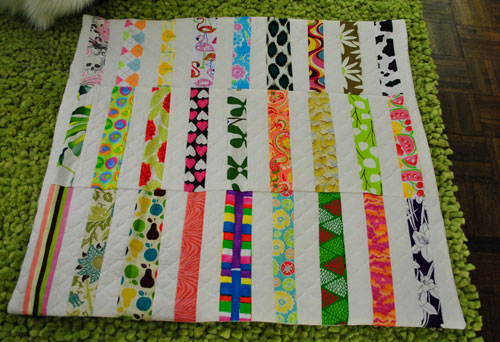 For any of you who have considering starting (or are in the midst of) a similar project of your own, we thought it might be helpful to toss up this link back to the original "making of" post for a look at how we took and edited the pictures. Though we should add one piece of advice that didn't become clear to us until recently: your baby won't be a motionless blob forever!
In the early weeks many of you said "I can't wait to see what you do once she starts moving around!" At the time we wondered how hard it could be to keep the bean on her back. Heck our biggest challenge was getting her to move enough to make the picture somewhat interesting in the early days ("oooh, that burp looked like a smile!"). But as you can see from many of our recent pictures, of course it was harder than we originally thought. Once those rolling / crawling / pulling up skills kicked in, let's just say that Clara had little interest in waiting patiently for me to white balance. These last few photo sessions could be subtitled as "how many parents and objects are needed to block a baby from crawling off a daybed while singing and waving your arms around frantically?" The answer: a lot.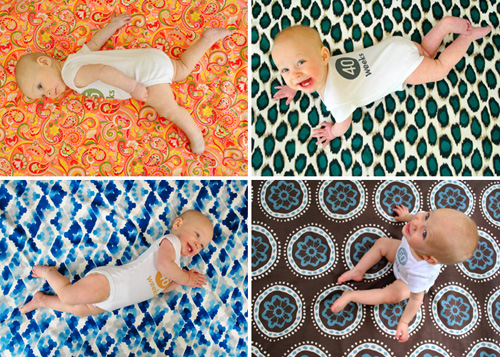 We did find that giving her an object to hold (aka: to distract her) helped make her less wiggly – like the carrot in her Easter photo (week #49). So part of us wished we had included an object from the beginning – even if for the first few weeks it just laid by her side. Plus, if we had used the same object throughout there would be a clearer reference for scale.
The only object that was consistent in our pics was her onesie, but that wasn't the clearest way to show off her growth. In fact, it almost looked like she got smaller when we switched from a (tight at the time) 0-3 month size to a (loose at the time) 6 month one for her 14 week picture.

Because of that hiccup we actually squeezed her into that some 6 month onesie for the rest of the project (don't worry, it stretched enough that she was plenty comfortable). The irony is that she's such a tall glass of water that some 18-24 month pants are too short for her, but miraculously the onesie just stretched to fit her the whole time.
So even though there are a few things we might've done differently (someone suggested starting her in a 12 month onesie from the beginning so we could watch her gradually fill it out), we've got no regrets. We're just turning those lessons learned into "adjustments" for the next year. So without further ado, here's the beginning of year #2.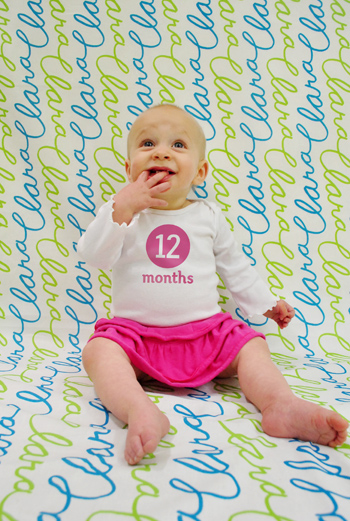 We were really excited to use the fabric that we designed on Spoonflower for this shot. As for what's different, allow me to point out the obvious (or maybe not-so-obvious):
Her onesie says "months." Since her week-to-week changes became more subtle as she grew, we figured this would still do justice to her developments over year two (while also making it a more manageable project for mom and dad).
She's sitting. Rather than fighting her to stay on her back, we're embracing her desire to move and be upright. We figure this also gives us the flexibility to capture a crawling, standing, or even walking picture down the road.
She's wearing a skirt. In addition to her pose, we're gonna be less strict about her wardrobe this year too. As long as there's something white on top to photoshop the week month onto – it flies. Since we had fun doing special things like a Halloween costume (week #24) and a Santa hat (week #32) we thought it might be fun to mix things up.
She's on 2 yards of fabric. One yard of fabric wouldn't cut it for this new sitting set-up. But since we're only taking 12 pictures (times 2 yards = approx 24 yards of fabric), we're still buying half as much as we did for the last 52 weeks this year. Happily we snag almost all of our fabric on clearance or with 50% off coupons from places like Hancock or JoAnn. And sometimes we use other backdrops that we already have on hand (we like to work in random duvets and towels and shower curtains that we have too since it keeps the budget down when we don't feel like springing for new fabric).
So that's the new plan. We're excited to continue the project in some form, while letting the first year stand alone as a complete and finished set of pictures. We'd hate to "ruin" what we started by trying to keep weeklies going and then abruptly fall of the wagon somewhere randomly around week 71 or something. Plus, if taking these sitting pictures turns out to be easier, maybe baby #2 will get this treatment from the start (or an entirely new photo project concept – who knows).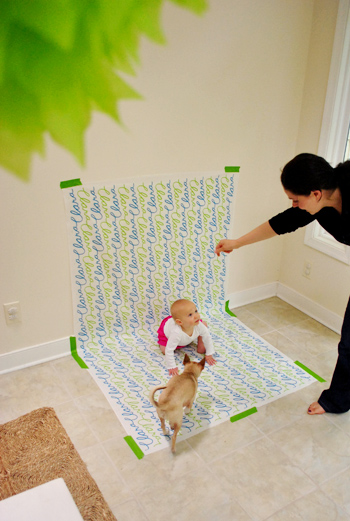 And yes that's green painter's tape holding the fabric in place. Would you expect anything less from us?
Psst- We announced this week's giveaway winner. Click here to see if it's you.