We're back with the after pics of our freshly painted built-ins. As we mentioned in the last post, we went with an inky blue color with hints of green called Dragonfly from Benjamin Moore's Affinity line (color matched to Lowe's No-VOC Olympic paint for the bambino). We only needed a quart, and since we used objects that we already owned on the shelves this entire built-in makeover only ran us $10.97. You can read more about how we planned the shelf placement here. Oh and here's a poorly lit progress pic from last night, just for fun. Yes John's shirt does say "Talk Nerdy To Me" on the back. I love it.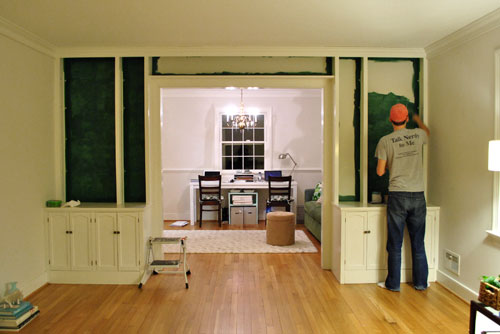 But here's what you really care about. The bookcases all painted! Picture us twiddling our thumbs while we waited for them to fully dry so we could put the shelves back on and load them up.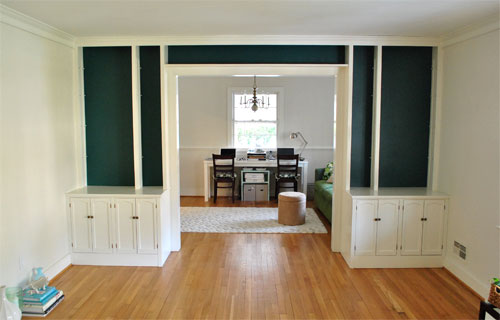 Of course by then it wasn't as bright in our north facing room (hence the slight color variation from the last pic) but we LOVE it. It's bold and high contrast and nothing that we would've have the guts to do in our last house.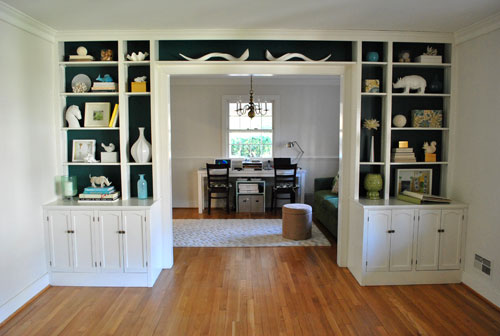 We're enamored with the color because it's super moody and it reads as greener or bluer or darker or lighter depending on the time of day and the angle that you glance at it.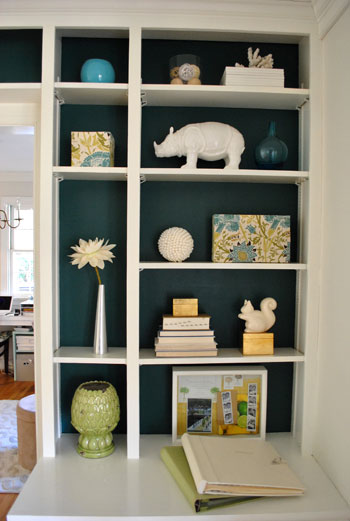 And of course all of my white ceramic animals (and other not-kid-friendly-so-I'm-glad-they-fit-up-there treasures) really pop against the saturated background color (which also makes the cabinets look crisper and whiter by comparison).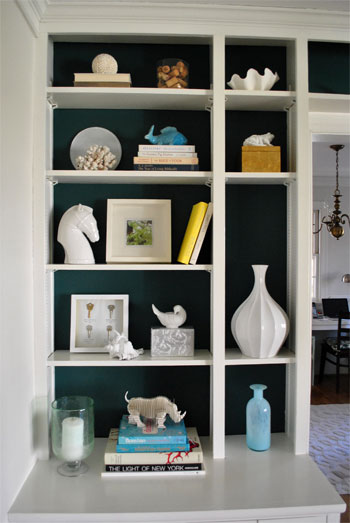 These two pics are probably the most true to life when it comes to the color (but of course how you see them really depends on your monitor):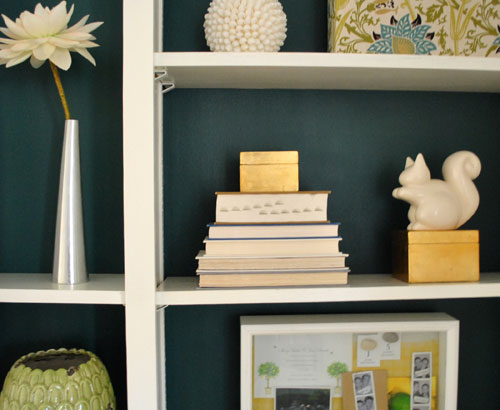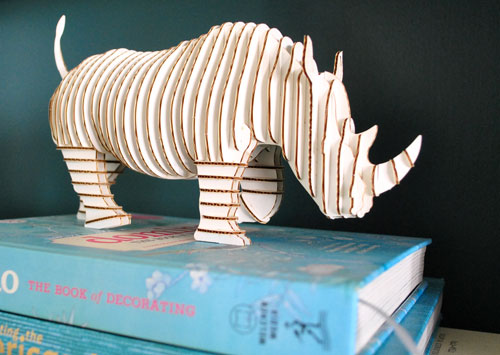 Mr. Rhino (and his ceramic twin on the other side) likey. And we do too. Especially for under $11. In fact we love the color so much that we plan to work it into other parts of the house when we can (you know, to try to keep our whole house color scheme cohesive but not too "yawn"). We're thinking it might be the perfect color for the base of the future island that we'd love to someday add to our kitchen – and would even work on a bathroom vanity. Should be fun…
Psst- Learn how we made those two fabric covered boxes on the right side of the shelf here.