We broke out a little secret weapon for our nursery reveal yesterday, but after this post it won't be so secret- we got a new digital camera! Here it is playing newborn…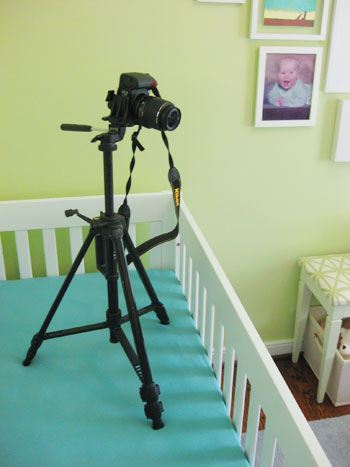 We've long sworn by the (often underestimated) power of a point-and-shoot digital camera (in fact, here's a recent post about how we get the most from ours). Just about every picture ever featured on this site was snapped by our Canon Powershot, and while we never claimed to be the Annie Leibovitz of shelter blogs, we were pretty satisfied with the flash-free, color-adjusted-in-photoshop pics we churned out each week. They seemed to do the job well enough.
But like many parents-in-waiting, we suddenly felt the urge to upgrade our photographic equipment before look-how-cute-our-baby-girl-is documentation became a top priority. Plus with the moolah that we saved from our under-budget nursery makeover, we already had enough in savings to splurge for a nicer camera (since we definitely believe in buying things after we have the money in the bank).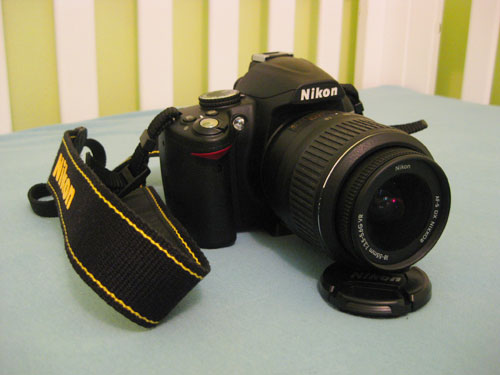 So after some research and a few conversations with our camera-savvy friends, we ended up snagging a Nikon D3000 DSLR off of Amazon for just about $450 beans (note: we noticed that listing prices routinely went up and down, so you might want to watch for a bit before taking the plunge to ensure the best deal). It boasts a lot more control than our current camera (and has already given me several flashbacks to high school photography class – f/ stop wha?) but there are really two main upgrades that we're the most excited about:
Being able to shoot in lower light (which will come in handy since a moving child + a low-lit house = blurry baby pics on our old Powershot)
Using the slightly wider angle lens to capture more of room in each pic – a difference you can see clearly in the side-by-side comparison shots below, which were taken from the exact same spot on the exact same tripod.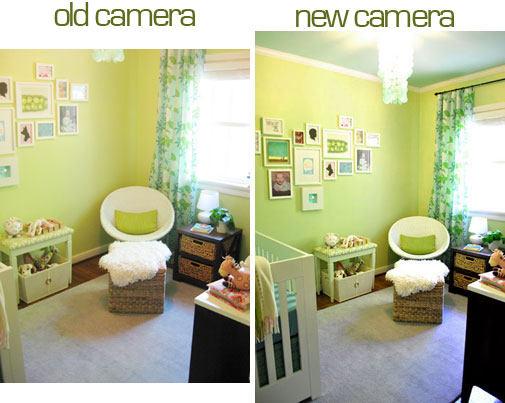 Hopefully it will mean better shots for our baby book and our blog (everybody wins!). But we still have a pretty healthy learning curve ahead of us, so any and all photography tips would be welcomed with open arms. 'Til we get more comfortable with it, we'll probably be using our tried-and-true (not to mention purse and pocket-friendly) Powershot for the majority of our blog pics. But nevertheless, we're excited to have finally reached the 21st century of digital photography with our new purchase and we look forward to learning how to use it a bit better so we can get ready for the bambino and upgrade the ol' blog. Here's hoping we don't drop the darn thing…
Psst- Some of the links included above are Amazon Affiliate links.
Update: Over two years later we're still loving our camera. Here's the 50mm lens that we got for better photos of moving things in low light (aka: Clara & Burger) along with pretty detail shots, and an update post about how we're liking our camera in general here.