Here's that washer & dryer update that you've all been asking for. Yesterday our fab front loading washer & dryer (which ended up being floor models due to Lowe's SELLING THE ONES WE ALREADY PURCHASED!) arrived in near perfect condition. In fact, the dryer is flawless and the washer has only a tiny scratch on the top that you'd need a magnifying glass to locate. So all in all, we're actually thrilled that Lowe's messed up and sold our new models since the floor models are just as nice (and ended up saving us another 150 bucks, bringing our total discount on the washer and dryer to $500- amazing!). In fact, they told us we ended up getting them both below cost- so the store didn't make a dime off of the sale.
But we didn't stop there. Don't you know me at all? We visited our favorite home improvement store last night to talk with a manager about getting a free four year warranty on both items (valued at $250). See, our argument was that we didn't ask for the floor models but ended up with them due to Lowe's error, and we didn't want something to go wrong with them from all the wear and tear they endured while on display. We figured they might meet us in the middle and offer a warranty on just one appliance or offer to pay 50%, but we never thought they'd actually go along with us completely but we waltzed out of there with the full 4 year warranty on both items for a mere $13 (the computer wouldn't let them give it away for free, but the manager somehow got it down to just over ten bucks for us). Now that's one heck of a deal. Point: Lowe's.
And – here's quick before (well, amidst demo) and after shot of our laundry nook. A fresh coat of paint and some bamboo blinds and we're back in business! Next we just need to cover some of those ugly plugs on the back wall.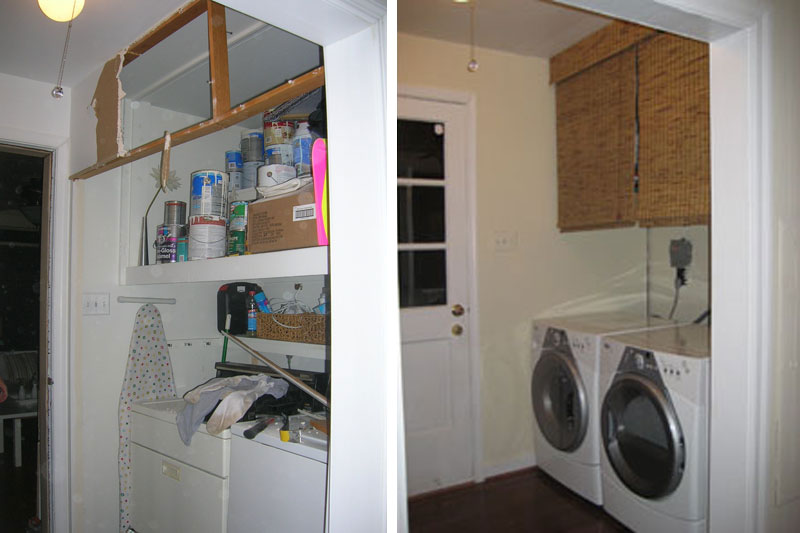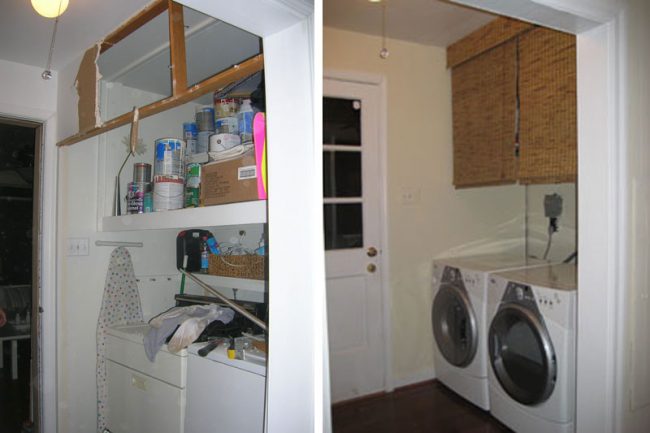 Coming Apart Put Back Together