The weekend kicked off with what seemed to be our biggest plumbing project ever. Mainly because it required turning off water to the entire house (which involved me sticking my hand down a muddy, bug-filled hole in the front yard with a tiny wrench as my only weapon.)
We were fixing a small leak the floor guys created when they re-installed our bathroom pedestal sink. It couldn't be fixed by simply turning off the water under the sink because that shut-off valve was the very source of our problem. And the last thing we wanted was a leak onto our new floor. Luckily, we had been able to temporarily tame the leak by turning off the sink's cold water. It just meant some hot hand-washing for a few days.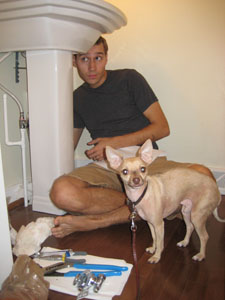 Who's the better plumber?
Although (or maybe because) we braced ourselves for difficulty and disaster, it was actually pretty simple. Turning off the water to the house – gross but no problem. Detaching the bad valve – required some force, but we got it. Screwing on the new valve – easy, once we identified the right piece. Fortunately, we had armed ourselves with a collection of valves from Home Depot. We basically raided them of anything that remotely matched our vague mental image of the piece. One was perfect and the other six got returned to the store today.
So now the leak is gone and we've put away our plumber's cracks. Well all of us except for Burger.