We have a certain soft spot in our heart for other owners of 1950's ranches, especially when those owners also had to rescue their house from outdated decor. Take Maggie for example. She and her husband transformed their Texan living room into a comfortable and classic room that they're proud to call home. Here's her letter:
Hello John and Sherry! Ever since I found your blog over a year and a half ago I have been hooked. My husband and I recently purchased a 1951 ranch in Texas that needed a lot of work. We knew it would require a lot of commitment, but we both love do-it-yourself projects and knew that we could tackle it on our own. The room that needed the most help was our living room, which looked more like an Italian restaurant than a cozy country cottage.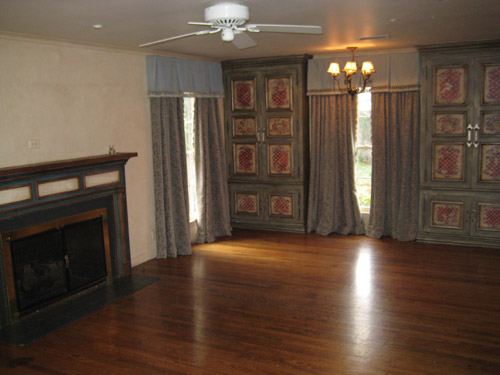 Our goal was for the space to feel organic, like it had been collected over time. We have found that by purchasing only the things that we love, the space, in turn, feels more cozy than if we were to go to one store and buy a lot of coordinating items.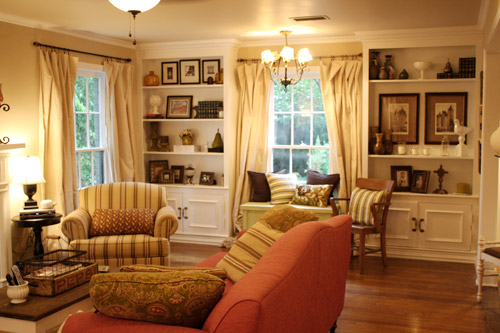 Here are some more tidbits about the makeover:
The wall color is Olympic "Toasted Almond" in flat and the color on the trim, built-ins, and fireplace is Olympic "Ultra White" in semi-gloss.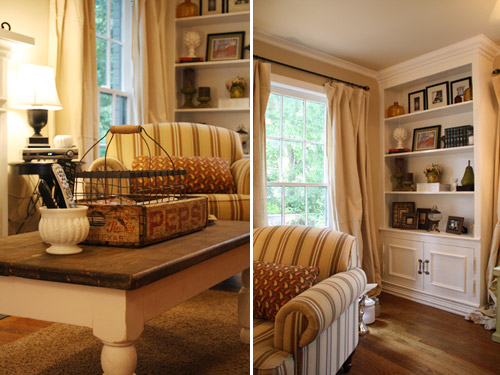 The decorations are from a variety of discounted home stores including TJ Max, HomeGoods, Tuesday Morning, Target, and even Walmart. We also found a lot of great things at resale and antique shops.
The curtains are actually painter's drop-clothes from Lowe's. We knew we wanted something light and airy, but also knew we didn't want to spend a ton of money since we needed 8 curtain panels. They fit perfect in the room, and the $9.99 price tag wasn't too shabby either.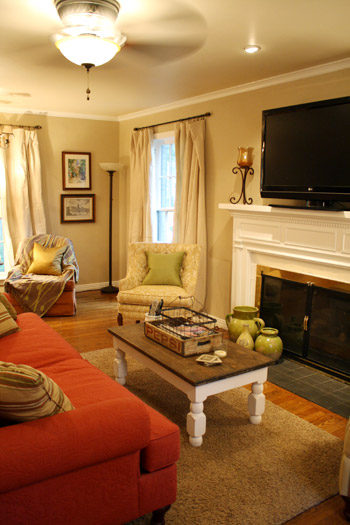 I also wanted to share my dated dining room makeover as a bonus: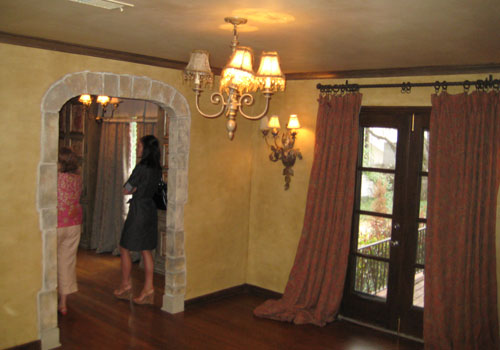 It feels so fresh and inviting thanks to more affordable items and ideas.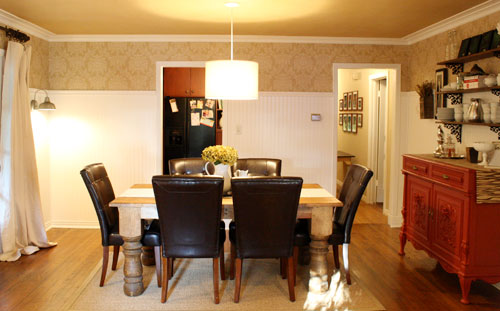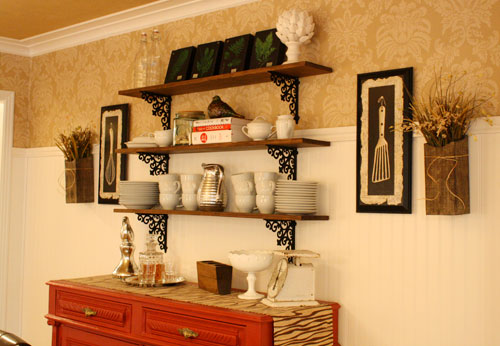 Just wanted to send those pictures your way. Keep up the awesome blogging! You'll are so inspiring! – Maggie from The Walton's
Wow. It's hard to believe those are even the same rooms. And we love that Maggie didn't run the other way when she saw those spaces as they were "before." We like how comfy and lived in everything looks now, and I particularly covet your vintage Pepsi-Cola box. Sherry will tell you I have a weird thing for old boxes and soda bottles, so you're lucky we live several states away or else you'd have to glue that down.