Soooooo smething crazy happened. Here's a little hint: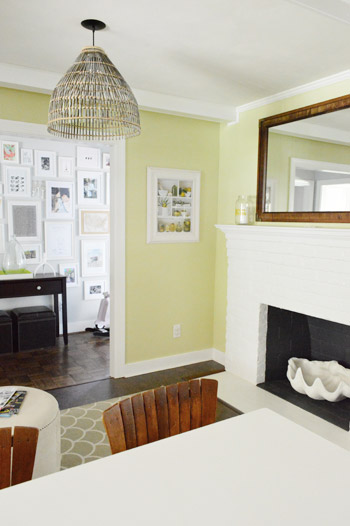 It all started when John and I were lying in bed one night talking about what we'd love to do to make the sunroom more useful slash function slash awesome (it's currently packed with secret book projects, but come fall we can finally clear it out for a charity auction – and hopefully start working on making it a room that we actually hang out in). We came up with the idea of a long chunky floating bar/counter made from rustic imperfect wood with a few stools pulled up to it along one currently unused wall. You know, sort of like this one or this one (but not exactly like either one of them for reasons we'll get into down the line).
A chunky little wood bar along one wall in there with some simple pull-up stools would be super functional for us because:
we wouldn't have to put a big table in the middle of the room for reading the paper, sipping drinks, snacking, and general chillaxing (which means the daybed won't be too cramped and can stay in there – yay!)
when we have Clara's annual party or just invite people over to hang out, we usually set out food and stuff in the sunroom (so everyone can mill around in there, on the upper patio and on the lower patio) so having a built in bar for setting out all the food and drinks instead of dragging various pieces of furniture into the room and tossing a tablecloth over them would be really nice
SOLD.
So the the next morning I dove into a daydream about how it would be fun to make that cool chunky wood bar/counter for the stools ourselves with some old hunk of wood and some simple brackets – just to add some rustic edge to the space and to make it less precious at parties (no real worries about drink rings since we'd stain it dark and seal it to protect it). And then I started thinking about how I'd want the stools to be counter height since the ones in the kitchen have worked out so well (they're not as high and teetery as bar height chairs) so I mindlessly just typed in craigslist.org and searched "stools." And then – I kid you not – the top entry made me suck air. Audibly. They were the. coolest. stools. ever.
You think I'm kidding. Check these babies out: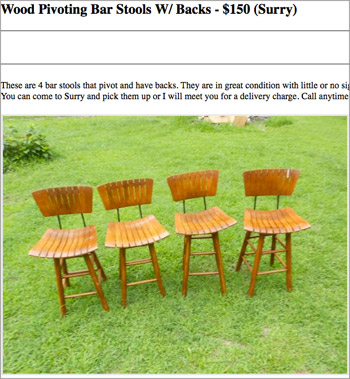 Forty bucks a pop, retro slatted wood with molded seats, cool dark iron hardware on them, and get this – THEY SWIVEL! The funny thing is when I googled around for similar stools, a few nearly identical versions popped up, like href="http://guffonline.blogspot.com/2010/02/vintage-wood-and-iron-barstools.html" target="_blank"> these for $85 a pop, and these for almost $120. So to get them for $40 each really saved us a ton (we got four for about the price of one and a half).
So… SOLD FOR SURE.
Well, actually not sold until I showed them to John (we both have to sign off on things, so sometimes things are dead in the water when the second person nixes them) but lo and behold, John didn't just like them, he loved them. And actually demanded (nicely) that I call about them "right now before they're gone." All the good stuff is always snatched up off of our Craigslist within the day things are listed, so I ran my buns to the phone and made that call.
So then they were SOLD FOR REAL! To us. Wahoo.
When we got them into the house we were chatting about how wood stools with a chunky wood counter/bar would be a lot of wood – but it would be a huge shame to paint the chairs since they're so cool and slatted and vintage and all that jazz. So we decided we could make a sleek white counter instead of a wood one in the sunroom. But then a better idea came into the play. That's when the bright idea to bring them into the kitchen popped up (duh, there's already a white counter in there).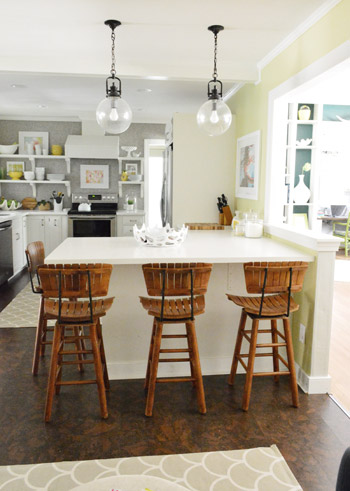 SOLD!
Long story long, John and I loved them so much in the kitchen that we decided that our fun blue metal stools would be awesome for the rustic sunroom bar. Rough chunky wood sounds pretty fun paired with sleek boldly painted metal, right? So it's totally weird that I ever even went on craigslist to look for stools… and then the fact that I found some, fell in love, chain-reactioned John into falling in love, and ended up with them is all kind of a whirlwind. We're taking it as a sign that they're meant to be.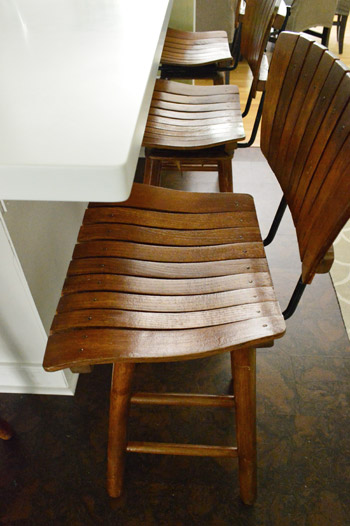 They're just so darn pretty in the kitchen with the rich cork floors, our chunky wood cutting boards, and even things like the woven light and the wood mirror by the fireplace. So… SOLD ALL OVER AGAIN.
And now I will wow you with how many angles I can photograph our new stools: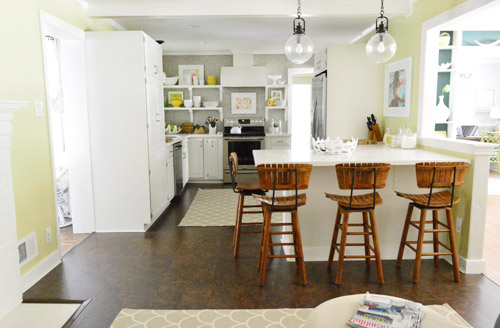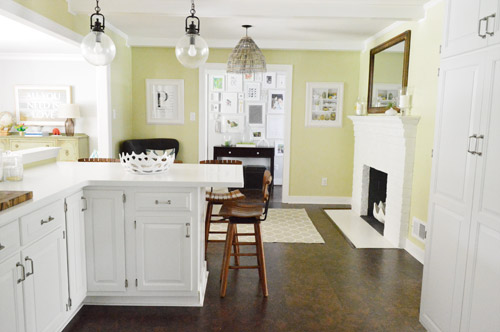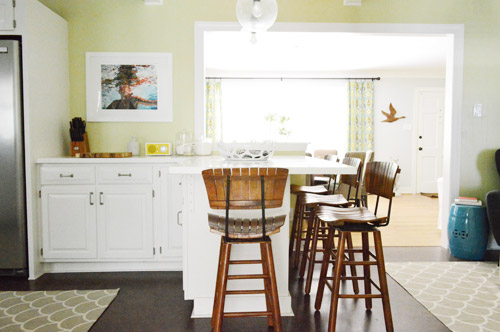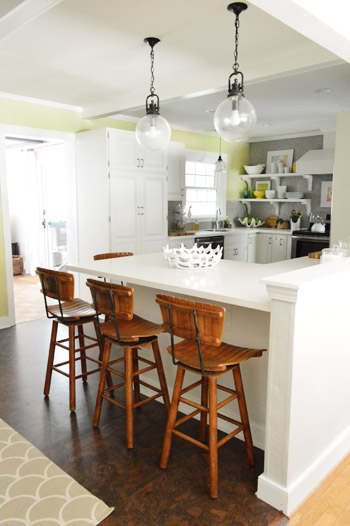 We love our blue guys too, so who knows, maybe they'll come back in the spring or something when we're feeling flirty. Haha. And who knows, maybe once the sunroom's done we'll ultimately love the wood stools in there and the blue guys might end up back in the kitchen. Either way, it's pretty hilarious that we have two stool sets going on, but at least they were both really affordable (we got the first set from an online school supply store for $32 each) and we're truly in love with both of them… and have a functional use in mind for both sets. Just don't ask us who our favorite stool baby is. We love them all equally. Although if they're jockeying for most comfortable, the new guys definitely have a bit of an edge with the curved seat and the swivel-action. Dinners at the peninsula just got more fun swivel-tastic. As for what Clara does, she has the yellow highchair I painted for her, so we just move that around to various places (peninsula, dining table, living room pedestal table) and she eats in that. Girl gets around. Haha.
In short: Party at our house. We'll bring the stools. And probably say SOLD a lot.
Oh and we just used these things on the feet. Just to make sure they don't do evil things to our cork floor. So far, so good.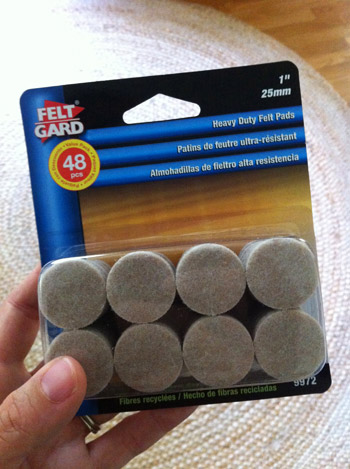 Now that we have more natural wood in the room, we're thinking about bringing some up onto the floating shelves on the other side of the kitchen, just because the wood mirror and our new (old) swivel stools have warmed things up and added so much texture and "homey-ness" that we'd love to add some to the open shelves too. Maybe just in the form of some rustic wooden salad bowls…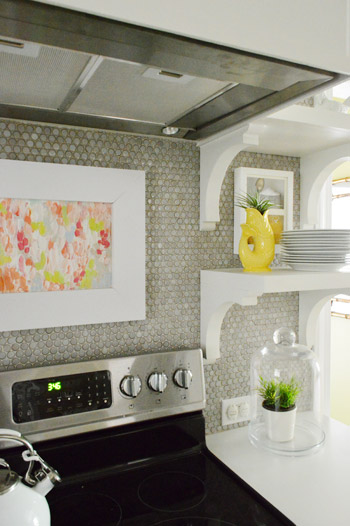 Have you guys gotten ahead of yourself and ended up getting something for a future project just because it was too good to pass up? And once you got it home did it end up shifting other things around in surprising ways? So funny how things mutate as ya go. It's like our house is a ninja turtle.
Pssst- Our newest addition of Clara Conversations is up over on Young House Life. We might be biased, but we think she's is pretty hilarious…