We were sneaky. Before we put our first house on the market we dug up a Japanese maple that we had planted in the back. We planted it right around the time we got married and it was an offshoot plant from a gorgeous maple that grew in John's parents' house (the only house he lived in for his entire childhood which has since been sold). So it was kind of double-meaningful with the whole "wedding tree" and "John's childhood house" connection. That's why before we sold the house we figured we should dig it up and put it in a bucket and move that bucket right along with us. But since we moved in December, it wasn't exactly planting season. The whole thing was touch and go from the beginning, and by the time we finally got around to planting it (about seven weeks after we moved since there was so much snow going on and the ground was frozen) we worried it was d-e-a-d.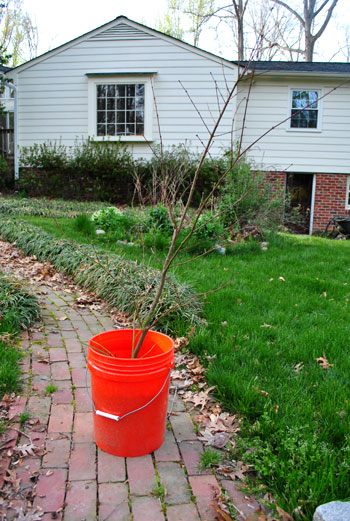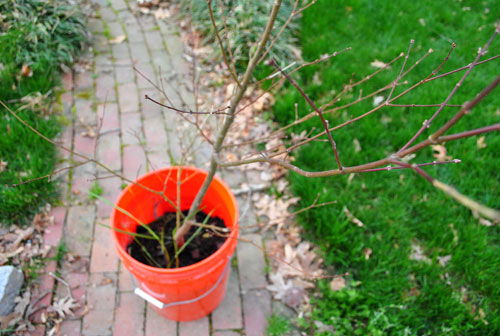 But we planted it anyway, and watered it a little, and did the whole cross-your-toes-and-eyes thing.
So when spring rolled around and this other maple on our property looked like this…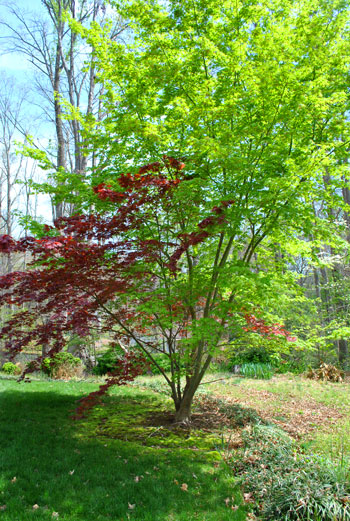 … and our poor tree still looked like this…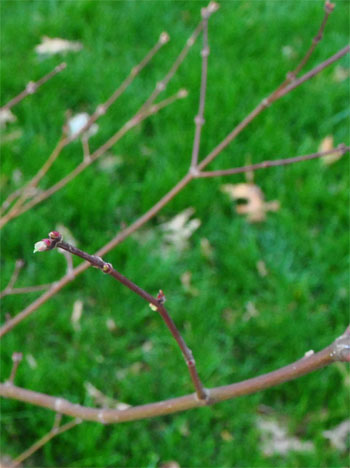 … we really feared the worst. It had tiny buds on the end of each branch which had been there since we planted it in the winter, but they weren't changing. Boo. But at least it didn't look rotten or completely dead. Just sort of dormant. So we decided to leave it alone and see what happened. John even suggested that maybe it would somehow miraculously bloom next spring or something after a year of "rest."
Then the other day John came inside after mowing and looked me in the eyes and said "guess what?!" Then he paused for dramatic effect for what felt like ten minutes while I guessed things like "you met a talking Squirrel" and "you found buried treasure." I was dying for him to just spit out and and he finally said "the maple…" and I screamed "is getting leaves?! it's alive?!!!!" and he nodded. Little guy up and grew some gorgeous little red leaves for us: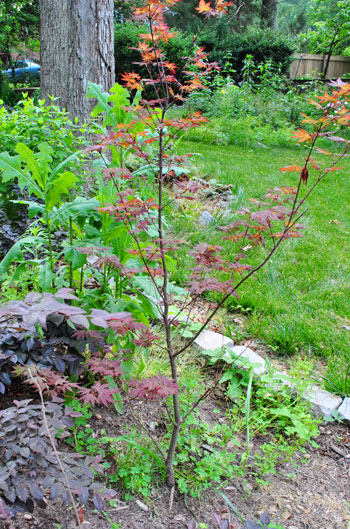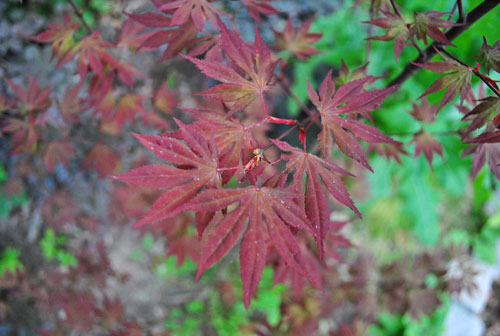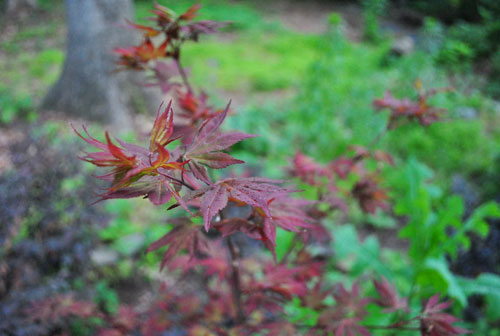 The whole thing culminated in my running outside and chanting "Go maple, it's your birthday, go maple…" which eventually evolved into "Grow maple, grow maple, grow!" And I think the new neighbors might have heard me. Way to make a good impression $herdog (yes, that's my nickname to myself that refuses to catch on). But really, who can't relate to dancing and singing for the miraculous growth of leaves? Ok, nevermind. Only now do I realize how strange that reaction was. Hindsight is 20/20.
I guess things could still go south (we did recently learn that leafy branches can up and die in record time), but the new growth seems like an awesome sign. And it will be amazing if we can glance out the window and actually see our gorgeous wedding maple from John's childhood home chilling in the backyard for years to come. Oh what the heck- GO MAPLE, IT'S YOUR BIRTHDAY!