We couldn't do all of this work in the laundry area and just ignore our sloppy shoe situation. Since the side door into our laundry room is our most-used entrance, it's also the dumping ground for most of our footwear (since we try to keep shoes off in the house). Up until now, our "storage solution" has been a shallow woven basket from Bed Bath & Beyond about five years ago (that and a pile next to it – not pictured, because I don't want to ruin the illusion that we're not complete animals).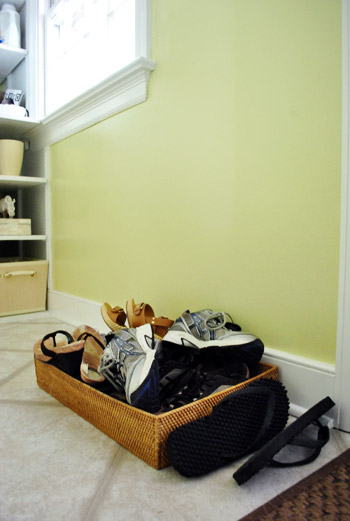 This system actually worked fine at the old house since the basket stayed in the sunroom, where it sort of fit the casual feel of the room. Plus, when it overflowed it didn't create a tripping hazard on our way out the door or to the washer since that was a much larger space.
But since we're now dealing with a 3'5″ wide room, we realized we needed something with a more "organized" vibe, like this cheap-o shoe shelf for all shoes for cross country running that once lived in Clara's closet at our first house (originally snagged at Target a while back).
It wasn't bad (especially if we had taken the time to notch out the back to fit around the baseboards). But it wasn't great, either. Why? Well, we seem to have a mini Carrie Bradshaw on our hands thanks to Clara, so shoes often become playthings and end up looking more like this: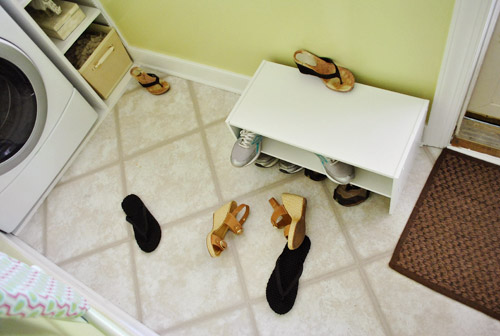 That's when we agreed that concealed storage was what we needed to be hunting for.
There are lots of good options out there for shoe cabinets, it seems. Ikea even has a few different versions to choose from. But everything was too wide (we only have 24″ to work with) or too tall (we'd didn't want it going higher than the window sill so it would look nice and streamlined since the built-ins we added lined up with the sill as well).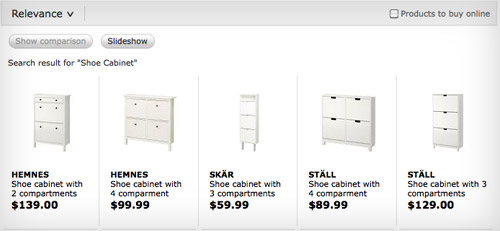 After a few other stores were a bust too, we contemplated using a plan from ana-white.com to custom build something (she has amazing and completely free furniture tutorials for those not in the know). But before we went out and bought a ton of lumber and worried about building something that could stand up to everyday slamming, Roberta saved the day with this comment about affordable and ready-made Ikea recycling bins that might just do the trick: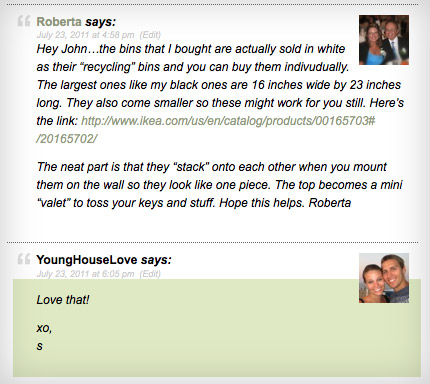 Yup, she kindly introduced us to Retur, who we met in person on a recent trip to Ikea. We liked him so much that we came home with him and his twin brother (at $19 a piece).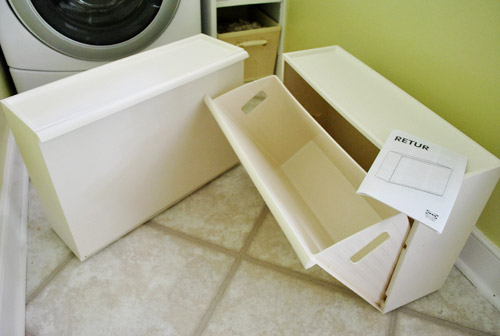 It hadn't come up in our search results because, as Roberta noted, they're technically "recycling bins" but are coincidentally designed just like a shoe cabinet. Plus, their 23.5″ width made them a PERFECT fit for our 24″ space. That was enough for us to overlook that they:
weren't bright white (they still read as white in the room, and we're not really die-hard about all of our white tones matching perfectly anyway)
were plastic (wood might have been nice, but Sherry pointed out that something wipe-able, less precious, and virtually ding/scratch proof might be good for shoes anyway)
Another little detail that we did our best to overlook: between the two of them they only came with one screw to hang them. Yup, somebody must have been daydreaming about swedish meatballs on the Ikea assembly line or something.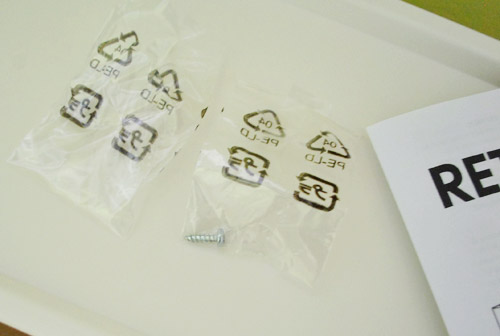 But after digging out some of my own screws, they were a cinch to install (four screws/anchors per piece through pre-made holes in the back). We were in business in practically no time (for those who actually want a time breakdown it was probably fifteen minutes total). And so far Clara hasn't so much as touched them once (I think the lack of knobs to pull on has her stumped for now).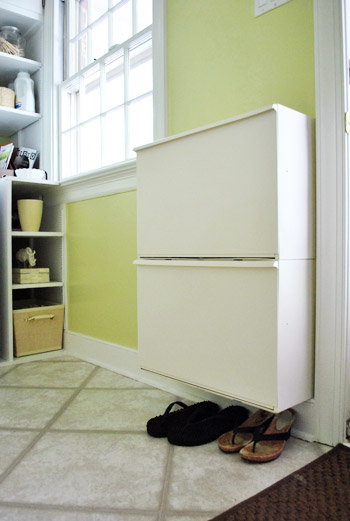 The most amazing part is that not only was the width perfect, but the height was almost too good to be true. When the two stacked units were placed right on top of our baseboard the top was perfectly flush with the window sill. We still can't believe it. And there was about a centimeter of breathing room on either side (so it looks nice and intentionally centered between the door and the sill).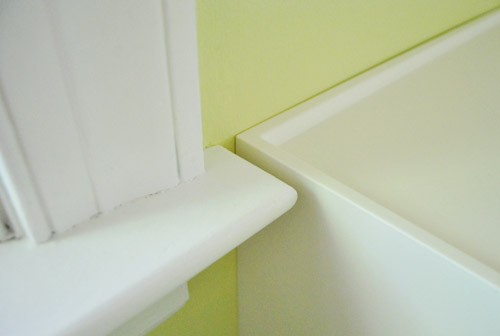 So now that whole wall is almost like one seamless shelf thanks to the window sill that visually connects the ones I built to our new shoe cabinets (which are all on the same exact level). And I shouldn't fail to mention that although they're made for recyclables, they store shoes quite nicely too (including room for some frequently-used pairs to be stashed underneath).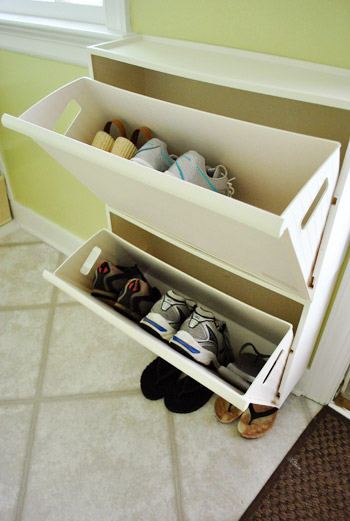 In short, we're thrilled – and eternally grateful to Roberta The Perfectly Timed Commenter. The rooms feels sooooo much more organized without a mess of sandals and running shoes waiting to greet us. And the Returs are so danged narrow (they only stick out six inches beyond the door frame) that the room actually feels more open than it did with the more invasive basket or stacked shelf options that we had going on before.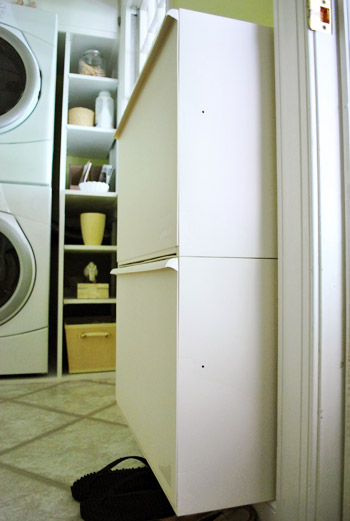 Eventually we're thinking that we might do something to gussy them up a bit more – maybe paint them or cover the fronts/top with decorative paper (or even grasscloth wallpaper or colorful labels) but we want to wait for the rest of the room to come together before doing anything that could end up being "too busy" in the end. You know, since the whole space is only about as wide as a bathroom stall, as demonstrated by my monkey-toed self in this photo from a few weeks back (so not every item in the small space has to scream "look at me!"):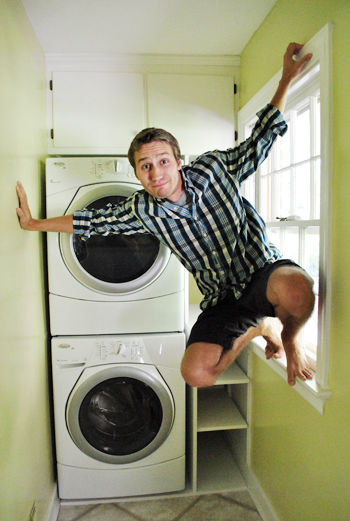 Speaking of the rest of the room, here's our almost-totally-crossed-off laundry room list:
Paint the odd brown quarter round near the baseboards glossy white

Redo all the dinged up trim (also in semi-gloss white)
Paint the walls
Replace our dryer hose with a safer all-metal one
Add adjustable built-in shelving in that nook next to the stacked washer & dryer
Prime & paint the upper cabinetry
Replace the hinges and knobs on those upper cabinets
Hang the ironing board to obscure the giant metal fuse box
Get a new light fixture <- we'll be back to share our homemade clothespin chandelier tomorrow morning
Add a window treatment (maybe a homemade one?) <— might just frost it when we convert the carport to a garage
Add other functional storage near the door for shoes, Burger's leash, etc
Hang some art to keep it cheerful

Now it your turn. What's your go-to shoe storage solution? Did you repurpose something like a basket, bin, ottoman, or cabinet? Or do your kicks usually end up somewhere they're not supposed to? Does your baby throw them in all directions while screaming shoooooooooo, shoooooooooo!? It can't just be ours that does that…