Remember our little Moo Minicard giveaway a few weeks ago? Well our lucky winner just emailed us to tell us what she did with her windfall of complementary Moo Minicards, and we just had to share her clever and thoughtful ideas. Here's her letter:
I got my Moo Minicards! Thanks again for the drawing! I was just thinking before I won this that my husband and I have an ornament for our first Christmas together (06), but we never got one for our first Christmas in our first house (07). So I made sure one of the pictures we got was of our tree the first year we were at our new house. I wrote a little something on the back and now we have a special ornament commemorating our first Christmas: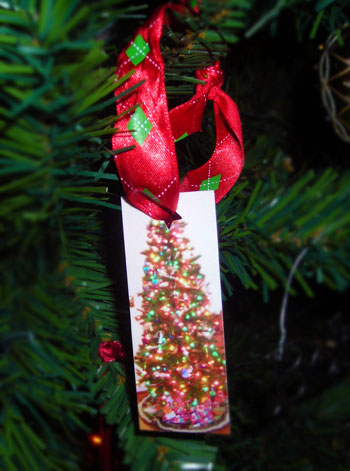 I was also pleasantly surprised at the durable paper that Moo uses, much thicker than regular photos! Which made it perfect for my second project- a "mini book" of pictures for my niece. I took a photo of each of her family members and wrote their name on the back (so she can start learning how things are spelled and associating the names). Now she can look through it and remember family even if they are far away. And they all fit perfectly into the custom made felt pouch I created to keep it clean and tidy: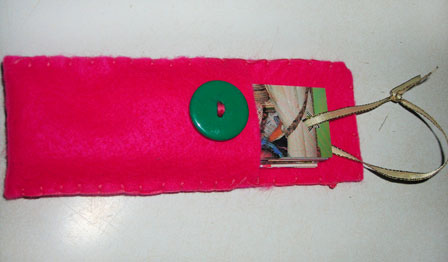 Have a merry Christmas! I know I will! – Sarah
Is that not the cutest little Moo Minicard holiday story you've ever heard?! Thanks so much for sharing your creative and moo-riffic ideas Sarah! And if there are any other Moo users (aka: Moosers) out there, we'd love to hear what you did with your chewing-gum sized cards. Dish the Moo dirt.