As soon as we laid eyes on Sara's über brown kitchen, we couldn't wait to inject some style and some function (oh yeah, and break up all that brown). Here's her letter:
My husband Tony and I bought our first house last fall and need help with the kitchen. It's very… brown. The dark cabinets are accompanied by a brown tile backsplash. We painted the walls an off-white color, except for the deep red "accent" wall. My plan is to hang a bunch of family photos in white and black frames on the red wall. Part of me would love to paint the cabinets bright white, but the walls are already a white color (which could change). What should I do? We'd also like replace the backsplash, the kitchen table and chairs and the hutch behind it. I'd also like to switch out the light above the table for the hanging lamp from CB2 that you have over yours. We also want to replace the sink and faucet but the appliances must stay. Also, if you find a rug for under the kitchen table, we'd love that too. Whew! I can't wait to see what you come up with. Your taste is impeccable. Thanks! -Sara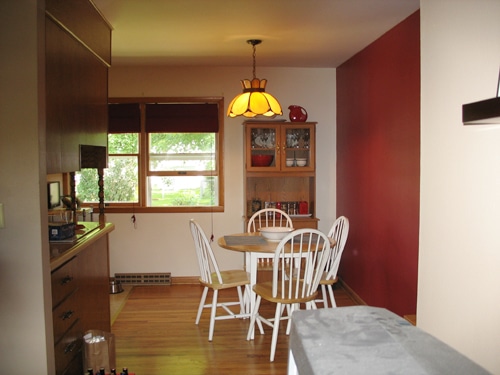 All that brown can feel like a real design doozie, but it's actually an easy fix. In fact, it's rooms like this that can yield the the most dramatic transformations thanks to the magical power of paint. Without further ado, our lighter and brighter kitchen makeover mood board:
Here's the mood board breakdown.
1. Sara's on her way to a classic kitchen with some fun red accents. In fact, her red accent wall sets the perfect stage to add some punchy red accessories throughout the rest of the room. And her instinct to paint the cabinets white is a good one- it'll allow all of her big white appliances to blend in a lot better (and majorly reduce the brown-factor in there). We'd suggest Glidden's Ready-Mix White on the cabinets (just prime with oil based primer and then apply two coats of latex semi-gloss paint). For the walls, we'd go with a nice subdued tan color that plays perfectly off the white cabinets and the red accent wall (try Glidden's Basic Beige). We'd also suggest painting the wood trim around the windows and baseboards a clean crisp white (using the same paint as the cabinets) since white trim is a fast and easy way to update any room. But the painting doesn't stop there. We'd also recommend that Sara prime and paint the hutch behind her kitchen table since that will dramatically update it while saving her some dough. She'll have the primer and the paint out anyway for the cabinets, and painting the hutch the same white tone will make it seem like more of a built-in (and add balance to the room) while creating a less heavy appearance to boot.
2. Sara mentioned that she wanted to replace her faucet and her sink, and we thought this was another place that she could inject something super updated to bring the whole space out of the 70s. This stunner of a faucet in brushed nickel from Overstock is 68% off and will add a whole lotta bang for Sara's buck. And pairing it with this steal of a sink by Kohler (in white to match the existing appliances) might actually make Sara enjoy washing the dishes.
3. Here's a fun and functional way to carry our cheerful red accent color over to the kitchen counter- try snagging a double cereal dispenser. It's like a modern day sculpture that you can use every morning and it's sure to elicit it's fair share of complements. The fact that it's less than $35 makes it even yummier and the silver handles even match our brushed nickel faucet!
4. We think Sara's request to bring our CB2 light fixture into her dining area is right on target. It'll look great over her chic new table and the soft warm glow that it emits will work perfectly within our color palette. And it's not every day that you can find a gorgeous pendant light for less than 50 beans. Why do you think we were so enamored with it for our own dining area?
5. This drop dead gorgeous new table and chair set (on sale for $399!!!) will swankify Sara's kitchen in seconds. Not only will it carry the darker wood tones from Sara's adjoining room into the kitchen, but it will also keep things feeling open thanks to the round shape and the perfectly neutral seat upholstery (it's like it was designed for our palette). And anyone who knows us knows that we're suckers for an x-detail (from x-based coffee tables to x-backed chairs we're head over heels for 'em). And with the hutch behind the new table painted white, it will seem even more open in the room thanks to… you guessed it… less heavy brown wood everywhere.
6. To continue our brushed nickel bling theme, we found a little jewelry for those newly painted cabinets. These fabulous drawer pulls and upper cabinet knobs will really add some refined shine and complete the cabinet overhaul. Just remember to remove the existing cabinet hardware and fill the holes with wood putty before painting so that the new hardware can go in seamlessly after painting. Oh and remember to add some new hardware to the hutch to keep things looking polished on the other side of the room as well.
7. We're super excited that Sara wants to replace the backsplash- it's one of the easiest ways to make a space look super luxe. We dug up this warm mosaic travertine tile for just $4.54 per square foot and thought it would look great with the new warm & neutral palette. Yummy.
8. This great patterned rug stopped us dead in our tracks. It's a Stainmaster rug which makes it perfect for under the kitchen table, and it's rare that you can find such a gorgeously detailed rug for $169. The neutral tone and faded finish will keep it from overwhelming, but the movement and texture that it ads to the room with work with all our other little details (that faucet! that table!) to completely refresh and transform Sara's kitchen as she knows it.
9. Then all Sara needs to do is inject a few more pops of red with accessories like this sexy pepper grinder from Crate & Barrel. You didn't think pepper grinder could be sexy, didja? Well boy were you wrong. Me-owww.
So there it is. Sara's updated (and un-brownified) new kitchen. Whatddya think? Anything you'd add? Anything that's going on your own wish list? Do tell.
Update: We sadly can no longer find the time to take on client commissioned mood boards (we now whip up general inspiration boards instead) but if we ever reinstate them we'll make a big announcement!