When we got a letter from Jacky all about her mantle makeover, we couldn't wait to share the fun before and after pics. Here's her letter:
I'm a BIG fan of your site. And I wanted to share my living room makeover with you. We didn't know what to do with our oddly shaped concrete mantle, so we left it alone for two plus years. But after reading all your archives, I was really inspired to makeover the entire mantle wall! First, I picked up 2 pieces of reclaimed wood molding and 1×12 board (for $30) and began building a custom mantle top. Since my husband was busy at work, I decided to tackle the carpentry myself. Using a chop saw and some finish nails I eventually assembled all the pieces, and primed & painted everything with two coats of semi-gross white. Since our old concrete fireplace surround looked dirty with a freshly painted mantle top, I ended up painting the concrete the same white color and then just popped the mantle cap right on top of it! I love the curve of the crown moldings w/crisp white paint.
My next project was to deal with the huge mirror above the mantle. I originally wanted to buy a smaller framed one, but I couldn't find a perfect mirror within our budget. So instead of taking down the large heavy mirror I left it on the wall and installed a wood frame right over it! I found salvaged 35 cent/foot molding, cut 45 degree angles for the corners, and painted them with two coats of rich ebony wood stain. Figuring out how to install the frame was a bit tricky, but I got a great idea from a local hardware store guy: double-sided tape! It worked perfectly and was so EASY to install! -Jacky
Here's a before shot of Jacky's curved concrete fireplace mantle and jumbo frameless mirror: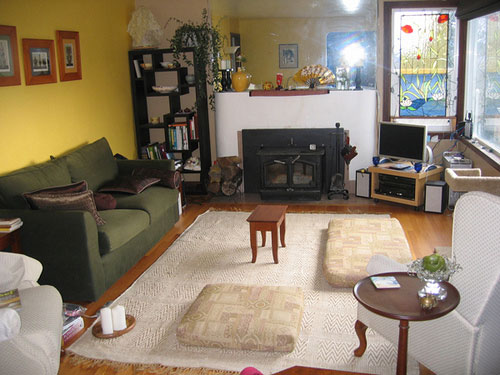 And the fabulously updated new mantle & posh "new" framed mirror: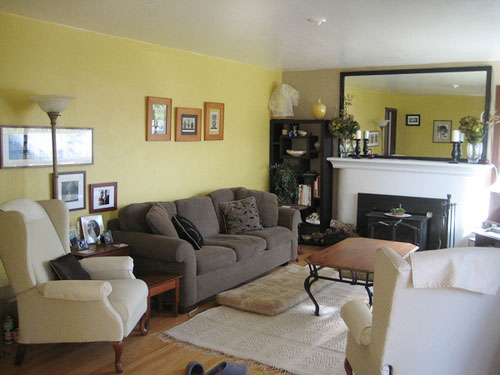 That's the DIY spirit Jacky! And done with your own two hands no less. Thanks a million for sharing!