When we got this sweet note and some great before and after pics, we just had to share 'em. Here's Sarah's letter:
My husband and I bought our first house in May of 2007, and immediately went to work painting every. single. room (the previous owners had 4 girls, who were apparently fans of varying shades of pink and purple). This room (we call it the "hearthroom") was the first one that we finished, and we're quite proud of it. We painted the walls in Behr's Olivine, which was a major departure from our previous apartment beige. We then painted the back of the built-ins the same color, and slowly added our own touches over the first few months – I think we were so eager to finish it because it flows from the kitchen, and we knew that we would spend a lot of time in this general area. The former owner used this room as their dining room but I love that my husband Ryan and I were able to rework the space into a fun room in which to lounge by the fire and play board games, or just have a casual dinner or read a book. – Sarah
So here's the muli-colored country dining room as it looked before Sarah and her hubby moved in: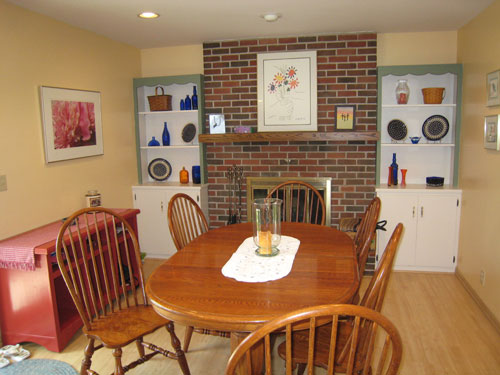 And the newly transformed "hearthroom" (we love that name!) for lounging, reading, and general chilling out after a long day: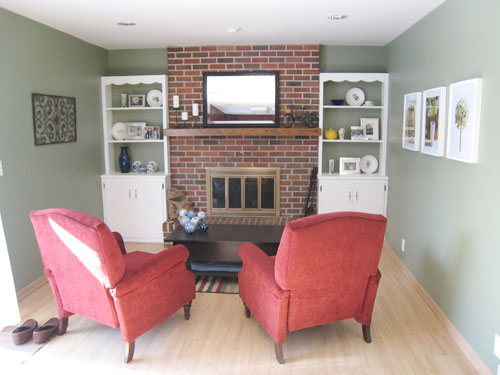 Sweet, no? Fabulous job Sarah! Here's to a chilly night or two to make that fireside lounging extra cozy.