When Jamie sent us photos of her stunningly posh striped walls (inspired by our bathroom painting project) we had to share the amazing transformation. Here's her letter:
Just wanted to tell you "THANK YOU" and give you a big cyber-hug for inspiring me to get off my duff and add some "oomph" to my house. After seeing your altogether fabulous bathroom stripes, I've gone stripe-wild in my own house and it's made all the difference. I did stripes in my bathroom – much like yours – then kept the love going by adding them to my master bedroom as well. Talk about textural eye candy! I just love them, and I love you for all of your fabulous ideas, your prompt responses to emails and comments, and the free advice you so generously bestow on your faithful readers. I'm doing my utmost to return the love by giving you shout outs on my blog as much as possible. I've got a large portion of the Salt Lake valley following your every move so I think I'm doing a good job. Let's be honest, what's not to love? In short: I'm pretty freaking exciting about my stripes!!! Love you both! -Jamie
Here's the already lovely bedroom before Operation Stripe Happy: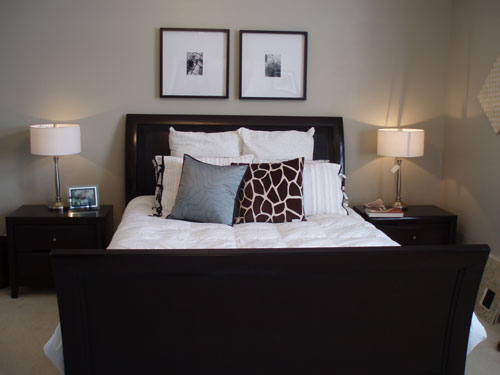 And here it is after Jamie's mission was accomplished…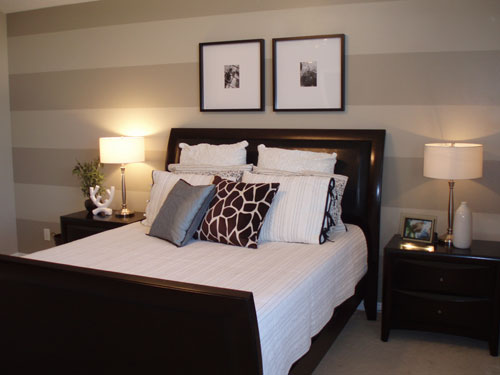 … and her bathroom walls got in on the fun.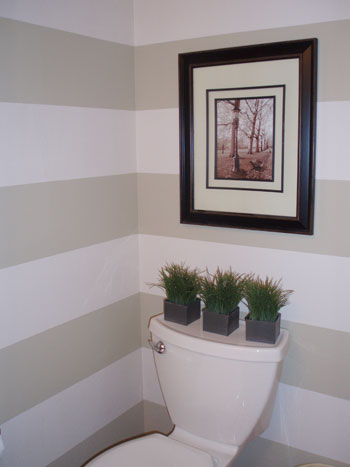 Aren't these chic stripes gorgeous in both the bathroom and the feature wall behind the bed? Love. Love. Love. Thanks so much for sending the amazing photos our way Jamie! What do you guys think? Isn't it amazing what a gallon of paint a little painters tape can do? Gotta love how cheap this project is- and how much bang you get for your buck.
Psst: Itching for a step by step stripe painting tutorial? Look no further than this play by play.