Cindy had fun making a room for her daughter Sarah, but then plans changed and she had to make a quick adjustment. We loved that she made a mood board to keep herself on track, and hunted things that she loved until she found some great deals. Here's her letter:
Hello John & Sherry! I want to share the latest update in our home. In the beginning of the year we decided to let our kids have their own room. Around March of last year this room became our little girl's bedroom…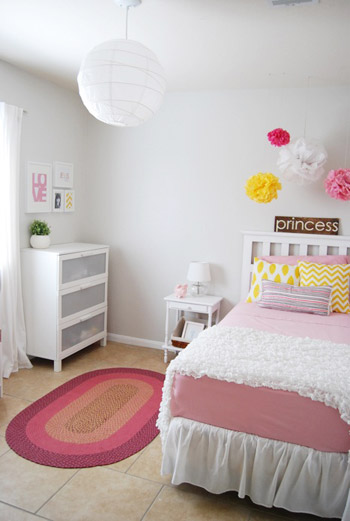 A couple months after finishing this room we found out we were expecting #3 and since our home is a three bedroom home that meant the baby had to share a room with one of his siblings. Since my daughter is the youngest we chose to re-do her room once again so that she can share with her baby brother, Levi. It was a little hard trying to design a shared nursery for both a baby boy and a toddler girl, but I came up with this design board…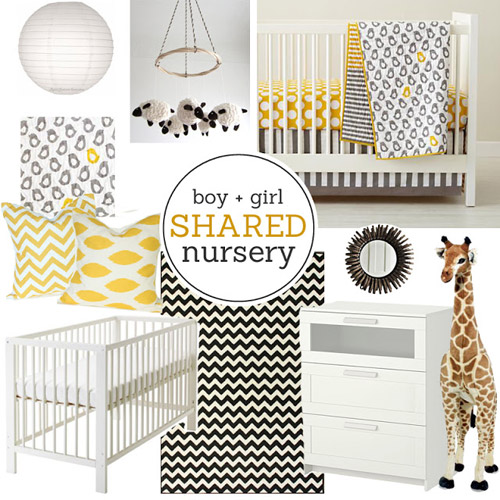 I pretty much stuck to it and here is the room now…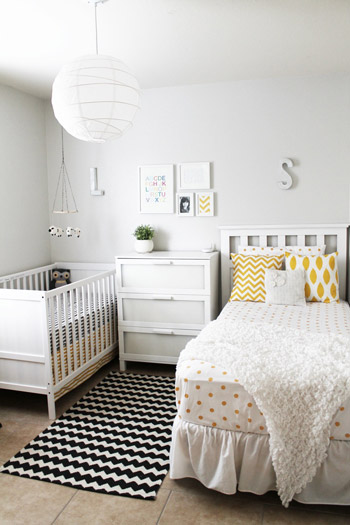 I fell in love with this giraffe as I was browsing through nurseries on pinterest. I looked to see how much they were and almost didn't end up getting it because it was a bit too pricey for me but then I found this one on Amazon here for half the price! It's one of the first things I purchased for this room.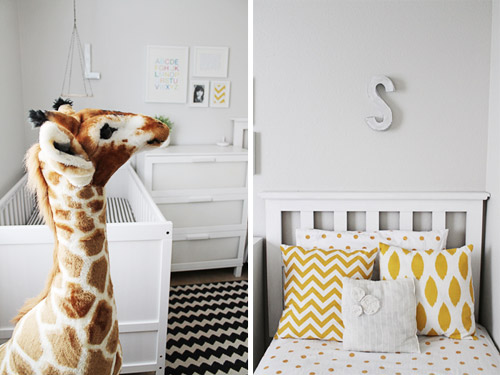 One of my favorite parts of this room is the mobile. It is the inspiration for this nursery..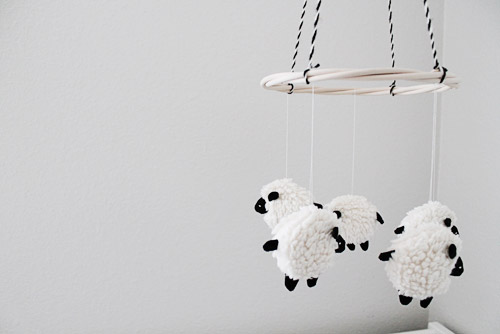 It's crazy how much this room has changed in just one year! I tried to re-use many of the items I had purchased for the first makeover but sadly had to take all of the pink away and store it. My princess still LOVES her room though and she is very excited to be sharing it with her little brother! – Cindy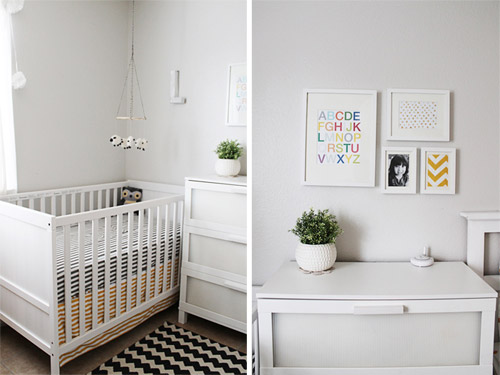 Looks like a pretty rocking shared room to us. It's awesome how just a few tweaks gave it a fresh new life (without even painting the walls!). If you want to see more photos of Cindy's makeover, check out her blog. She also has a full source list outlined here. Thanks for sharing Cindy!
Psst- Looking to make a mood board yourself? We make ours in Adobe Photoshop (after bringing a bunch of our favorite items into Photoshop, we size 'em, cut them out, and add some numbers) but if you don't have access to Photoshop, we've heard great things about OlioBoard, Polyvore and MyDeco so you might want to check those out.