***This giveaway is no longer accepting entries – soon to see who won below!***
After a busy giveaway (and a surprising amount of NPR-heads), random.org has selected our winner as… Kathy (who says music is therapeutic to her and on a bad day, songs on the radio can always pick her up). Congrats Kathy!
How excited are we to be giving away a Model One Radio this week? You probably know that our cheery yellow one is one of our favorite things that we've bought for our new kitchen (more on that here). Sure it's been dubbed "the best sounding table radio ever made" by some (MSNBC in this case), but our love for it stems first and foremost from its looks. It's one good looking radio. But that's not to say that we don't crank up the radio (or an iPod playlist thanks to the auxiliary input in the back) and enjoy a family dance party every now and then…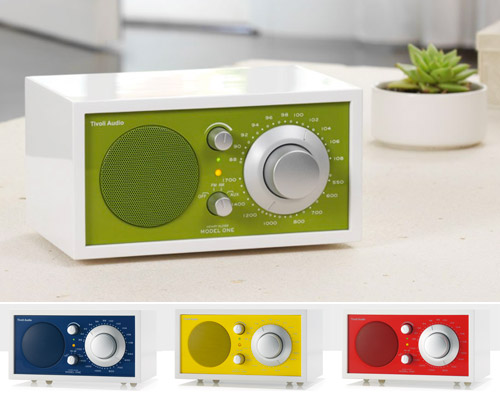 PRIZE: A Model One Radio from Tivoli Audio in your choice of Kelly Green, Atlantic Blue, Sunflower Yellow or Ember Red
TO ENTER: Comment on this post with the words "RADIO ME" and tell us…
BONUS QUESTION: … what you use your radio for. Do you blast the Top 40 tunes or country hits? Or tune into the news or morning talk shows on your way to work?
GIVEAWAY CLOSES: Wednesday, April 18th at 8pm EST or at 10,000 entries (whichever comes first)
NUMBER OF WINNERS: One
PRIZE SHIPS: The United States (although we do try to wrangle as many international giveaways as possible)
DISCOUNT: 15% off any item at tivoliaudio.com with code YOUNGHOUSELOVE (thru 4/22) excluding Model One Whites, which are already 25% off this week!
USUAL STUFF: One entry per e-mail address is permitted. The winner will be selected using random.org and announced on Thursday as an update to this post. That's right, come right back here on Thursday for the announcement of our winner. Good luck…
Note: We aren't paid or perked for hosting these giveaways, we just do 'em to thank you awesome folks for stopping in. See our Giveaway FAQ page for more info. Pics courtesy of Tivoli Audio.