Psst- We usually only post once on Friday, but Sherry will be back with a random little "bonus post" for ya in a few hours.
We always get requests for cool kid rooms, and since we have a girl bean, and shared her recent big-girl-room evolution, we thought it would be fun to share the sweet big boy room that Jesse whipped up for her son. Here's her letter: Hi Sherry & John! My little boy is officially now a "big boy" (hold on while I wipe a tear…).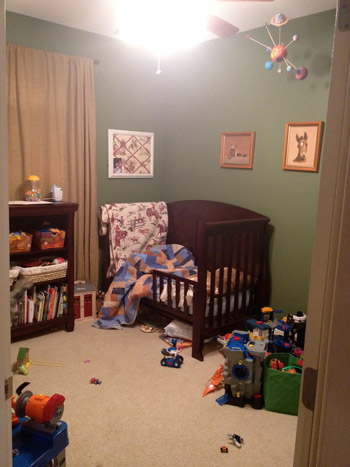 So I redid his room according to his "wish list" which included: lots and lots of colors (I mean color galore), a place for all his toys and books (not as simple as it sounds), a place to color/paint/draw, some sort of deer head (seriously…welcome to Missouri). Quite the list, huh?!
And here's how it looks now.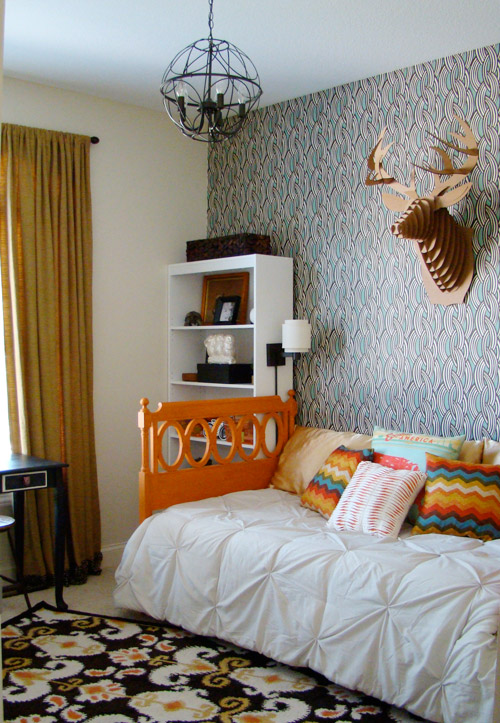 I've never been happier than to cross his room off my to do list. We – me and my husband Sam Sam the "fill in the blank" man (my go to's filler-inners are usually weather, handy, laundry, fisher, btw, in case you were wondering) have done a lot to this room and are so happy with the end result.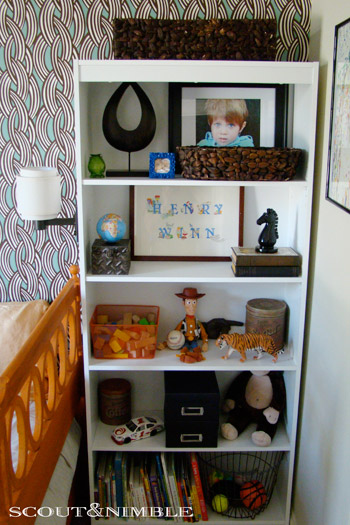 There were some big projects like making the orb light fixture (which only cost us $21), wallpapering, and painting my Craigslist finds for the room, along with a lot of little things like extending the three-inches-too-short curtains with a bedskirt that I found at Goodwill, sewing pillows, and organizing an almost five year old's huge array of toys and books. We also added some plug in sconces to the bookshelves so if Henry wanted to read books in bed, he could. They came from Lowe's and were less than $30.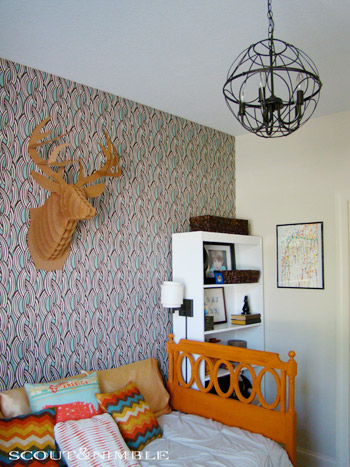 More importantly, Henry is loving his room which makes us happy happy. I did the whole reveal post so all the details can be seen there, too, if you want to check it out! – Jesse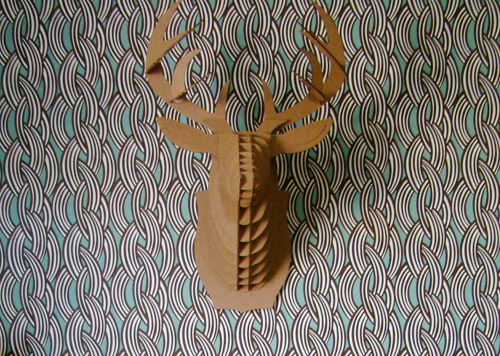 There are so many things that Sherry and I like about this room. We both called the wallpaper and the orange bed as our favorites. Although the deer head (Henry got his wish!) is also up there, especially since it's made by Virginia-based Cardboard Safari. As Jesse said, you can check out her reveal post for more details and photos. Thanks for sharing it with us, Jesse!
Psst: Wanna see nearly 200 (!) reader redesigns? Just click here and scroll on through as many as you'd like :)