When we last left off with our little media cabinet we had cleaned all of the grime off (with a Magic Eraser of all things) as well as removing the musty smell from the drawers with vinegar, but we mentioned that we still wanted to hide the cable box in one of the drawers somehow, and also had to seal the wood with something to lock in the color and shine. Well, we finally got 'er done thanks to some technology and some good old fashioned elbow grease. So here's how we went about getting that cable box off the ground.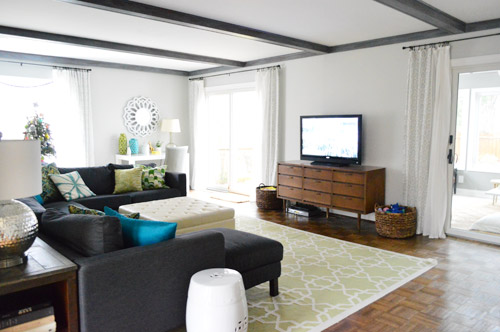 We drilled a bunch of large holes in the back of the top middle drawer (and the back of the unit) with a large drill bit (it was a 1 3/4″ bit). Sorry about the bad lighting here, we needed a flashlight shining into the drawer to illuminate things, and it photographed really oddly.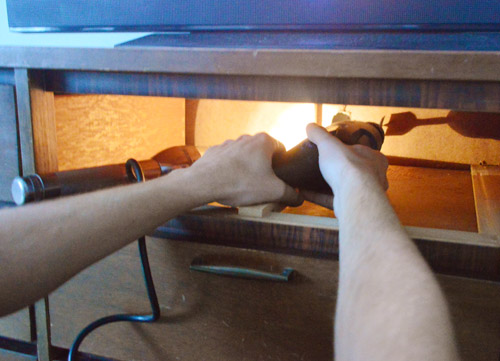 Here's an idea of how it looked when we had finished one side of Project Ventilation. Not to be confused with Project Runway, which is a lot more exciting, and usually involves at least seven kids from my Alma Mater (FIT – represent!). Anyway, so we did the same thing on the left side of the back of the piece (made four more holes) and then made the same type of holes in the back of the drawer itself (which was also open on the top, so any heat could easily escape).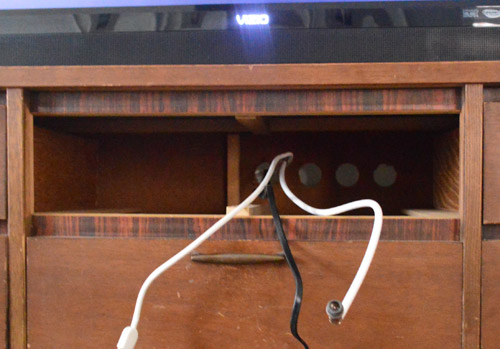 Then we just hooked up the box, slid it into the drawer, and shut it. It's nice that we can pull it out (if we ever want to access it) but we don't have to keep the drawer open whenever it's in use in order for the cable box to get a signal. Why don't we? Why, because we got an IR extender. And it's dreamy.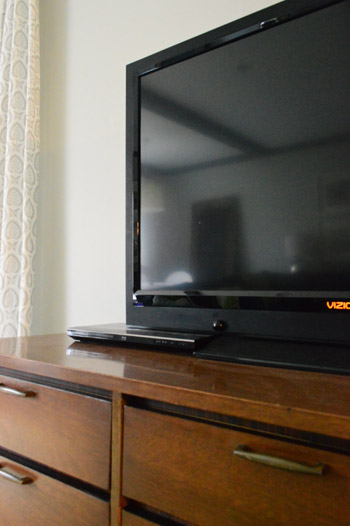 Wait, you can't see it? Allow me to point it out. See this little black dome that's about an inch wide?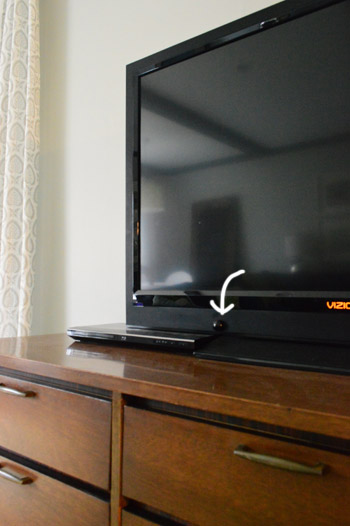 Well, that's an IR extender. We got it from Amazon (here's the one we bought) and for $15.99, with tons of great reviews, it's a deal that saved us from having to ditch/hack up/attempt to hinge a drawer front. The way it works is that you place the small round receiver (the black dome-looking thing) somewhere discreet on the front of your TV, and that picks up the signal whenever you use your remote from the couch. Then you just plug it into your cable box (there's a wire that snakes around back).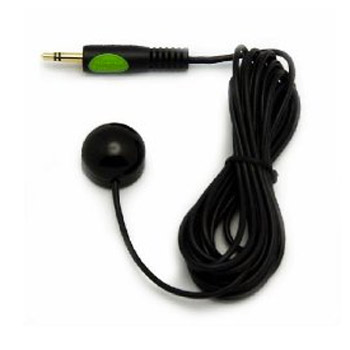 In a word: it's genius. It has been just as reliable as pointing the remote at the cable box itself, and thanks to ventilating that drawer we haven't had any overheating issues (even if we leave the drawer closed for a week and then open it, it's not steamy in there).
But now onto what we did to restore some color and shine to the media cabinet itself. Because it looks pretty good in the two photos above – but those were taken after we put a little effort into it. So let's go back in time for a second. Since it had already been scrubbed down and de-grimed we needed to work on restoring some luster and sealing it all in for long-lasting protection. Step 1: pull out the drawers and roll back the rug.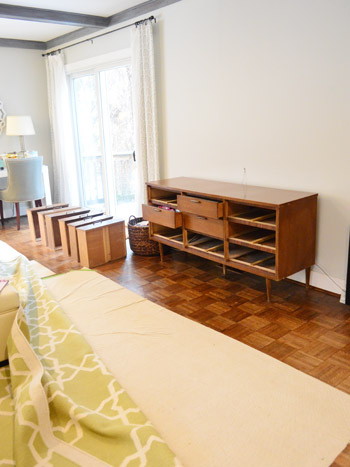 Step 2: Bring those drawers into the sunroom (where I had more space to tackle them) and grab some Restor A Finish and Howard Feed-N-Wax (we found it at Home Depot) since I've pretty much heard only the most amazing things about both products, especially when they're used in cahoots.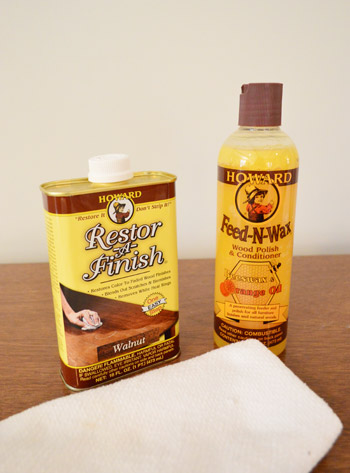 Here's how the drawers were looking before any luster-restoration or sealing. See how the wood looked a little dry and had small dings and scratches in the finish?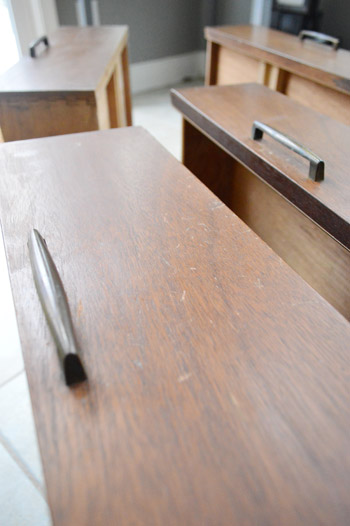 Step 3: Rub Restore-A-Finish onto each drawer as well as the frame of the cabinet with a rag according to the directions on the back (which are pretty much "rub it on and wait 30 minutes"). Look at the difference! In person, it was like seeing a crusty old foot in one of those lotion ads that gets some much-needed cream and transforms into a gorgeous and smooth beach-ready model-foot. Seriously, our drawers went from crusty to modelesque.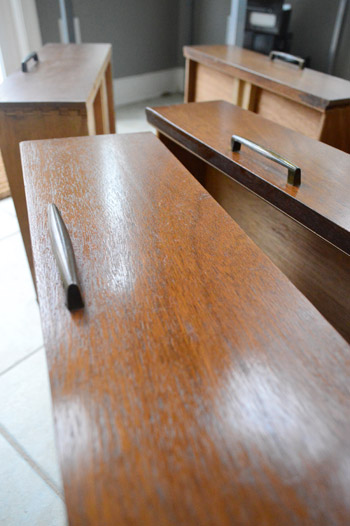 After the Restore-A-Finish application, there were still a few more heavy duty chips that weren't quite solved (it was great for the small dings and scratches as well as moisturizing all of the wood though).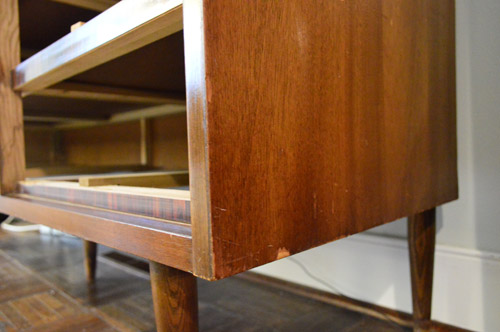 So that brings us to step 4: raid Clara's art drawer. Ah yes, a brown magic marker will do.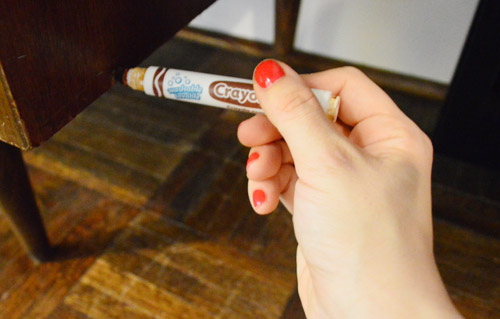 Step 5: rub the brown magic marker into those bigger chips and immediately blend with your finger. Might as well rename it Chip-Be-Gone. Or at least Chip-Be-Way-Less-Obvious.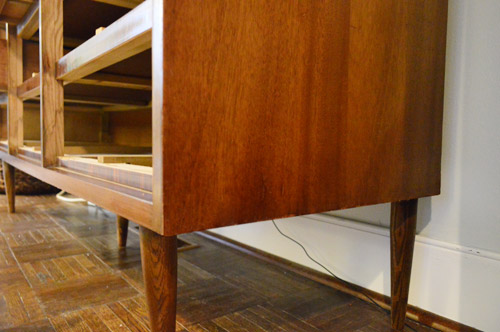 Then after the wait time on the can of Restore-A-Finish (30 mins) it was time to move on to our little bottle of Howard Feed-N-Wax to seal everything in. I was fresh out of clean rags, so I used an old white sock. Worked like a charm.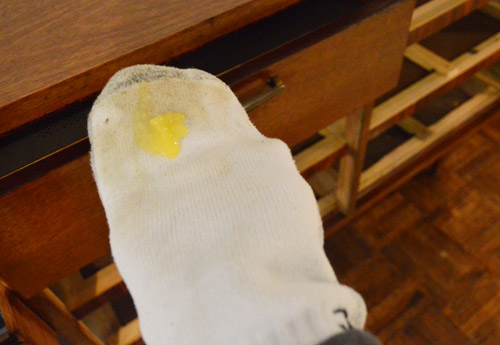 Step 6: Apply the wax to the wood drawers and frame of the cabinet, let it sit and soak in for 30 minutes, and then buff away any remaining wax with another clean rag (or sock in my case).
"Bling bling. Everytime I come into the sunroom bling bling." That's what I was singing with these flossy & glossy babies in front of me. Just call me Lil Wayne.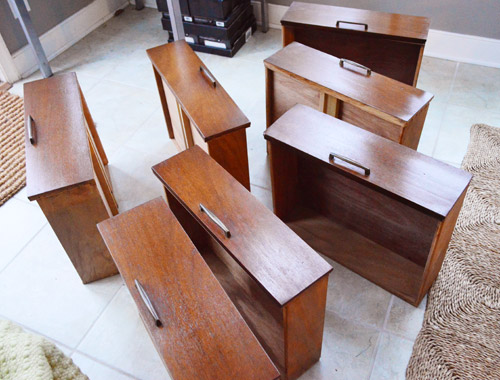 Once I slid the drawers back into place, our media cabinet was all "Can't nobody take my pride. Can't nobody hold me down. Oh no. I got to show those movies" a la Puff & Mace.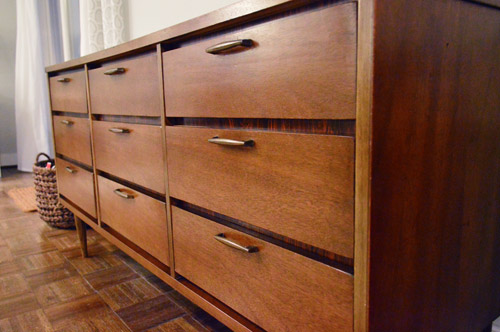 It was like a bonafide hip-hop throwback concert at my house. With slightly altered home-related lyrics.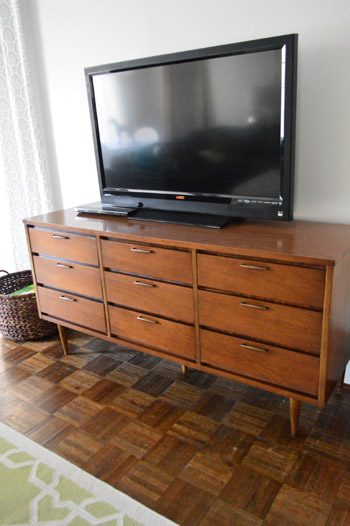 Ok, I'm satisfied with the amount of hip-hop references that I worked into this post. Although I gotta say, it would make my life to someday drop this little ditty: "I'm sorry momma. I never meant to hurt you. I never meant to make you cry, but tonight I'm cleaning out my armoire."
And now, let's take a moment to appreciate how far this baby has come. Best $59 we ever spent. And the crazy part to us is that this cabinet sat at the thrift store long enough to get marked down by $20 (which means it was probably there for at least a month). Nobody saw the beauty.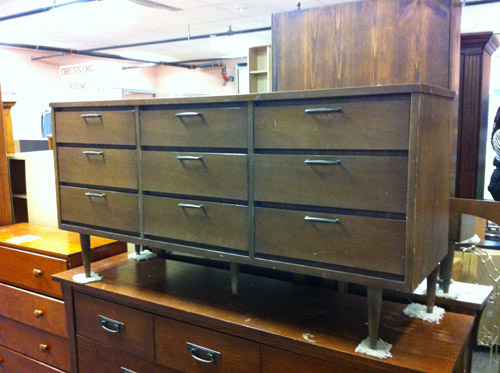 Also, on the subject of hip hop, dude why isn't the magical pairing of Adam Levine, 50 Cent, and Eminem getting more radio play (warning, this isn't the clean version, it's the official video)? I first heard it last fall but it's still not on the radio. What the heck, DJs of America? Help a sister out.
What are you guys up to when it comes to furniture upgrades. Any wax-on-wax-off-ing going on? Any other RF remote (or IR extender) lovers out there? It's a pretty sweet piece of machinery, I gotta say.