When Jennifer sent over some pictures of her sitting nook turned office we just had to share the goods. Here's her letter:
Hey YHLers. I'm totally hooked on your blog and wanted to share my recent home office makeover. It went from a non-functional sitting room (it actually did function as a laundry dumping ground which was not very pleasing to the eyes, and really served no other purpose) to an extremely functional home office space. A lot of the major stuff was already owned, such as the chandelier and the desk (moved from another room in the house). We just dressed things up a bit by creating a homemade bulletin board, craft storage using a magnetic board and spice tins, a large photo collage wall calendar, wallpapering the desk and adding some other pops of pink to keep things feeling fun and fresh. The paint color on the walls is Behr's Ultra Primer/Paint combo in Frozen Pond. You can check out the step by step process here on my blog, where I spilled all the details of getting from point A to completion. Now that the room is so functional, we find ourselves spending a ton of time there, and it also forces us to hang up our laundry, where it belongs! I hope you enjoy. Thanks again for being so inspirational! – Jennifer
Here's Jennifer's formerly unused seating nook before the big office upgrade: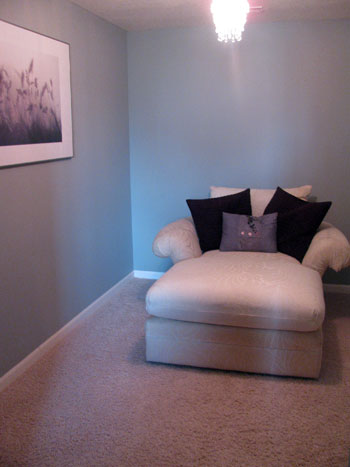 And here's her new office after the budget-friendly makeover: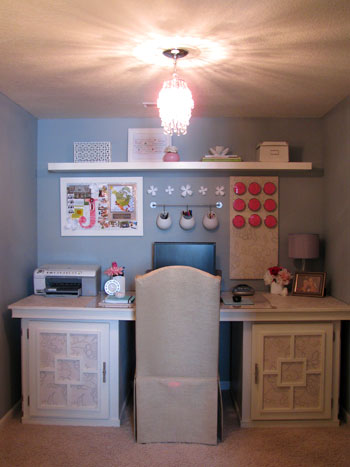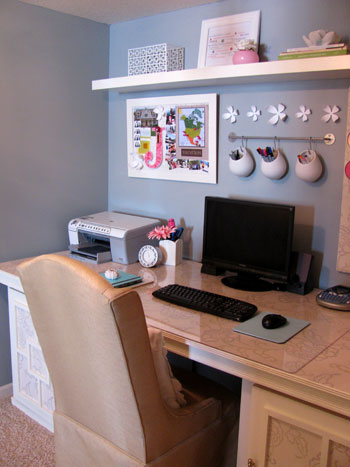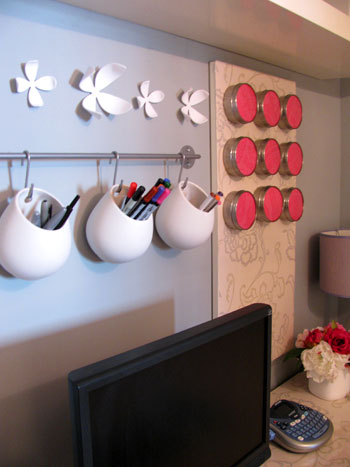 Didn't Jennifer do a great job of turning a laundry-collecting chair into a fully functional office packed with storage space and style? We love everything from the high-hung floating shelf and those great magnetic spice tins to the crisp white hanging vases that hold pens and markers. And isn't the teardrop chandelier charming too? Great job Jennifer! What do you guys think? Any favorite details? Is there anyone else out there who's ready to give a wasted corner in their house a big office makeover?