Jen sent us this simple yet totally transformative dresser makeover and – as much as we love painting furniture white – we thoroughly enjoyed the fact that she took this piece back to its wooden roots for an awesome two-tone vibe. Here's her letter:
I've discovered your site recently and love it! My faves are the reader redesigns, so I figured I'd share a little project with you and the rest of your readers. This is a hand-me-down dresser from a fantabulous neighbour. We're working towards an adoption and people keep telling us that we'll have no time when the baby comes, so I'm trying to get a few things on the move well ahead of time.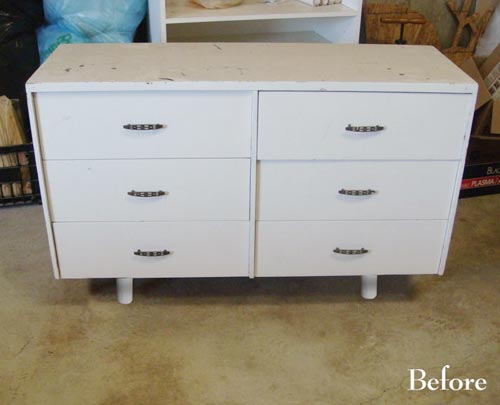 As for the work: I wanted to get the top down to the wood. There were a few coats of paint hiding under there. I began attacking it with a paint stripper… but only got so far. It was time for the big guns: the belt sander! (I may add that my shoulders got a little workout holding that thing steady- bonus!). I also picked up some new hardware and paint (from Home Depot). The paint is a soft celery colour – Behr Premium Plus 380F-4 Ground Ginger – and the stain on the top and front is Minwax Golden Oak. The little giraffes had a little paint makeover as well and their new colour is Behr Premium Plus in S-G-360 Bright Star. Thanks for taking the time to check it out! -Jen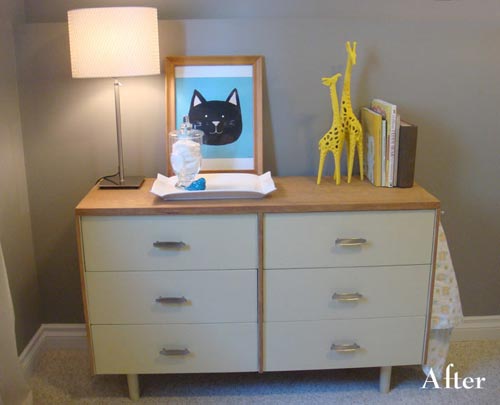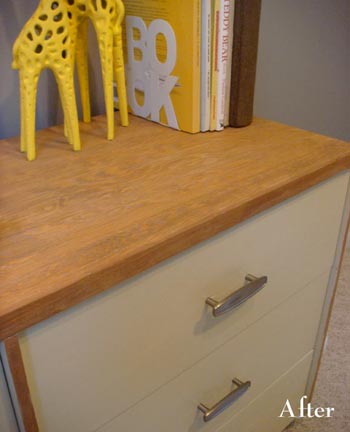 Isn't the new wood finish just gorgeous? All of Jen's hard work and belt sanding clearly paid off big time. Makes me wanna go sand something myself. And those giraffes? As you can guess Sherry is ob.sessed. with them. You know she has a ceramic animal addiction, right? Anyway, you can read more about the transformation here on Jen's blog – and don't forget to check out the graphic treatment that she's given the wall behind the dresser since submitting these pics. Fun, fun, fun.