Linn's built-in project is such a great reminder of how upgrading your bookshelves from furniture to attached "architecture" can really give an entire room a boost. Here's her letter:
I wanted to share a before and after of custom made built-in bookcases which my husband and I constructed! Seeing how our old bookcases left much to be desired in terms of looks but also in terms of practical storage space, and not wanting to spend a fortune having someone else custom build shelves, we decided to take on the project ourselves.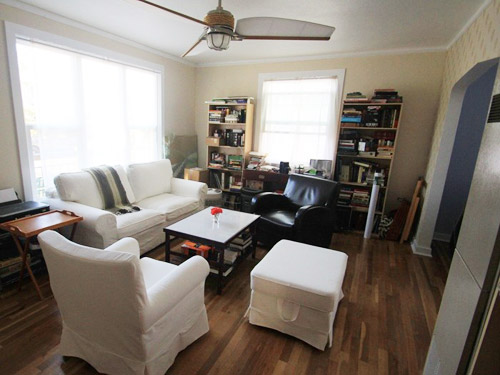 I have always loved the cozy look that built-in shelving provides a home, it gives it so much more character and charm in my mind!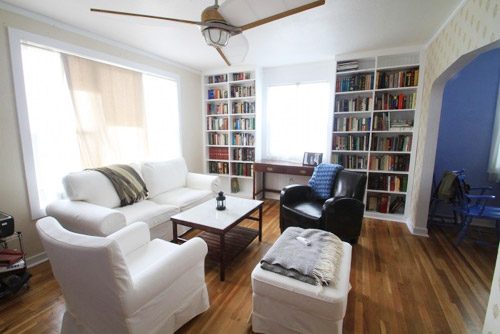 Creating these built-in units seemed a bit intimidating at first, but once we broke it down in parts, it was very manageable. We constructed two huge wooden structures outside in our carport / aka woodshop(!), painted them white, and brought them inside.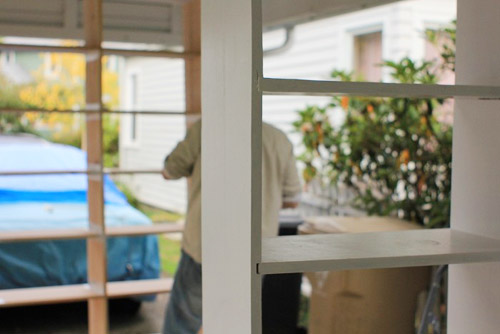 For backing we used beadboard which I think gives the shelving a really nice touch. Putting everything together and finishing it off with a fair amount of molding and caulk took a bit longer than I had anticipated, but it's always the finishing touches that takes the longest, isn't it?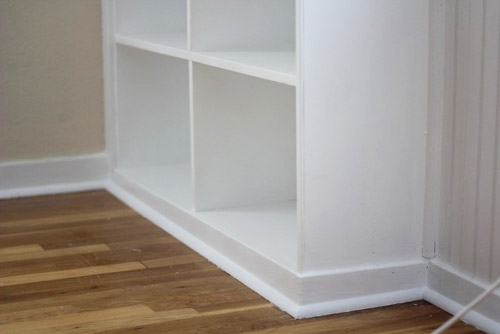 Now these built in shelves look great in our space and we can fit so many more books which was really the main reason to build these units in the first place! – Linn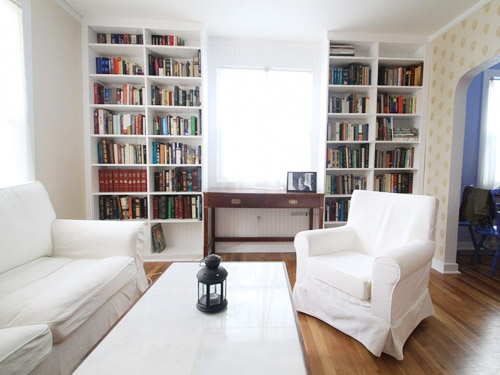 Care to humor me for a moment? Ok, scroll back up and look at the before pics. Doesn't this room look a foot taller now? It's amazing how ceiling height built-ins can elongate a room and make it feel so much more open. And the beadboard on the back is such a great touch. You can learn more about the project (and the building process behind it) over on Linn's blog. And if you love this update as much as we do, but are intimidated by all of the construction that Linn and her husband did, you can also get a similar effect with off-the-shelf bookcases (like Ikea's Billy bookcases) that you can just assemble and then upgrade with some trim and molding for that built-in look. Happy built-in building!
Psst- We picked our random winner for this week's giveaway. Click here to see if it's you.