***This giveaway is no longer accepting entries – see who won below!***
Random.org had a tough job of sifting through nearly 7,000 jewelry hungry ladies (and gentlemen!) but has selected two random winners as… Lisa S. (who, like many, always wears her wedding ring but never gets sick of it because her husband did a great job) and SJ (who also wears her wedding and engagement rings out everyday). Congrats!
Sherry here. I don't usually write the giveaway posts, but we're making an exception since I was the one who twisted John's arm into this week's giveaway. Instead of our usual DIY & decor-related prizes, this week we're giving away some body decor that was DIYed (well, created) by two talented jewelry designers. Yup, we have two hundred dollars worth of sparkly, sparkly jewelry for ya (or for your mom/wife/sis/girlfriend/grandma if you're a dude).
The bling comes from two designers that I couldn't love more (nope, I didn't get any swag to say that – I truly love their stuff). The first is Erin McDermott, a Charlotte-based designer who studied at both my and John's alma maters (FIT in NYC and UVA here in Virginia) and has been featured in Real Simple. Here are some of my favorites things of hers: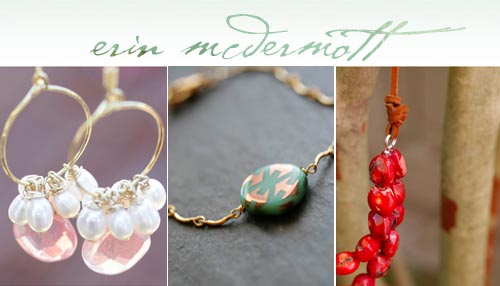 And then there's Towne & Reese, whose studio we crashed earlier this year. Not only do I love their stuff, but I love that they name their pieces after their friends' children (Towne and Reese are the founders' daughters' names). And get this, Clara will actually have a piece named after her in their Spring collection. Do you know how excited that makes this geeky momma? Probably too excited. You bet I'm staking out their Facebook page for a sneak peek. Anyway here are some of my favorite things from their current collection: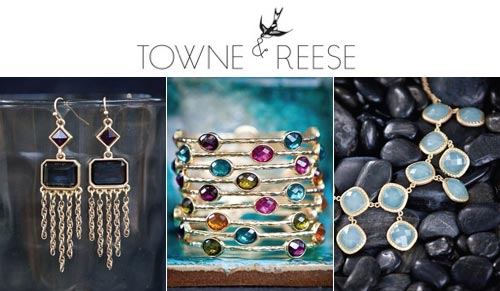 PRIZE: An $100 gift card to Erin McDermott Jewelry AND an $100 gift card to Towne & Reese
TO ENTER: Comment on this post with the words "OOOH SHINY!" and tell us…
BONUS QUESTION: …if there's any item that you wear every single day. If so, is it a wedding ring? A watch? A meaningful piece of jewelry from a relative? An inherited pocket watch from grandpa? An i-Pod? The same pair of lucky underwear? Hope not.
GIVEAWAY CLOSES: Wednesday, October 19 at 8pm EST (or at 10,000 entries)
NUMBER OF WINNERS: Two (each winner gets both gift cards)
PRIZE SHIPS: Anywhere in the whole wide world! (yesss, we love when they're international)
USUAL STUFF: One entry per e-mail address is permitted. The winners will be selected using random.org and announced on Thursday as an update to this post. That's right, come right back here on Thursday for the announcement of our winner. Good luck…
Note: We weren't paid or perked for hosting this giveaway, we just do 'em to thank you awesome folks for stopping in. See our Giveaway FAQ page for more info. Pics courtesy of Erin McDermott Jewelry and Towne & Reese