Laura's paint and accessory makeover is truly a testament that high style doesn't have to come at a high price. Here's her letter:
I enjoy reading your blog and wanted to share some before and after pictures of my living room redesign. I too am a first-time homeowner of a charming older house (a Cape Cod built in 1951). Since moving in four years ago, I have enjoyed taking on many projects to make the house my own while still honoring its history. The living room is now one of my favorite rooms in the house. Please excuse the clutter and décor in the "before" pictures; they were taken before I moved in. To complete the transformation, I used Behr's Tide Pools on the walls with Behr's Pot of Cream on the trim and filled the room with furnishings from Target, Pier 1, and JCPenney (and accessories from Homegoods, Marshall's, and Target). The curtains hail from Christmas Tree Shops and the photography is actually pictures I took when living in Spain. Thanks for such an inspiring site. Keep up the good work! – Laura
Here's Laura's living room before the big makeover: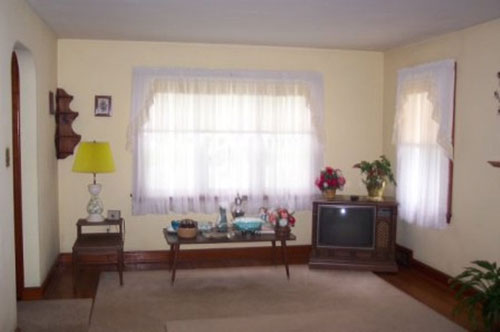 And here's the same room after a few totally doable changes (hard to believe, isn't it?!):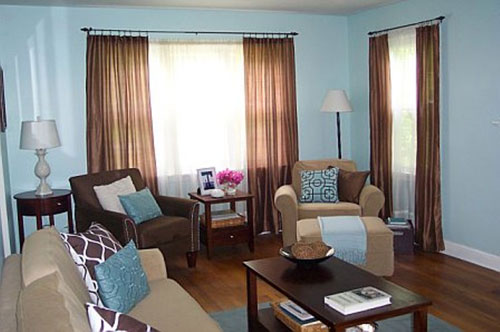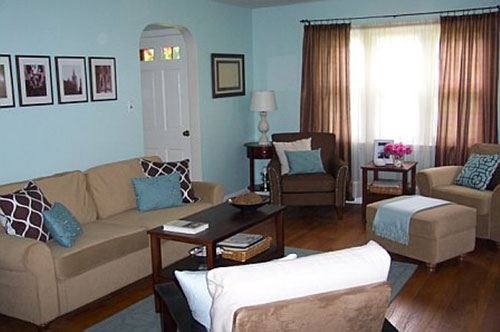 Isn't that a lovely and inspiring transformation? We always say that paint and curtains really can dramatically upgrade a space and Laura's living room is the perfect example of just how far those two things can go! What do you guys think? What's your favorite part? Thanks so much for sending the photos our way Laura. Long live simple and oh so transformative room redos like yours!