When Melissa sent us some pretty dramatic before and afters, we just had to share the eye candy. It's amazing what a can of paint (and some primer in this case) can do. Here's her letter:
Could these living room colors have been any more dark and pukey?!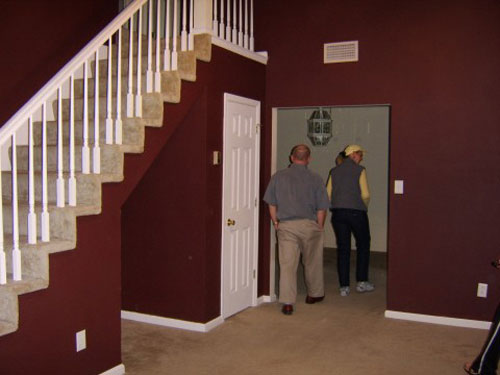 Primer, three coats of paint and some wobbly ladder-climbing later, the dark and dreary was gone. Now, fresh, crisp aqua walls flood the space with light! Beechwood laminate floors gave the room a modern, clean feel and were well worth the investment! Then, I was browsing in Cary Street in Richmond (maybe we crossed paths and didn't even know it!) one weekend and fell in love with EQ3!!! I ordered the sofa, loveseat and fun/funky lounge chair from there. The tables, fan, screen-curtains, art & floating shelves came from Ikea. The rugs, lamp and accessories are from Target. I've since updated the pillows with some dupioni silk in neutral shades and added some pops of hot pink that give the room some lively fun. The room has skylights so lots of natural light makes the color on the walls transform throughout the day. It's a fun room and always gets the wow-factor when friends come over for the first time. We're always dreaming up new ideas, but maybe our wallets will thank us if we take some money-saving advice and just swap things out from other rooms when we need a quick change!- Melissa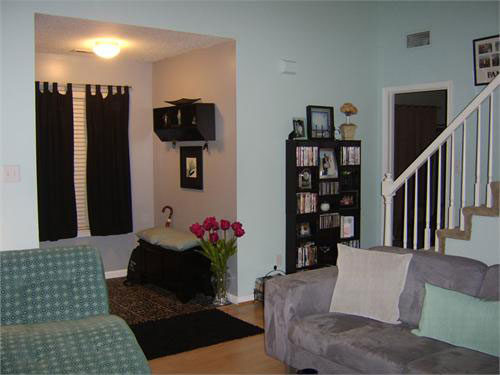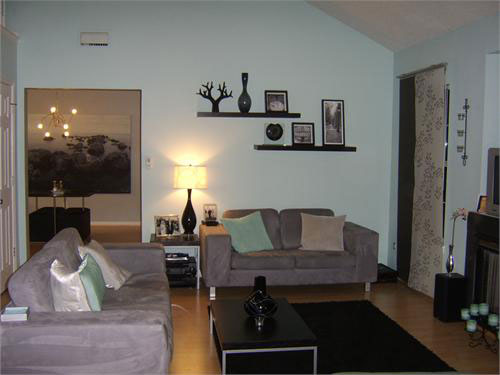 What a difference, eh? We love the lighter and brighter wall color. Bravo Melissa- and thanks so much for sending your before and afters our way!