So last night we thoroughly enjoyed our fifteen minues (well, more like 15 seconds) of fame on HGTV's Rate My Space (after enduring thirty minutes of nail biting nerves leading up to the big event). Did you catch it? What'd you think? Sherry and I are mainly relieved that we were reasonably coherent (we were, right?) and didn't look all that weird (although Sherry swears that her voice was crazy the whole time). Oh and thanks so much to those of you who've already dropped us a line about catching the show. We're so glad you guys were able to tune in!
But enough chit chat. On to the behind the scenes scoop about how it all went down (with some high-tech screen shots- i.e. photos of our paused TV screen to help tell the story).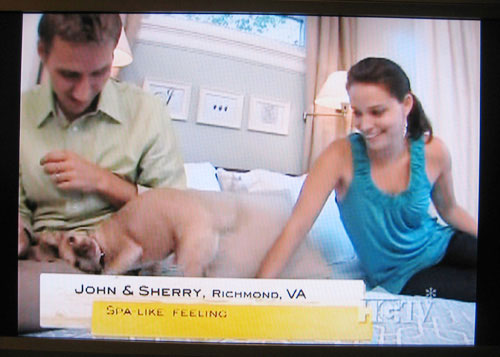 Before this experience, we had always taken the show's premise that homeowners hand-picked their three inspiration rooms with a grain of salt (figuring producers or the designer really offered the makeover recipients a few prescreened rooms to choose from). Not true! C.V. and Noel, the super-friendly homeowners in our episode, actually had their pick of the whole RateMySpace.com universe. So once C.V. and Noel chose our bedroom as one of their favorites, the (extremely friendly) producers contacted us to let us know and requested a video tour of our room and a little video interview (this is probably where people get screened to ensure that they're not babbling weirdos- unbelievably we got through!). Once we learned that our room and our interview passed the screening test, a crew was suddenly scheduled to fly out to Richmond just two short weeks later. Needless to say we pinched ourselves (and cleaned) for 14 days straight.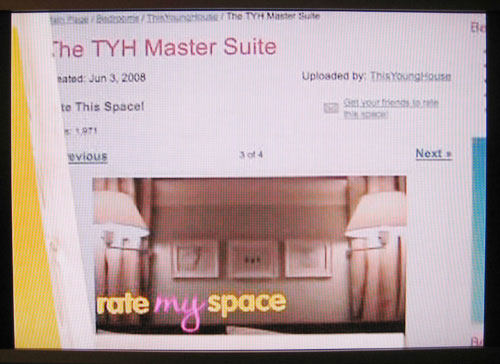 We say "crew" generously, as it was actually a one man show. They've got one guy (Dan, also totally nice- we're even Facebook friends now) who shoots all the inspiration rooms for the show, no matter where they are (he had just returned from a shoot in Hawaii, so Richmond must've been a bit less exotic by comparison). You can see him below filming some B-roll of Sherry doing bedroom-y things like contemplating her wardrobe. This footage ended up on the cutting room floor along with a lots of other bedroom scenarios: us reading on the bed, Burger attacking the camera, me blogging in the chair, Sherry admiring her shoe collection, a lengthy interview, etc. Dan was actually here filming for about 6 hours, so clearly a lot had to be whittled down to squeeze us into the 90 seconds-ish time slot that we had on the show. Lucky for me they cut out the spot where I accidentally called Angelo "Anthony." I blanked under pressure, sorry Angelo (he's also our Facebook friend so I hope I'm forgiven).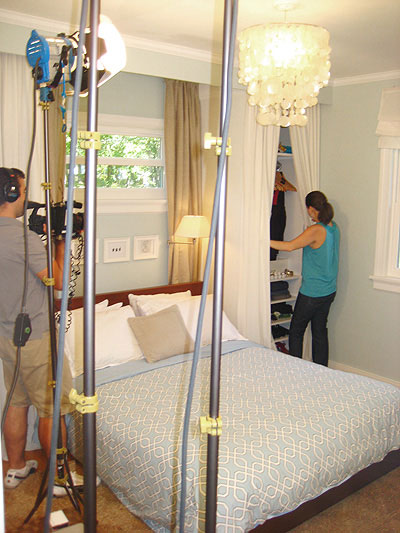 Our conversation with homeowner C.V. and designer Angelo Surmelis was probably the highlight of our filming experience. And it was actually the very first thing we filmed, a mere 15 minutes after Dan arrived. It all happened just as you saw it, no funny editing or camera tricks. They were really mid-makeover when we spoke and C.V. was all giddy with excitement (btw, how good was she on camera? Sherry and I were so impressed by her effortless delivery). Using the crew's laptops we were connected via Skype and had a 15-ish-minute conversation about lots of things: where her husband was, what other inspiration rooms they were using, Angelo's vision for the room, and why we put up the curtains on either side of the bed (they didn't realize there was storage back there and Angelo actually really liked that detail). And although only our ramblings about paint color and spa-like fabrics and textures made the cut, we're just thankful we appeared to have strung together full sentences with nouns and verbs in the right place.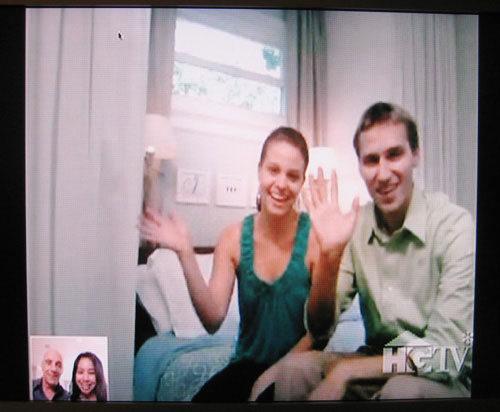 We probably annoyed Dan with lots of questions about how they cobble the show together (inquiring minds want to know!), but a few of our favorite tidbits were about what it's like to be the makeover recipient. For now, they only pick homeowners in California so that they can keep production local to their HQ. Interesting, right? We also learned that the production company pays for all of the makeover costs. But that doesn't mean C.V. scored her $12,000 makeover totally free- apparently the homeowner still has to pay taxes on the improvements. Still a pretty good deal though, eh?
So that's the scoop on our little peek behind the Rate My Space curtain. It was a great experience and we're totally happy with the result. Other than my wife declaring that she wants a voice transplant we couldn't be more excited about our 15 seconds of fame.
So click here to check out a clip of the episode. We'd love to know what you guys think of the final makeover. Wasn't that room's spacious layout amazing? Go ahead, rate that space. And feel free to ask any and all behind the scenes questions that we may have forgotten to cover in our HGTV afterglow.