As soon as we laid eyes on these amazing before and after pics, we were psyched to share this fab fireplace makeover. Talk about a transformation. Here's Megan's letter:
I'm a big fan of your website and also live in Richmond – isn't this a great city? I really enjoy reading about other people's DIY projects, so I thought I'd share our latest venture. When we moved to our 1970's transitional, it had a floor to ceiling brick fireplace that was taking over the living room. We considered painting it white, but then decided to get a bit more adventurous. We removed the garish brick hearth and replaced it with tumbled marble stone. Then we finished off the top part of the fireplace to make it continuous with the surrounding wall. Finally, since we couldn't find a prefab mantel that fit our measurements, we constructed a custom one using lots and lots of molding pieces from Home Depot. We spent a full weekend making mitre cuts so that everything would fit together, but it was totally worth it in the end. We definitely would encourage others to renovate their fireplace! It takes patience, but in the end it isn't an expensive project and gives a lot of bang for the buck. Be sure to research fire safety codes for your area – there are quite a few specifications on what kind of materials can be against brick and how close you can get to the firebox. Hope you enjoy the pictures of the process! Keep up the good work with the website!! – Megan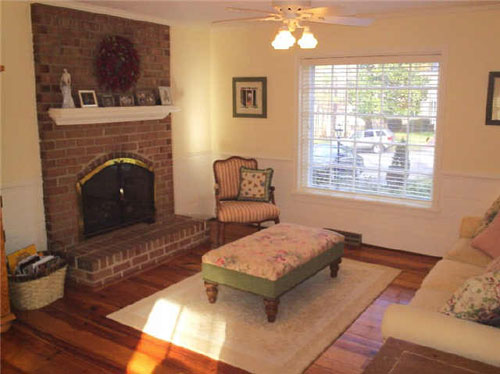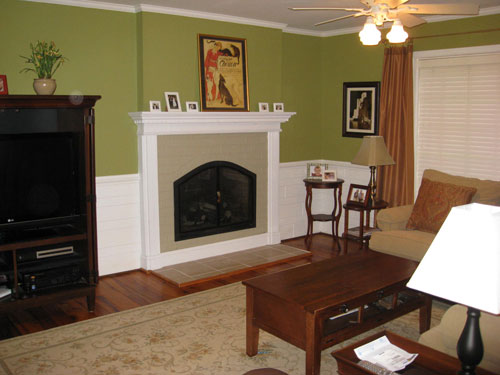 Is that not a wowee of a makeover of what? Thanks so much for the pictures Megan! We love what you and the hubs have done (so ambitious!) and the results are truly stunning. That room went from country to current in no time flat! What do you guys think? Are you inspired to spend the weekend sledgehammering your hearth and mitreing some molding?