When adorable and hysterical Megan wrote to us with one of the most exciting reader redesigns of all time, we instantly knew her front room transformation would be a hit. Here's her letter:
Hi Young Housesters! I wanted to show you how much you inspired me in my front room spruce up. When we moved in, the front room was baby blue with a dainty floral border. Not exactly the look we were going for. So we painted it a neutral shade of cream and I found an amazing rug and hung some brown curtains. It was too drab and needed something but what? I was lost and then I found you guys and fell madly in love! I was perusing your before & afters when I found your post about hanging bamboo blinds on your front room window. I thought that it was fantastic so I set out to copy you.
I found these fab (yes, I am stealing your terminology) blue silk curtains that brightened things up and I got the same bamboo blinds that you guys purchased from Wally World (aka: Walmart). It made such a difference. I even hung them myself because I am awesome like that! I love them! A quick change on the sofa cover, a few new throw pillows inspired from some of your decorating dilemma mood boards and voila: new and improved room. As Sherry might say, it's been swankified. Thanks for all of your hard work and inspiration! Your house is just as fantastic, lovely, fab and swanky as I think you two are. Can't sing your praises loud enough! Thanks! -Megan
Well it sounds like Megan has a thing for us, but we're crushing on her right back for this amazing room transformation. Here's the baby blue before: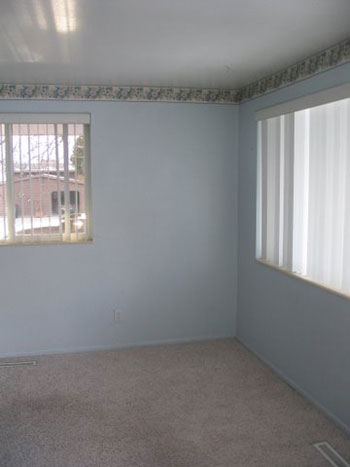 And her fresh and fabulous after: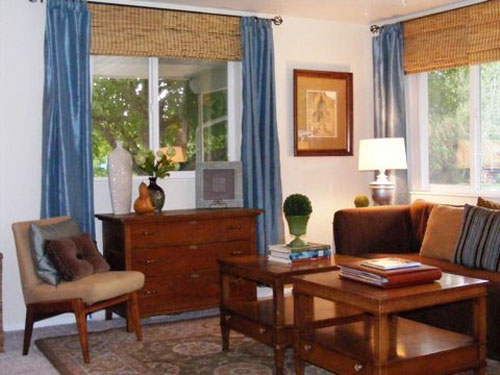 Isn't it amazing what some window treatments can do for a space? And although we were the inspiration for the blinds, there are a bunch of other great design ideas going on in here that we just have to mention. We love love love that Megan added subtle pattern and grounded the room with an area rug (right over her wall to wall carpet) and that she used two small tables instead of one big bulky coffee table. We also adore that she carried pops of icy blue into the pillows and added a lighter chair, lamp shade and vase to keep things bright and airy (while breaking up all the brown). Oh and the chest/dresser is also a super noteworthy addition because many people only use pieces like this in the bedroom, but they're packed with storage and perfect for a living area too. Way to think outside the console table, Meg! It's gorge and you did one fab job. We hereby declare that your front room is officially swankified.
Oh and if anyone else has a few lovely before and after pics to share, don't be shy. It's definitely time to share the wealth. We can't wait to see what you're up to at home!