We've already shared a slew of homemade cleaning recipes, and chatted about our own housekeeping habits, but we're back with an error proof roundup of fast and easy fixes to leave you with a sparkly clean casa in no time. And perhaps best of all, these are all 100% free solutions, assuming you have some basics on hand, and each suggestion has three steps or less to keep things oh so doable. But enough chit chat. Let the cleaning frenzy begin!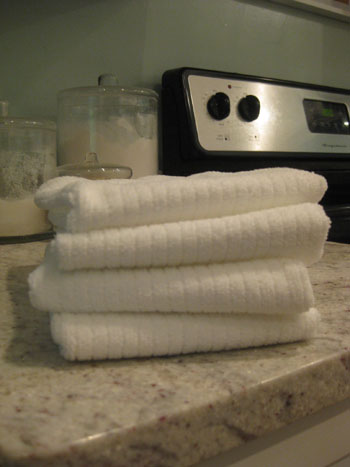 Oh and just to demonstrate how easy and speedy they really are, we're including a handy little timetable, so you can pick a cleaning time span (either 7 minutes, 15 minutes, 30 minutes, or 45 minutes) and follow our minute-by-minute guide below:
If you have seven minutes…
Place a bowl of coffee beans or a box of baking soda in a musty closet, cabinet or drawer and leave it overnight to absorb the odor (1 minute).
Quarter a lemon and place it in a bowl of water. Microwave on high for 2 minutes. Then wipe down the entire microwave with a moist rag, which is easy thanks to the lemony steam you created (3 minutes)
Take your quartered lemon and slip each part into your sink's garbage disposal while it's on with the water running- this will freshen the air as well as cleanse the actual disposal line (1 minute)
Use a vinegar soaked rag to remove hard water stains from your shower head, faucets, etc (2 minutes)
If you have fifteen minutes then do all of the above PLUS…
Sprinkle baking soda on a musty carpet, let stand one minute, then vacuum the baking soda up- along with the odor (3 minutes)
Pour one part baking soda followed by one part vinegar down the drain, let stand for one minute, then rinse to clean out the pipes in an 100% natural way (3 minutes)
Open all the windows to air out the house (2 minutes)
If you have thirty minutes then do all of the above PLUS…
Add one part vinegar and one part water to a spray bottle and spray down mold or mildew, then just scrub it away with a textured sponge or rag and rinse it clean (6 minutes).
Wipe down your stainless steel appliances with a vinegar soaked rag (9 minutes)
If you have forty five minutes then do all of the above PLUS…
Dust with a microfiber cloth- see how we get 'er done right here (15 minutes)
Then you pretty much just have regular maintenance like toilet cleaning and vacuuming to do. And look at all the bonus super-thorough cleaning projects you were able to bang out in just a smidge of time. We're rarely "inspired" to clean, but seeing that it can be done simply, on the cheap, naturally, and in less than three steps per task really makes it not-so-bad. And it's amazing how good a clean microwave or a shiny new-looking shower head can make you feel. But now we're turning it over to you guys. We'd love to hear your affordable and easy house cleaning tips. Do tell.
Psst- Wanna keep your cleaning mojo going? Check out a slew of homemade cleaning recipes and peep our own housekeeping habits here.