Q: I love the look of your house! And I love how you arrange and decorate your shelves, tables, etc. I would love to do more of that, but I talk myself out of it when I think about all the cleaning and dusting of all those little decor items!! What are your quick cleaning tips to keeping everything tidy and dust free? Is it always as clean as it looks in the pictures?- Kim
A: Good question! And one we definitely get pretty often. We do our best to tidy up before snapping after photos for the blog, but in general we're pretty orderly people and we've found that creating a spot for everything really helps us keep things organized and neat (to see how we sort and store nearly everything in our house, check out this post – and peruse other ideas located under Organization Options on our Projects Page). That way we don't have to schedule major house straightening sessions since most of our things have a place to call home (and can usually be found there, as opposed to in a pile on the dining room table or on the kitchen counter).
When it comes to actually keeping things spic and span, I like to work as I go (a little each day as opposed to a major cleaning sesh every a week). John does nearly 100% of the cooking (he's my own personal Top Chef) and also does all of the laundry and lawn mowing, so cleaning seems like the least I can do to hold up my end of the bargain. I've also developed a series of shortcuts along the way (shhh, don't tell John!) so it's really not a major undertaking to keep our little rancher looking up to snuff on a pretty continual basis.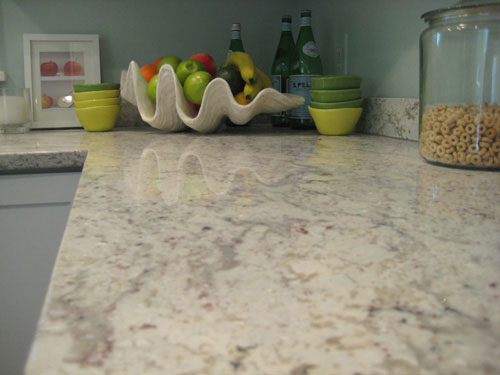 I like to do some things every day as I've found that they go a long way towards making the house feel nice and clean. For example, wiping down the counters in the kitchen and loading any dishes into the dishwasher that have piled up in the sink each night before bed only takes a second but ensures that I'm a little happier when I trudge into the kitchen for some cereal the next morning.
Here's a list of some of the ten-second things I like to do daily:
wiping down the kitchen counters
loading the dishwasher & wiping down the sink
sorting the mail (paying bills & shredding junk mail immediately so nothing piles up)
bringing a few pairs of shoes back to the bedroom (they tend to pile up at the back door)
folding the sofa blanket and putting it back in the basket next to the couch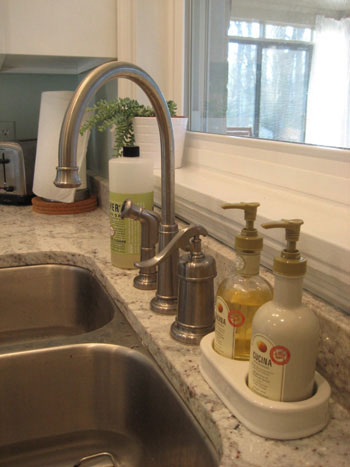 These tiny efforts literally take about five minutes total, but they really make all the difference in the world.
Then there are a few things I do a couple times a week like:
running & unloading the dishwasher (it's cake after years in NYC without a dishwasher)
wiping down the sinks in the bathrooms
taking out the garbage & the compost (when they're full, no sense in wasting bags)
wiping down the stovetop (we have a glass top that's pretty easy to keep clean)
Again, these little efforts really don't take much time but they add up to a feeling of control. I sleep easier knowing there's a grease-free stovetop and a cabinet full of clean dishes ready to go.
Then there are the weekly cleaning must-dos:
dusting everything (shelves, mantels, tables, etc)
vacuuming all area rugs
wiping down the baseboards (it seems like they're little shelves for dirt)
de-dust-bunnying the hardwood floors
cleaning the toilets (it's a dirty job… well actually not that dirty- you'll see)
scrubbing down the shower/tub
doing the laundry (hurrah- that's John's territory)
ironing (also John's thing since my clothes are wash & wear, he does it watching TV)
I never end up doing all these tasks in one day though, I usually putter around while I'm on the phone doing some dusting, then the next day I'll find some time to vacuum, etc.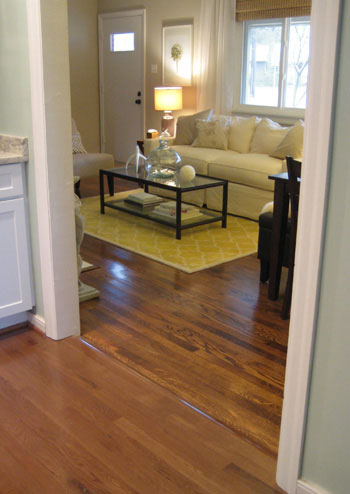 Sometimes I'm not in the mood at all (I'm not a total freak) but it's a lot easier to convince myself to do some isolated cleaning for a minute or two as opposed to tackling all of these projects at once, which would really feel like a much bigger deal than doing them as I go. And now for a few of my "shortcuts" when it comes to the weekly chores above.
As for dusting, I like using Swiffer Dusters (just the pads- they're meant to be attached to a Swiffer but I use them with my hand to dust surfaces like the open shelves in the den, our coffee table, the fireplace mantels, and even the baseboards, etc). They create this awesome static-y cling that basically makes dust stick to them (no dusting spray necessary) and I just lift things up with one hand and swipe under them with the other and can basically dust the whole house with one or two in less than 20 minutes (I listen to my ipod as I go, so it feels more like dancing and less like cleaning). And that includes wiping down those dusty baseboards too! It really isn't hard at all, and it's so nice to see the things we love on display, so dusting them is well worth the effort! I've actually been meaning to try out some good quality microfiber cloths instead of the Swiffer pads (which I've heard are just as good at attracting dust like a magnet without any dusting spray). The bonus is that they're washable so they'll make for less waste, which always appeals to us! Update: Now we use microfiber cloths and love 'em.
As for vacuuming I've heard time and time again that something with a HEPA filter makes for much cleaner air and a healthier home. And until I can afford one of those amazing Dyson thingies, I use a Bissell CleanView Upright Vacuum that we bought on Amazon after scrolling through all the great reviews. I also love that we have hardwood flooring throughout the house so I only have to vacuum a few 5 x 8 and 8 x 10 carpeted squares here and there and I'm done with the vacuum.
But what do we do to keep the wood floors clean? We also love this cordless little Shark vac for smaller touch ups and hardwood stuff, which everyone else in my family also has and loves. It's my number one shortcut to a clean house. It works best in corners, under tables and cabinets, etc… but that seems to be where the dust bunnies congregate so after I vacuum the area rug and use the Shark around the perimeter of a room and under the chairs, the floor is totally clean and ready for company. We still sometimes use the bigger plug-in vacuum to cover large areas of the hardwood floor, but for "maintenance" between the more major clean ups it's truly amazing and leaves the whole house looking photoshoot ready (no cord = freeeeeeedom).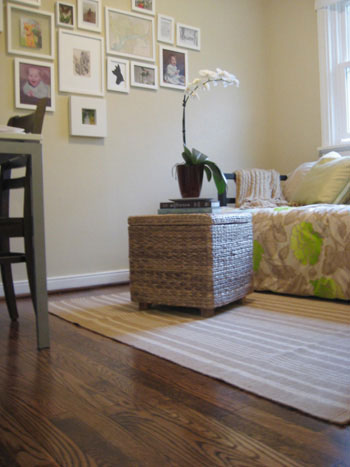 Oh and the toilets. I have to say that replacing both of our ancient models from the 70's with new shiny white ones really started us off with a nice foundation for keeping them clean. The old porcelain ones seemed to get grody a lot more frequently, and the newer ones stay pretty clean week to week so when I spray them and scrub them down with one of those handled brushes (no hand in the toilet for me) they look great on a pretty continual basis. I think it's another one of those chores that if you do it regularly instead of letting it get out of control it's a lottttt less work. As for what I spray them with, I'm obsessed with Mrs. Meyer's Tile & Tub Cleaner (the lemon verbena scent is seriously amazing and it's eco to boot). Gotta love not even needing to kneel or reach inside the bowl. And I use the same spray in the shower/tub and gently scrub them down with a designated bathroom sponge (which I keep under the vanity with the spray) to fight back any grime before it starts.
When it comes to wiping things down things like the counters and the sink in the kitchen and bathrooms, I love love love Mrs. Meyer's Clean Day All Purpose Cleaner (again in their intoxicating lemon verbena scent). It can be diluted a ton for many different tasks so we keep a bottle going forever by just holding it under the faucet and adding a few inches of water from time to time- it never seems to lose its potency. And as for dish soap, we've used Seventh Generation Auto Dish Pacs (good for the planet but still gets our dishes gleaming). Oh and even though laundry is John's territory I'll divulge that we use Seventh Generation Laundry Detergent without any dryer sheets or fabric softener. We've found that our clothes are just as soft as they were before we gave up the fabric softener and we're saving money and using fewer chemicals which is always a plus for us.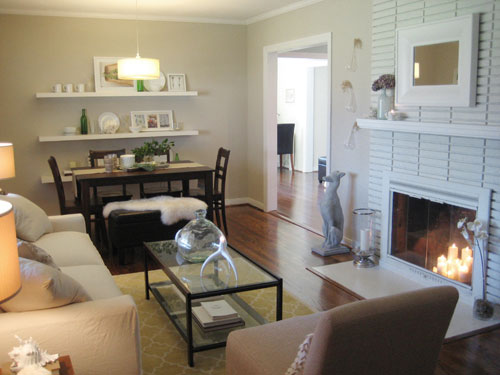 Of course there are still seasonal chores like cleaning the windows (again I use Mrs. Meyer's Clean Day All Purpose Cleaner) and giving the floors a real scrub down (I like Method's washable headed mop, called the oMop, with a bit of Mrs. Meyer's Clean Day All Purpose Cleaner- and I'm sure to rinse and dry the floors thoroughly since our refinisher said it's bad to leave wood floors wet) but those tasks are few and far between… and they're not even that tough to tackle when the rest of the house is on autopilot.
So that's the little cleaning roundup that works for me. Unless I forgot something. Did I forget anything? What about you guys. Do you have a specific cleaning schedule that you stick to like glue? Any tips and tricks for me that will change my life? Any other miracle cleaning products that fry your bacon? Let's talk about keeping house.
Note: None of the products mentioned above have solicited these mentions. They're just truly the things that I rely on to clean up, and I'm very thankful to have found them (and have inserted some affiliate links when applicable).

Psst- Wanna know where we got something in our house or what paint color we used? Just click on this button: