When Jennae sent over her bedroom before and after photos we had to share her DIY headboard project. Here's her letter:
My husband and I live in a rental, we're on a budget, and we love all things green (as indicated by my blog) – so decorating the bedroom wasn't the easiest task. Our biggest challenge was what to do for a headboard. We searched the web for headboard ideas & tutorials (including yours) and then I finally remembered a product I'd featured on my blog a while back: Wall Flats from Inhabit Living. Wall flats are essentially paintable 3-dimensional wallpaper, although it feels more like stiff lightweight cardboard. They're made of bamboo pulp and completely biodegradable at the end of their life cycle, so they met our green criteria. And a box of 10 tiles typically costs $86, but ever on a budget, we bought their "second-quality" wall flats (think irregular clothing) at $4.50 apiece. A miscalculation on my part meant we bought 12 tiles, but we only wound up needing 9. Still, even though we bought too many, our headboard still only cost us $55, plus $10 worth of foam tape, and we're thrilled with the way it turned out. You can see how the whole room came together in this post. You'll see we changed quite a few things in the "after" photo, but the headboard and the bedding were the biggest changes. – Jennae
Here's her room before the big headboard undertaking (ignore her husband, he was warned he'd be published if he didn't move):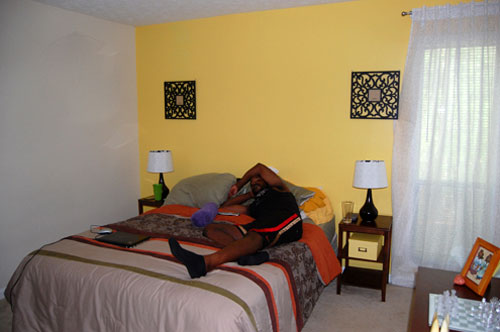 And here's the same room after a little DIY headboard magic: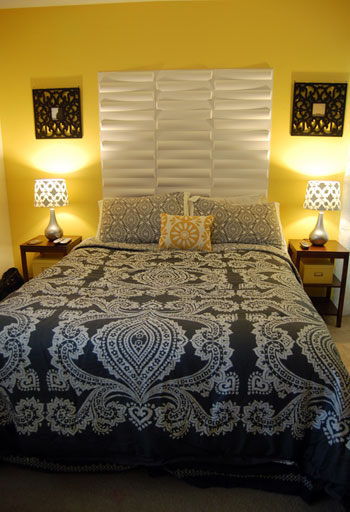 Didn't Jennae do a great job? We love that she used discounted wall flats to get a great textured look on a budget- and since she's a renter they're completely removable (so they can go with her when she moves on). And considering that most headboards are hundreds of dollars (and she used eco materials- which are usually a lot more pricey!) we think she scored one heckova deal. Plus we love how modern and textured it all looks- especially when paired with such a lovely duvet with those great printed pillows and lamp shades. What do you guys think? Anyone itching to take on a project like this? It makes us wish we had another bedroom to tackle.