Remember when we mentioned that we were on a grocery shopping hiatus? The idea was to make a concerted effort to eat as much as possible that we already had in the fridge and the freezer so we didn't have to worry about keeping things cold for the 6-ish hour delay between being out of our house and getting to move into our new one (which will hopefully still happen Monday afternoon assuming the bank stays on schedule with the transfer). Here's what the fridge looked like just two weeks ago when we started: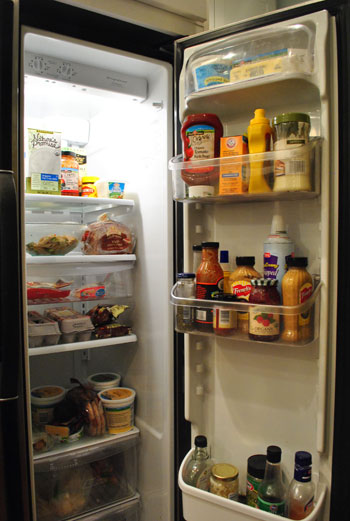 And here's what the fridge looks like now that it's truck-loading day (after two weeks of eating some pretty "creative" meals to get rid of as much as possible):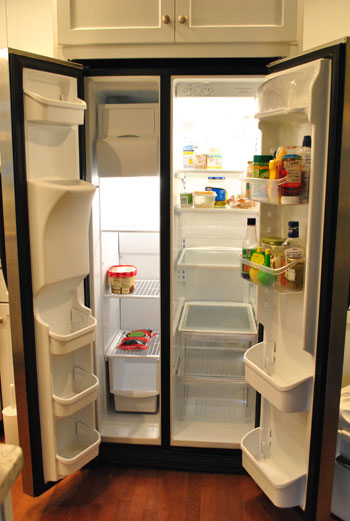 Not too bad, right? Thanks to my borderline compulsive list making idea (detailed here), we managed to get down to just one carton of ice cream and one bag of edamame in the freezer and a few condiments along with a bit of bread, cheese, a few pickles, three yogurt cups and a few sticks of butter in the fridge. And we'll probably eat the rest of the ice cream and those pickles today (no I'm not prego- promise). Thankfully everything else will easily slip into a small cooler that we'll stick in the cold moving van so everything should travel really easily (as opposed to needing a bunch of larger coolers or hijacking John's sister's fridge for the day). Plus we saved some money by avoiding the grocery store. Most of all, we're even more excited about moving into our new house now – because it means that we can go on a huge food shopping spree and eat normal meals again! Woot woot.