Remember when our living room was salmon?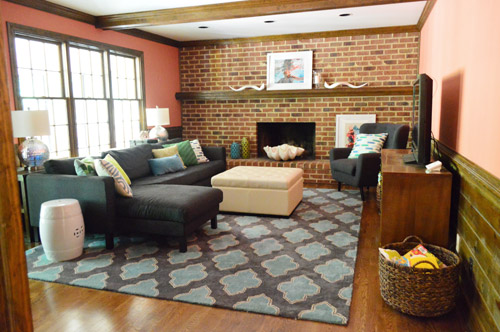 Well, not anymore…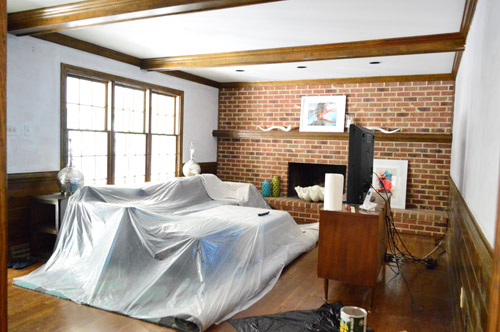 That's just the primer coat, so we'll be back on Monday with the full details of what color we chose, why we picked it, and a whole bunch of prep info, in-process pics, and of course the all-done afters. Today's the last day of our Florida road trip, so we're doing our best just to soak up the sun before our 14 hour drive back to Richmond. But I'm not going to lie… remembering that we're not returning to a pink living room is definitely making us more excited to mosey on home.
It always feels crazy to eke out a last minute project before leaving (kinda like the kitchen flooring that we half-laid before our trip to Hawaii a year and a half ago) but it's so much fun to come back to enjoy it since we barely had a second to soak it up before hightailing it outta town. Can't wait to write up all the details for you guys.
**********************************
As a little Friday bonus, here are four fun projects, chats, or questions going on over on the Forums. We also announced this week's giveaway winner, so you can click here (and scroll down to the Rafflecopter box) to see if it's you.

| | | | | | | |
| --- | --- | --- | --- | --- | --- | --- |
| | | | | | | |
| by courtmcg8 | | by BurlapandLace | | by karents | | by DIYPlaybook |