Over 600 people wrote in to tell us about design norms from their specific country or region, and today we're sharing some of the most popular, interesting, and unique responses. From the different ways we sleep and shower, to how we do laundry and how we do, um, our business – you guys gave us a fascinating window into how and why homes don't all look alike around the globe. I also issue a public apology for fighting Sherry on a design choice in the duplex kitchen, and we share the Instagram account that's the perfect pick me up to add to your routine.
You can also find this episode on your favorite podcast listening app, like Apple Podcasts, Google Podcasts, TuneIn Radio, Stitcher, and Spotify.
What's New
If you missed our original disagreement about the cabinetry in the duplex kitchens, it was in Episode #120 from November. Those show notes also have a lot of renderings to illustrate the options we were considering.
The pertinent one to our discussion now is this one of the mudroom (seen through the doors from the kitchen). It was a rough idea at the time and our final order didn't include that tall cabinet on the right side of the window since we ultimately concluded it would make the space feel too narrow. So, in the end, we just ordered those 3 base cabinets, each with 3 drawers (times 2 since it's a duplex!).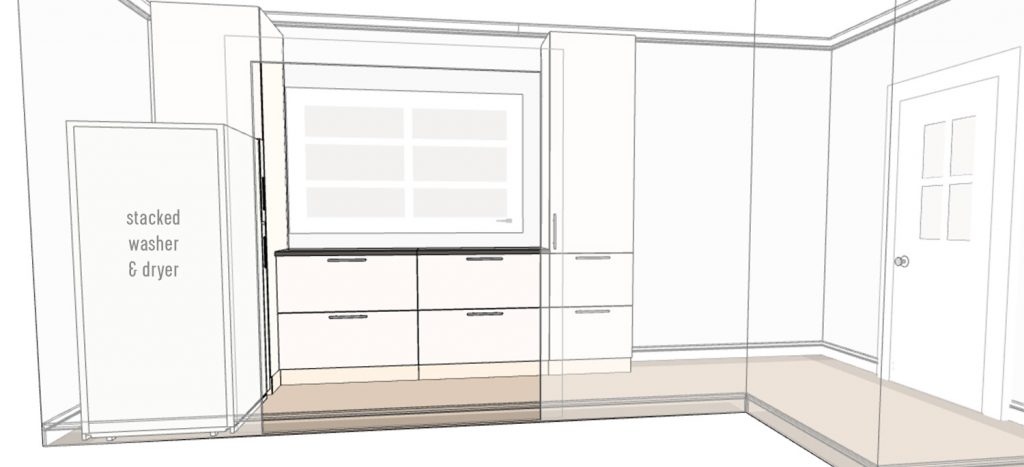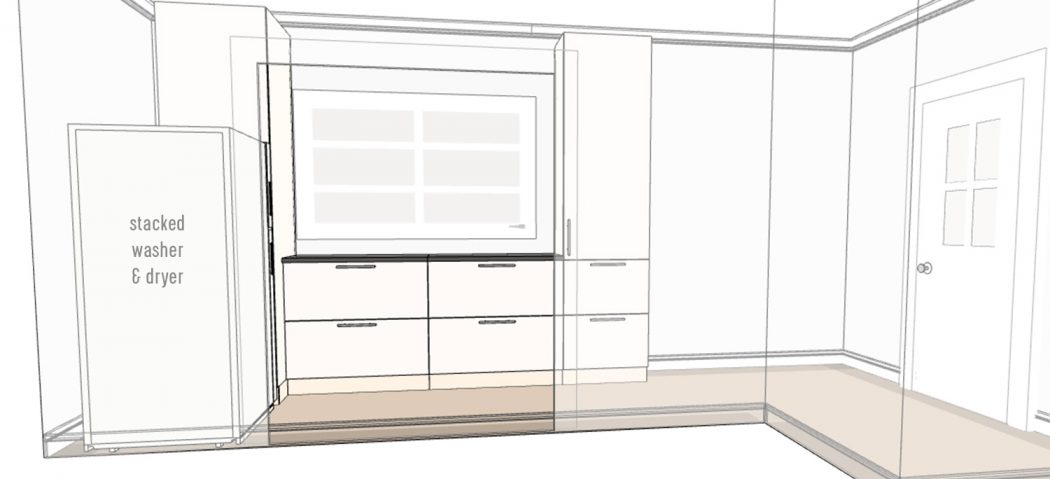 Once we decided to nix the closed storage for those big three-tiered shelving units, this is the stack of boxes we got to return (along with some additional toe kicks and hanging hardware). That's how we ended up getting over $2,000 back!!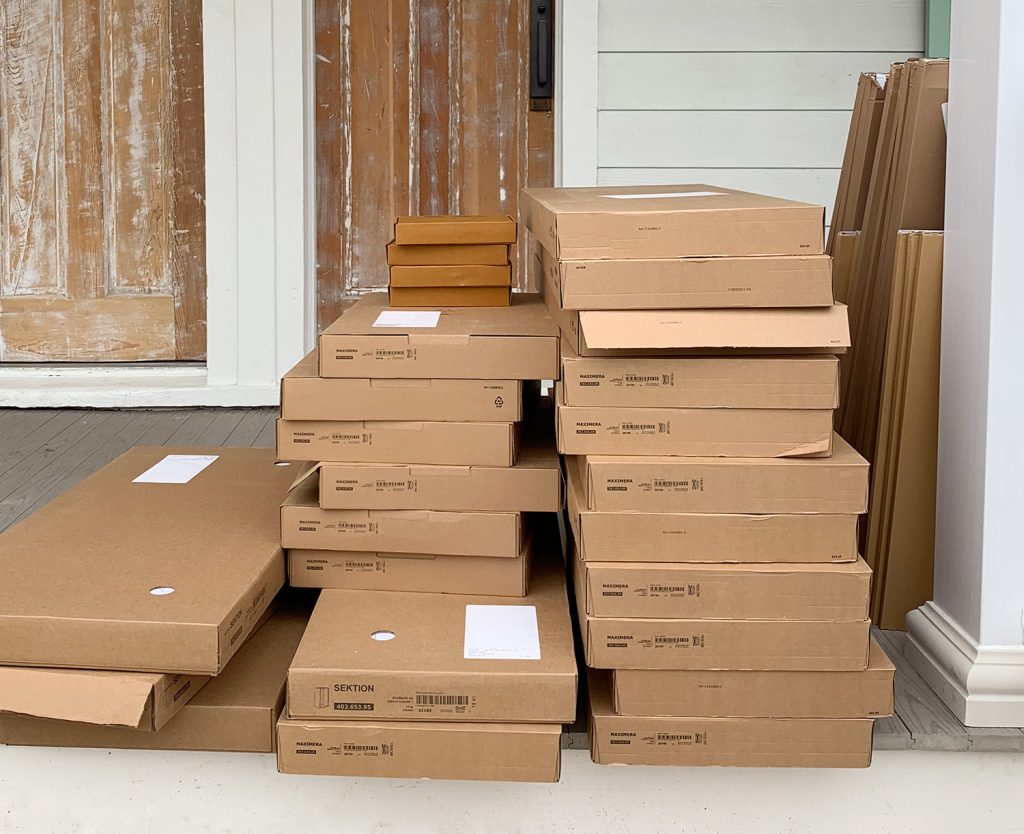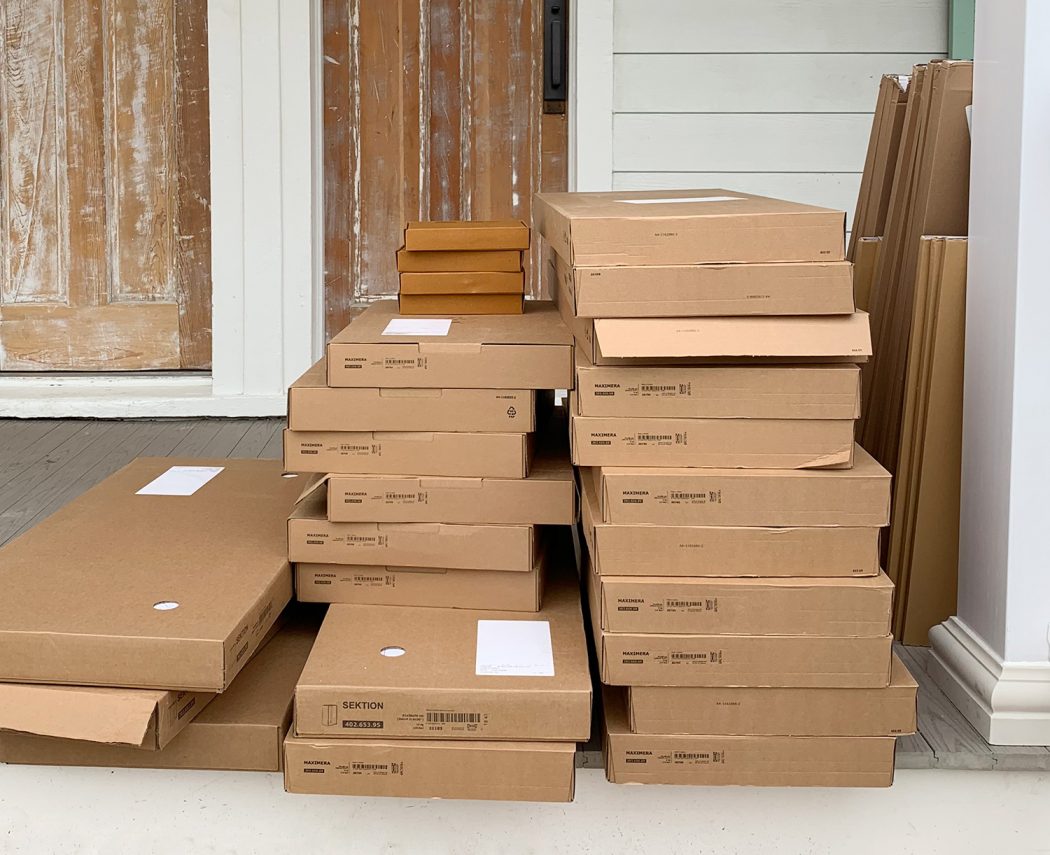 And here's how things are looking now that we've added those Ypperlig open shelving units from Ikea to the tune of $110 each. Not only are they a lot more cost effective, we think the open storage space that people can easily see when they walk in (plus some bins to contain snacks, drinks, etc) will be extra useful and obvious for weekly renters – who might not have seen closed drawers and realized they could store snacks, drinks, or coolers in there.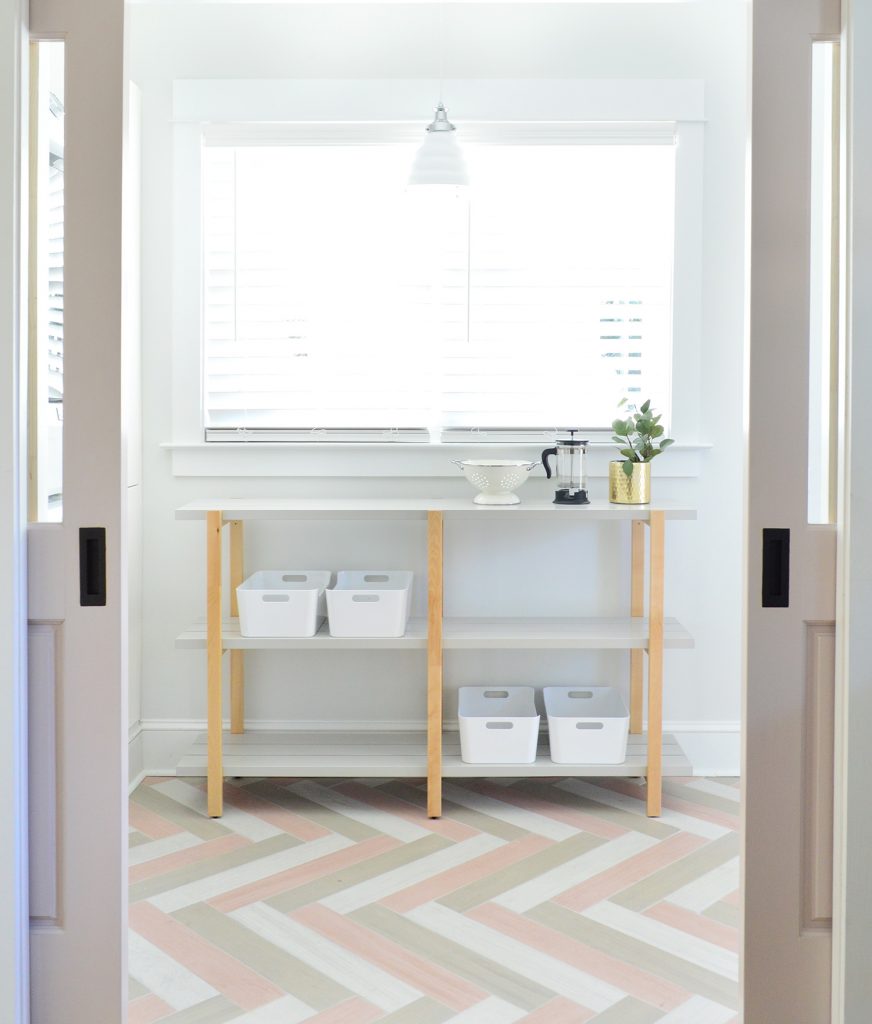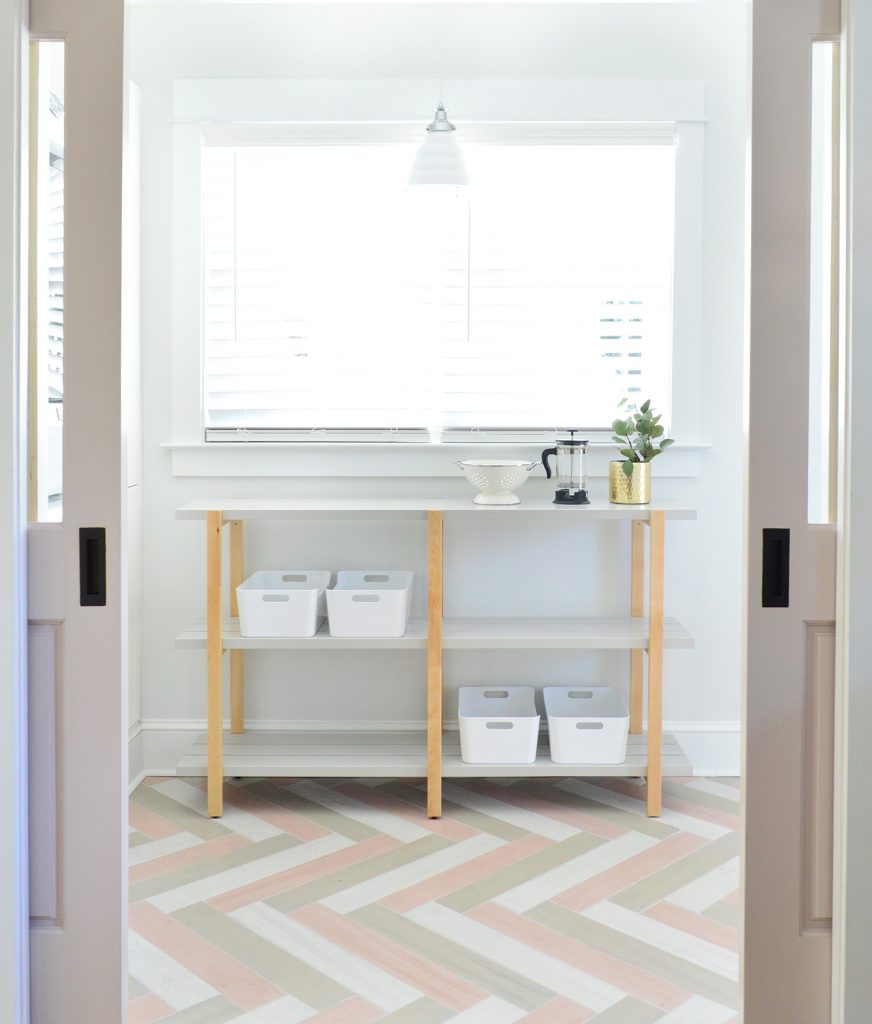 Here's a view from the top, where you can better see that the shelves are actually lightweight metal slats. So wipeable and durable, we love them already.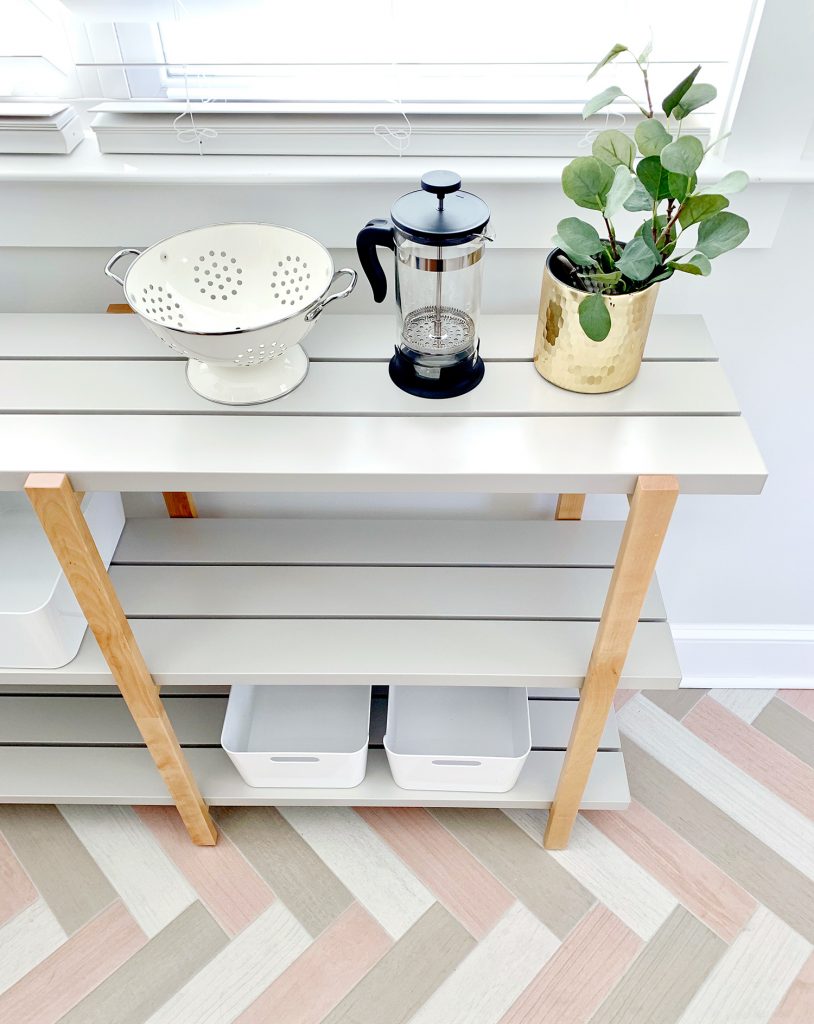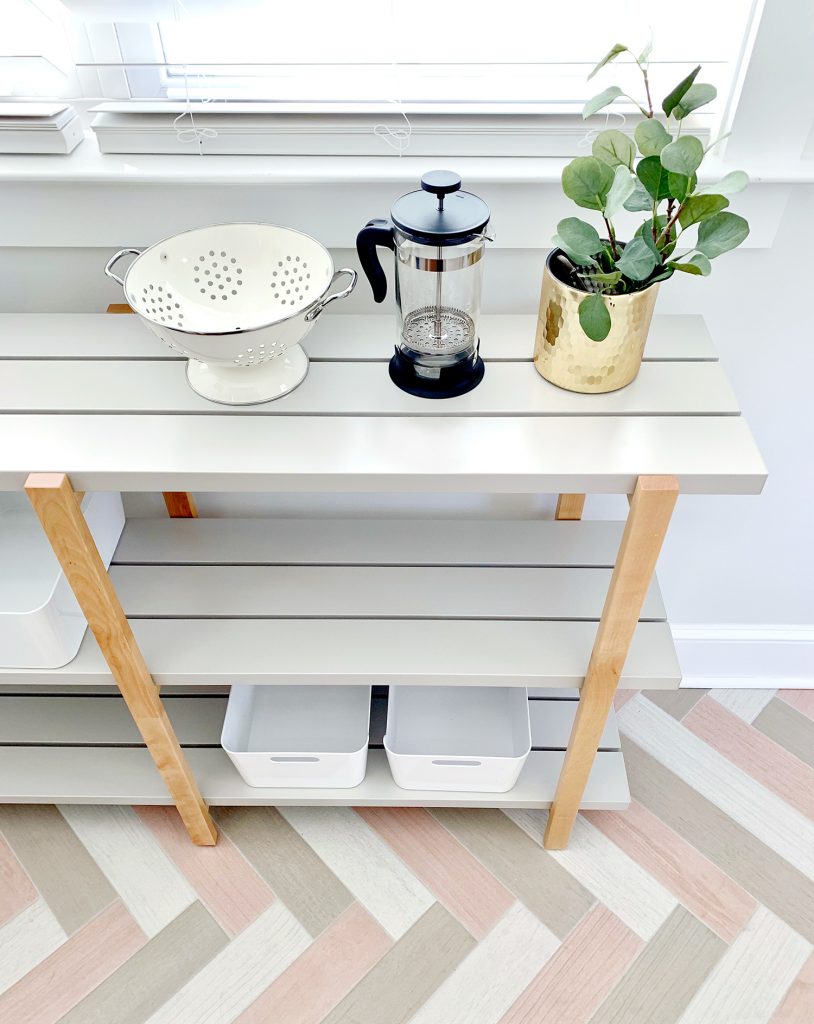 We also really like the blonde wood accent, which complements the kitchen cabinets so nicely on the other side.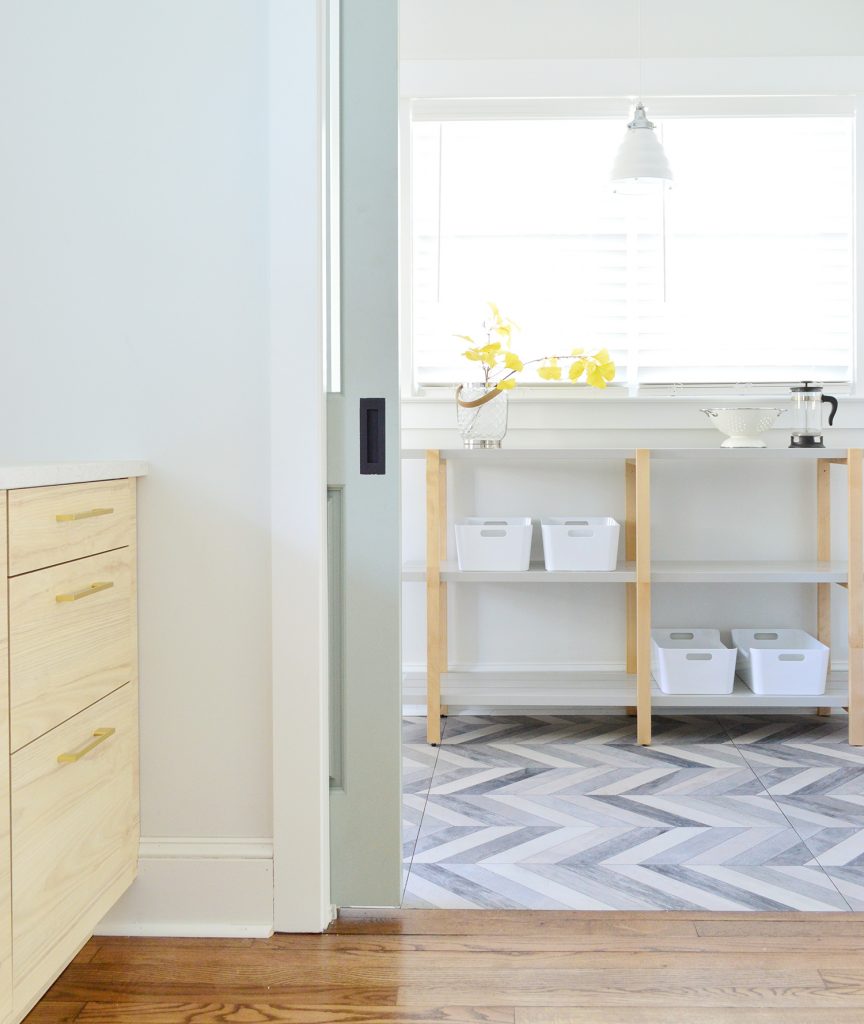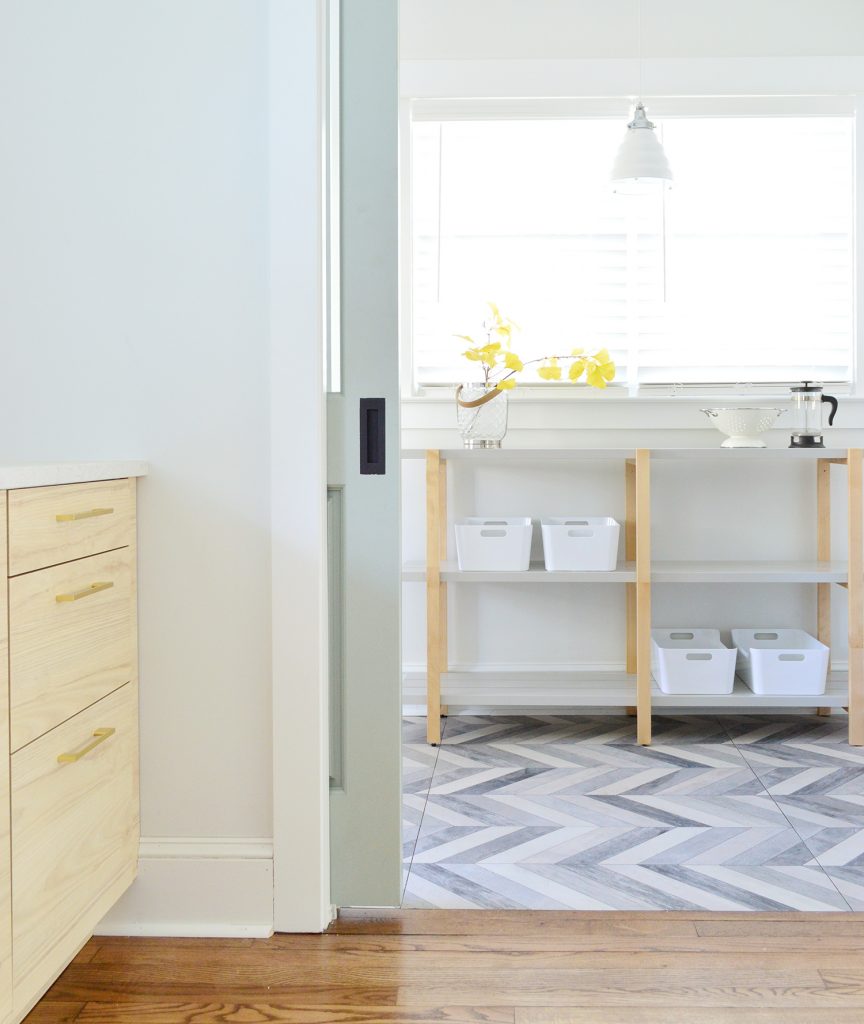 Homes Around The World
Thanks again to UK listener Jo who first suggested this segment back in Episode #125 in response to our previous episode about our preferred laundry room location.
Also, we mentioned our old apartments in New York City. You can actually take video tours of both of them in these old posts: here's Sherry's Village apartment and my Upper West Side apartment. It cracks me up that Sherry filmed those way before we were ever bloggers.
But on to the spaces and norms we mentioned! Below is one example I found of one of those Finnish "Kodinhoitohuone" rooms, which upon further investigation seems to be pretty close to an American mudroom, laundry room, or utility room – except that it often has a bathroom or sauna attached.
And here's an example that I dug up of a South African "Braai," or indoor barbecue room. The images I found seemed to show them more attached to the main house than I originally pictured, but either way they look pretty awesome!
And I know you guys are dying to see examples of a "Pittsburgh Potty." This news article has lots more (along with more info) if you're curious about this unusual phenomenon.
Here's is an example I found of a Japenese "Onsen" which looks right up Sherry's alley. It also led her down the rabbit hole of Japenese Soaking Tubs. Spoiler alert: now she wants one for our bathroom when we tackle that renovation.
We also talked about warmer climates and their decorative metal grates on doors that allow for breezes to come in. Below are some that we spotted during our anniversary trip to Puerto Rico two years ago.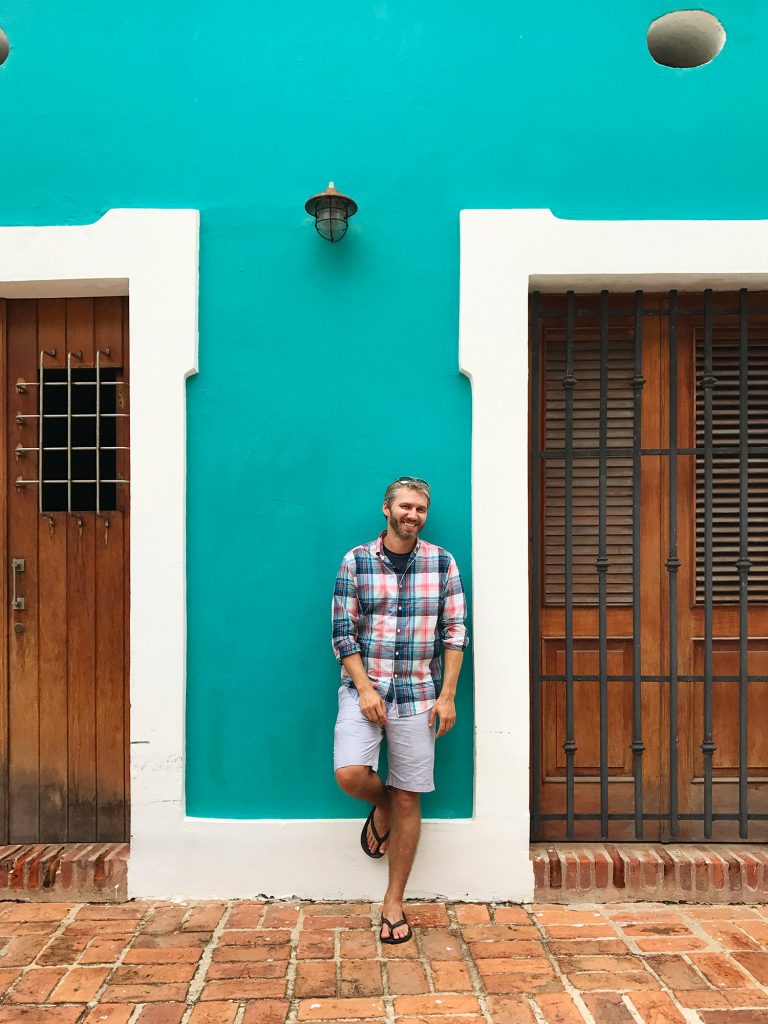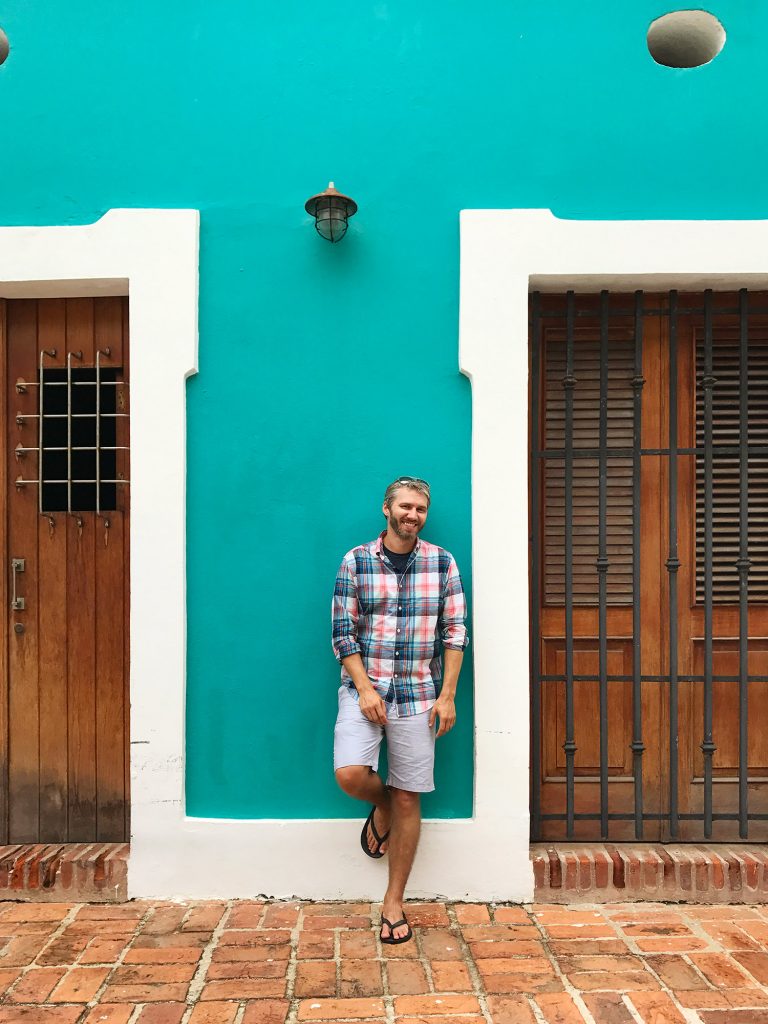 And Apartment Therapy did a great article on Finnish Dish-Drying Cabinets with several photos if you're looking for how to create one in your own house. They're SO SMART.
And I learned that that the design podcast 99% Invisible has a few episodes covering some items that we discussed, including the Finnish Dish-Drying Cabinet and the Hills Hoist.
Oh and that Hills Hoist article is where I learned the drinking game is actually more popularly known as "Goon of Fortune," not "Wheel of Goon." Either way, it's fun to say.
We're Digging
I don't want to give away the final image in the book, but here's the house before the children decide to help paint it while the parents are gone…
And in related news, here are some other books we're reading to our kids lately:

If you're looking for something we've dug in a past episode, but don't remember which show notes to click into, here's a master list of everything we've been digging from all of our past episodes. You can also see all the books we've recommended on our Book Club page.
And lastly, a big thank you to Agility Bed for sponsoring this episode. Just enter the code YHL at AgilityBed.com to get $200 off any size mattress.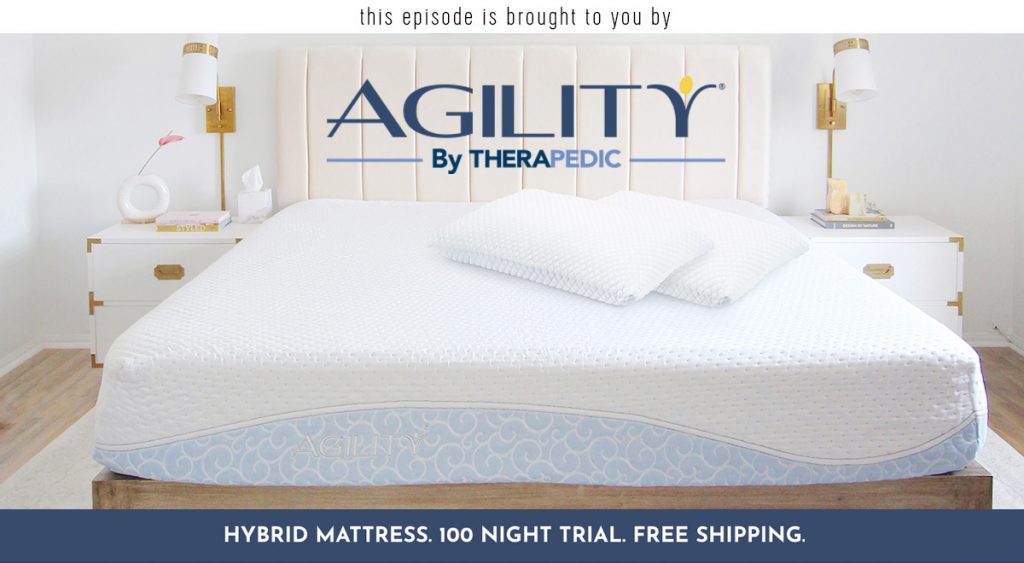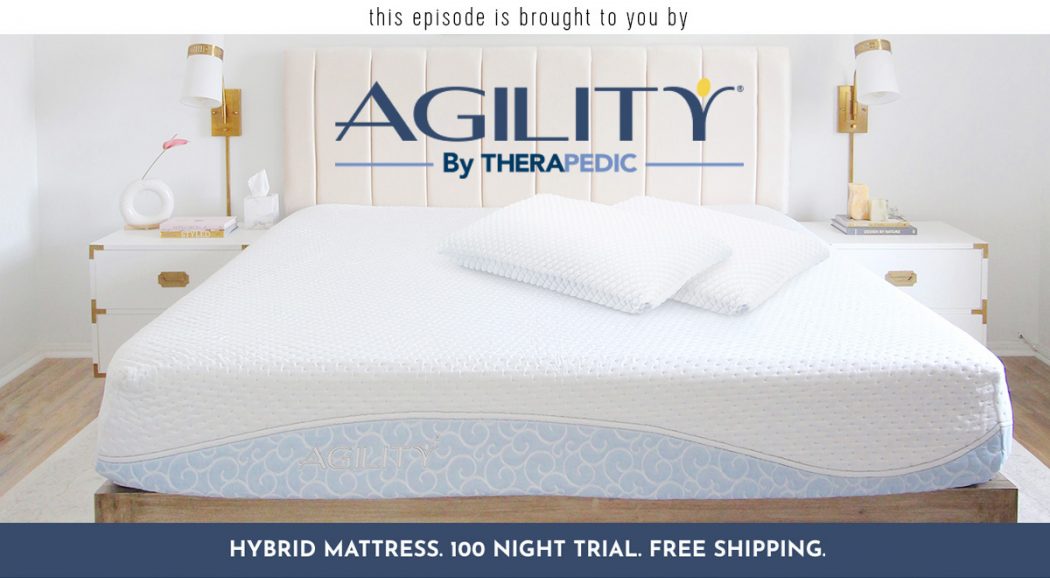 Thanks for listening, guys!
*This post contains affiliate links*