We're doing Children's Hospital stuff today, but a bunch of you noticed a foyer ceiling update in the background of yesterday's post, so we owe you those details. We actually knocked it out before the big kitchen paint-fest, but that post cut the line because it was too exciting to save for later and we have the patience of toddlers (not to be confused with having the body of a baby). We usually hate painting ceilings (big rooms = sore backs) but the foyer's a relatively small swatch of space, so I ended up just rolling the whole thing while Sherry knocked out some simple cutting in around the edges.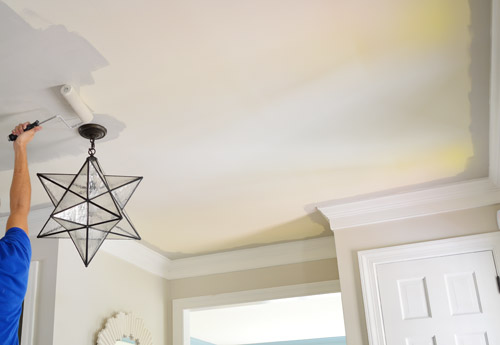 If you wanna see some ceiling painting in action, check out this video of us painting our nearby office:
Two coats later, we were high-fiving under the stars the star chandelier. It was well overdue. For the last few months it was sort of like our foyer was wearing a fancy outfit (nice painted walls) with dirty matted hair (bad yellowed ceiling). Not a good look.
Sherry got me on board with going one shade darker on the ceiling in there thanks to this image from Traditional Home, and we already had leftover Revere Pewter paint from the walls and ceilings in our sink nook (it's the slightly darker square on the same paint swatch as Edgecomb Gray, which is what's on the foyer walls).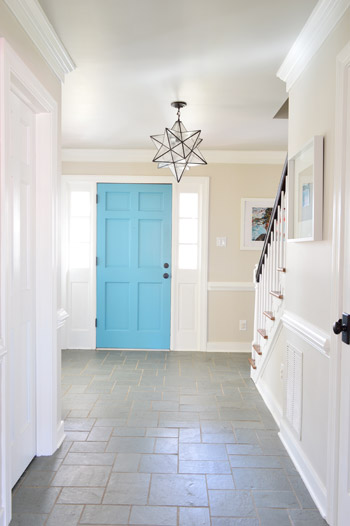 We really like how it turned out, although getting accurate photos of it has proven a little rough.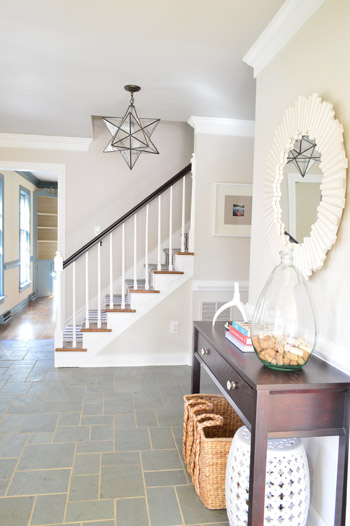 Sometimes it photographs darker or grayer than it looks in real life (like the detail below, or the hallway shot from yesterday's post). In person it's definitely noticeably darker than the walls, but thankfully not in an oppressive or gloomy way.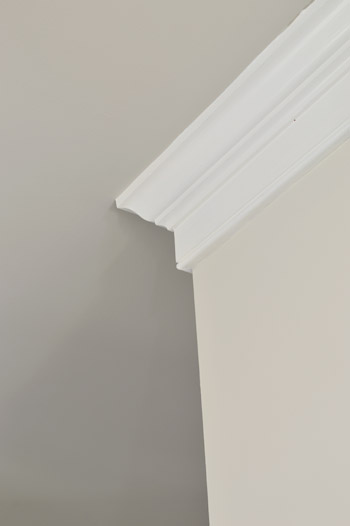 Typically we use a flat finish when we paint ceilings, but the leftover paint that we were using from the bathroom was eggshell. Turns out we really like the extra hint of sheen because it glows a bit more in the window light, helping it still feel kind of airy in a way. You can see what I mean below: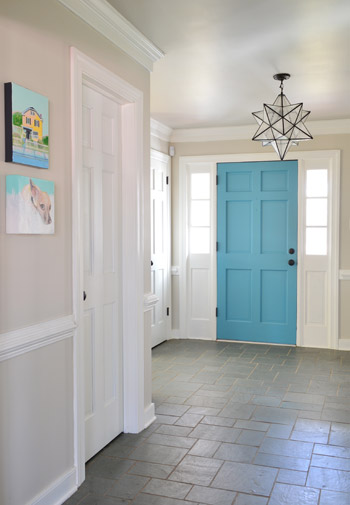 But I'm not sure this experience makes us ready to officially jump off The Flat Finish Ceiling Train permanently, since any added sheen ups the risk that dings, dents, or seams in the ceiling will show up more clearly. We just lucked out that the foyer ceiling was in great shape. But when we're buying paint specifically for ceiling use (like in Clara's room) we'll probably stick with flat just to be safe. Update: just realized we used eggshell on Clara's ceiling too! The light (or maybe it's the color?) just reads really differently in there, so it looks more matte compared to our foyer ceiling.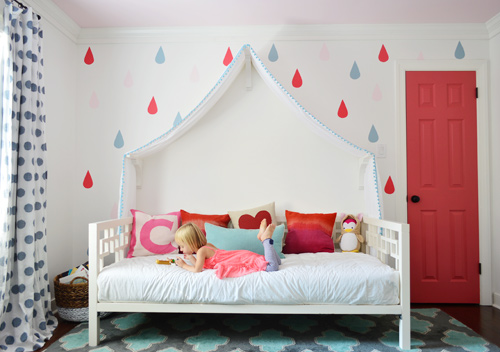 I do think it's safe to say that we're fans of a non-white ceiling though (hello blue in the sunroom!). Although I feel like we'll probably end up going with a white kitchen ceiling since there will be so much going on already with the two-tone cabinets, painted walls, and the paneling.
Psst- Wanna know where we got something in our house? Just click on this button: