Psst- We're bouncing around the West Coast this weekend with a talk and signing in Portland on Saturday at Rejuvenation at noon (for more info call 503-238-1900). Then on Sunday we'll be in Palo Alto at 11am at the West Elm on 180 University Avenue (RSVP here). Parking isn't enforced on Sundays so you can park anywhere, or you can purchase a visitors pass at Palo Alto Civic Center and park in any of their lots all day.
There are two irrefutable facts about me. 1) I tend to fall in love with rappers and 2) I'm a fool for a good thrift shop. So when those two passions collided in the form of this Macklemore & Ryan Lewis song called Thrift Shop, the Internet at large was quick to clue me into its awesomeness, which started around the fall of last year and continues well into 2013. So to anyone who commented/tweeted me the link, thank you for giving me my official jam of 2012 and 2013. The clip below is the clean radio edit of the song (if you're on a smart phone click here to watch it) but here's a link to the official non-clean video (warning: it's a bit, um, saltier).
And now that the song is starting to get some radio play (seriously, they've started playing it here in Richmond!) it gave us an idea. As J-Boom and I pulled into a thrift store while it played, I was like "Ooh look at this, it's so meta, a song about thrifting is playing while we're going thrifting." And then John turned to me and said "We should do a Macklemore Thrift Shop Challenge." And boom. Just like that I fell more in love with my husband.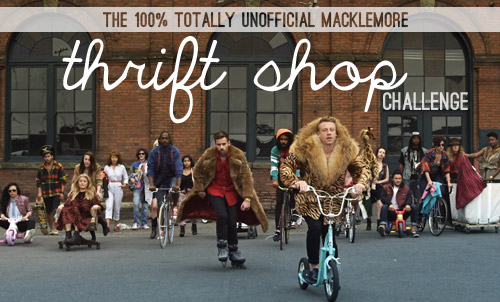 Here's the deal. This "Challenge" is basically an excuse to all (virtually) go thrift shopping together and share our spoils, plus there's a scavenger-hunt-ish element tossed in for good measure. So it's meant to be a nice low pressure Friday fun-fest. And just like our little Pinterest Challenges, if you'd like to partake and blog about it, we'll do a little linky thing next Friday so everyone can share their favorite finds. There are just THREE things you gotta do to play along (well, four if you count blogging about it later, although of course you can play along even if you don't have a blog).
Step #1. Go to a thrift shop with – just as the chorus of the song says – "$20 in your pocket" and take a picture.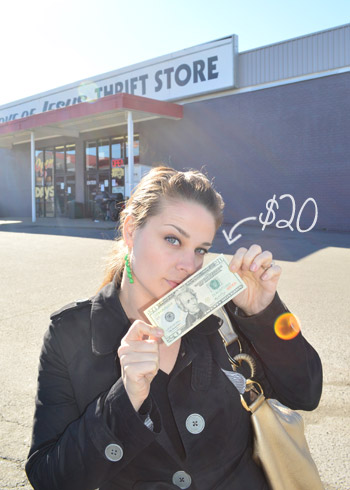 Step #2. Spend that $20 any way you'd like and photograph your spoils. They can be home related, fashion oriented, kid focused, anything. And you don't necessarily need to make them over or repurpose them at all (although that's totally allowed too!). It's just an adventure in seeing what people all across the country (the world?) can score with a twenty at a thrift shop. And if you don't find enough items to spend the whole twenty, there's no pressure to buy weird things to meet that number, so it's more of a cap than a you-must-hit-this-exact-number thing. This isn't The Price Is Right.
Oh yeah, and we'll reveal our spoils with everyone else next week…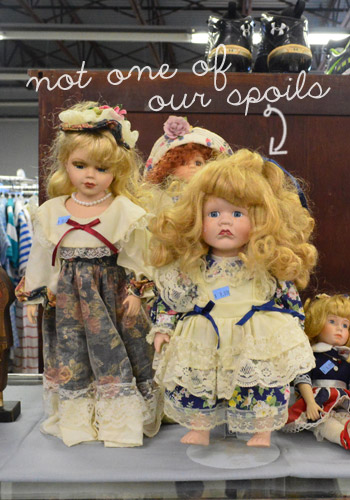 Step #3. Find one item (or more) referenced in the song and snap a pic. Here's the scaveger-hunt-ish element that we tossed in because we're weirdos. And you get bonus points for doing something ridiculous with the item in the photo. After all, Macklemore has some pretty great confidence when he's rocking those footy pajamas.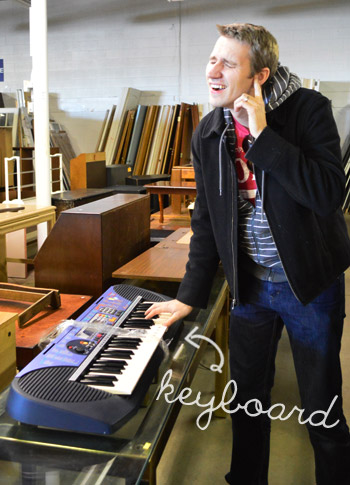 If you're like John and have a terrible time deciphering rap lyrics, we've listed some of the items you could hunt for here: clothing with fringe, an all pink outfit, moccasins, a velour jumpsuit, house slippers, a brown leather jacket, a keyboard, a kneeboard, shoes with velcro, luggage, a plaid button up shirt, flannel zebra jammies, PJs with built-in socks, a telescope, and of course… a big a$$ coat.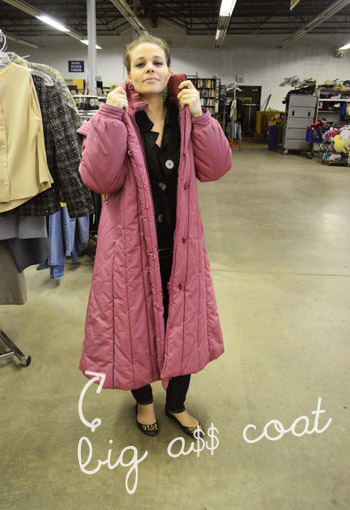 Feel free to interpret the scavenger hunt items as literally or as loosely as you'd like. The point is just to have some good clean thrift shop fun. Happy hunting! We'll be back next Friday with a rundown of what we found, and we can't wait to see what you guys score as well.
Viva la thrift shop!