Remember that old wallpaper we found after demoing the chair rail in our dining room turned third bedroom? Well, over the past couple of weeks we've uncovered some other "interesting" design choices made by the original owners.
For instance, when the kitchen cabinets came down we found this toothpaste green paint under the sink:
And when the floor guys took up the layers of linoleum on Monday, they revealed the original faux-brick flooring (to match the faux-brick backsplash, maybe?):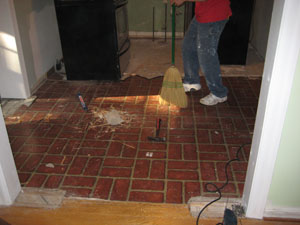 I can't even wrap my mind around how this floor and the paint looked with the knotty pine cabinets and "green monster" appliances. But the kitchen wasn't the only room showcasing questionable patterns and colors. This wallpaper reared it's ugly head from behind a heating vent in the half bath: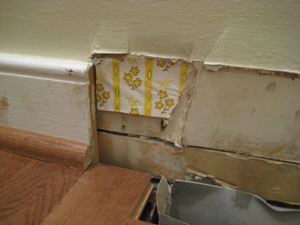 It's actually pretty fun to find these "hints of the house's past." I wonder what else we'll uncover.