It seems our excitement for the plans that we've been cooking up for the showhouse office has spilled over to our own office. Well, that and the fact that ours is looking pretty sad lately, having recently pilfered both its armchair and Expedit for the nursery. It doesn't help that our chalkboard still says "Merry Christmas" on it. So basically, yeah, this office screams "I've got my ish together."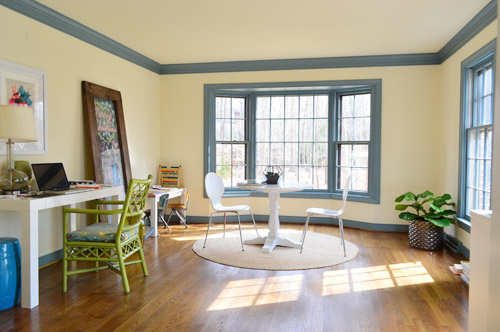 We're excited to be thinking about the office because it's one of our favorite full-of-raw-potential spaces in the house (so much space! so much light!). And with the baby's impending arrival (six weeks!) we're feeling the urge to consolidate our business life so it's less likely to infiltrate family time. You know, like making "no more laptops on the diner table" rules. Another example of our completely not-contained work spread is that all of my accounting stuff currently lives in a kitchen cabinet because my desk wall lacks storage (but apparently not holiday cheer).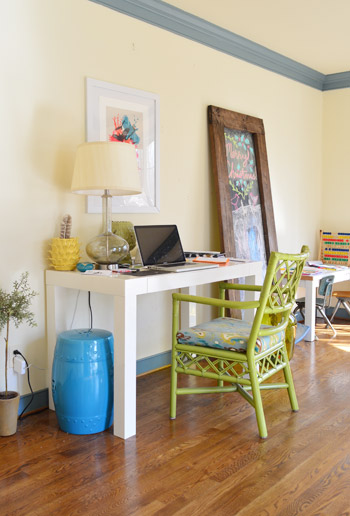 This is a room where we'll skip the Phase 1 stuff and jump right to Phase 2 (like we've done in the sunroom, for instance) because it doesn't require the amount of planning/saving/splurging that a kitchen or bathroom makeover does (no pricey appliances, new counters & tile, etc) and we're fairly confident that we can end up with a space that works for us for the long-haul (the kitchen & bathrooms tend to take more percolation time – we're still changing our minds everyday). Note: There's more on how/why/when we tend to do Phase 1 updates here.
We actually think this space has a ton of potential to not only be functional, but to be beautiful, thanks to the fact that it's one of the most light-filled rooms in our house, and it has that pretty bay window in the back.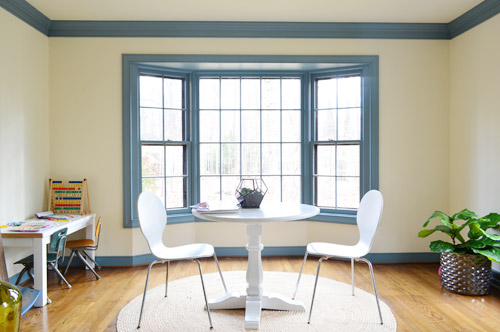 We want the bay window to remain a focal point, since it's so nicely centered in the room – but we've thought it through, and officially nixed the idea of adding a built-in bench seat because:
we don't see a bench seat as being super functional for an office
the window is actually really shallow so it would be a very narrow seat
it might get in the way of our current Christmas tree spot (is that really my third X-mas mention? Geez) – although I'm sure we could find another tree spot if necessary, so the tree isn't a deal breaker on its own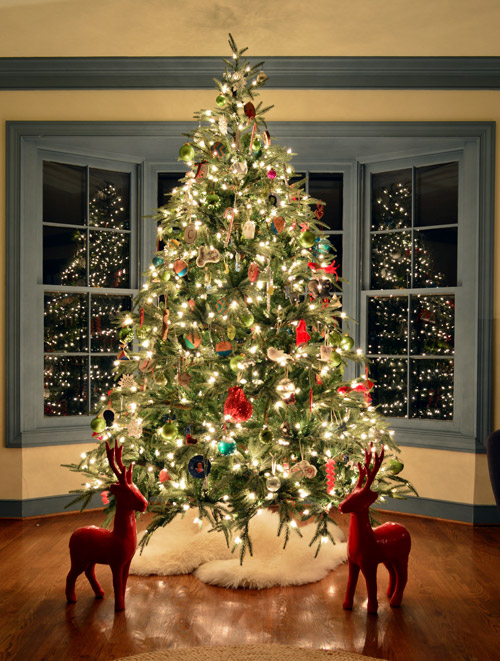 But what the room giveth with the bay window, it taketh away elsewhere. As in, we've got some other challenges to work around, like the less-than-centered doorway on the other side of the room. I guess we can only have so much symmetry in our lives…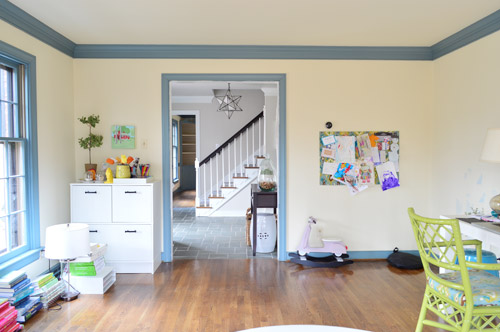 The front window wall is also great for light, but not so great for furniture placement. Since the windows are so close to the floor, they really make it hard to put anything on that side of the room without blocking a lot of light (and making for a strange view from the street).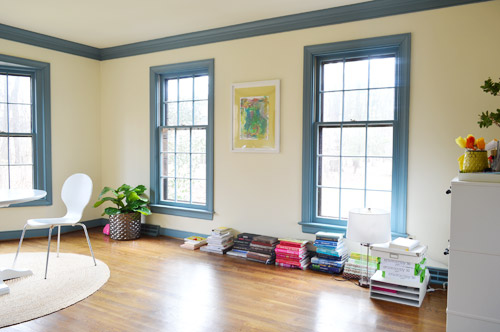 With those challenges in mind, Sherry and I brainstormed a list of priorities for our office. Some are just carried over from our last office, but some are new given the larger, more light-filled space.
Two Desks: Duh, right? Sherry usually works at the kitchen table (more on that here), but we'd love to create a dedicated space in here for her to really spread out. And my small parson's table could definitely be improved by more space and more drawers. So there's a lot we can do to improve on this.
Storage: We don't have a ton of paperwork, but we'd love to expand our file storage. Mostly to bring in some of the stuff that we have shoved into other rooms – like tax documents and side gig paperwork – rather than having that stuff spread randomly around the house.
A Big Meeting / Craft Table: We don't have a ton of meetings here, but we've had enough recently (mostly showhouse related) that we'd like to stop having them in our kitchen or dining room. Plus, it would serve the double function of an area for completing/shooting smaller projects (with all the natural light in this room, it'd be a great spot for photography).
Whiteboard / Pinboard / Magnetboard: We want a nice big wall where we can organize our to-do list, calendar, future project ideas, etc, etc. where we can both see everything. Right now we both keep ourselves organized on our own phones and notebooks, so some communal organization is needed to get us both in the same loop again. We're not sure exactly what this looks like yet, but we're already brainstorming a few options that we could implement.
Doors: Partly because this room seems made for some nice french doors, but also because it would be great to get some added soundproofing in here – especially during conference calls or other times that one of us really needs to concentrate.
Kid-Friendly Space: It's been nice to have Clara's drawing desk in here (so we have the option to "work" together during less intense moments of the day) – so we'd like to create a flexible little area that works for smaller kids but also can transition to work for bigger kids (so it's not something that we outgrow in a few years).
With priorities set, we started floor planning (I took a few new apps for a spin to plan the room, so I'll share more on those in another post). Here's a rough representation of the current furniture plan. Yes, it's pretty sad.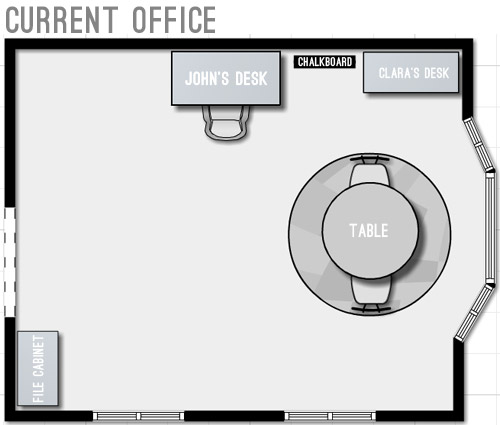 We started by just expanding on our current layout to include the things we wanted and bring things up to scale for the room. We've liked having the table centered in the bay window, so maybe just upgrading to a bigger table and some curtains could work? And then we could wrap an L-shaped desk around that corner to give us some built-in desk storage (kinda like our last office) and make room for both of us to sit.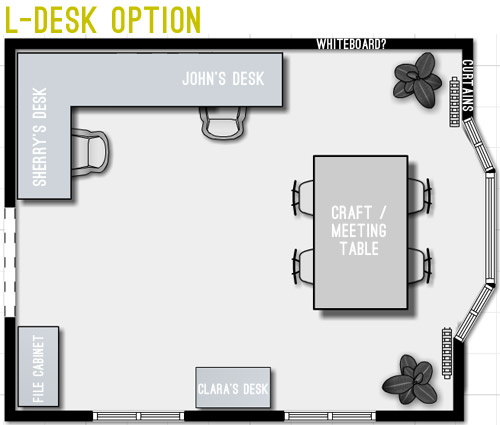 But we weren't crazy about the corner-desk in that option since it seemed kinda cramped. And since that's where we'd likely be spending most of our time, it felt weird to not give it more priority in the room – and to take advantage of all the windows by actually getting to see out of at least one of them.
Then we went crazy and tried making the desks "the stars" of the room by keeping them symmetrical with the bay window. The most logical version of this was two separate desks sort of flanking the window. But even that attempt wasn't very logical because it put one desk right in front of a too-low window (so you'd see the side of the desk from the street) – and it also would require us weaving around the big table every time we wanted to get to our seats.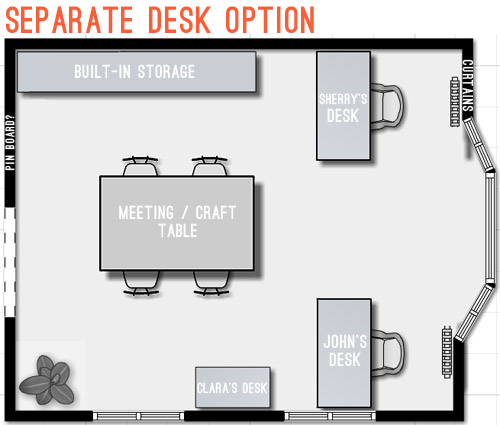 So next we tried mocking up an idea that was actually our original concept for this space. It includes office storage along the entire back wall, with desk areas that are integrated into them. Here's our inspiration picture, complete with a friendly looking feline.
We originally discarded this idea because we thought it'd screw up the symmetry of the window – which was something we really liked about the room. But as we played around with the floor plan, we realized we could maintain the symmetry by putting something in the bottom right corner too, so the bay window still feels centered. Plus this plan would leave the middle of the room pretty open for a big table, which we could move around – or even move completely out if the need arose. We also could move our laptops to the meeting/craft table to get a nice view out the window if we ever feel too wall-locked at our desks (Sherry currently unplugs and works at the kitchen table everyday, so that shouldn't be too much of an adjustment).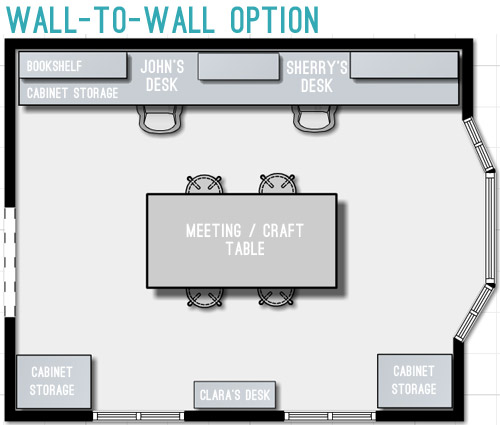 Update: We're getting some questions about where the Barnacle will go, but Clara's desk actually has two chairs and is long enough for two kids (we've even had four kids at it if we pull it away from the wall) so it'll accommodate the bun as well as the bean.
Update #2: We're also getting questions about window glare from working along that back wall, but John has worked there for the past 9 months without an issue (the sun streams in but the room is wide enough for it to hit the floor about 5′ from his chair – so it's not up at screen level).
We're still letting the concept simmer in our heads, but we're fairly confident that we'll start heading in that last layout's direction since it feels like it makes the most sense for the way we work. Although "start heading" involves painting a whole lot of blue trim first (sixty six window mullions to be exact). And it takes four coats… so that's a whole lot of painting.
What's on your priority list when it comes to a home office? Do you have a desk tucked into the corner of your den (we totally did that in our first house)? Is there a little work area in your kitchen with a laptop hookup? Or do you have a dedicated home office? Does anyone have work stuff in the bedroom? Growing up Sherry's dad had a computer and all of his paperwork in there, but that doesn't seem to be something most people do anymore.