It just occurred to us that we've introduced a woven item to nearly every room in our home. And we don't play favorites. We love everything from jute rugs…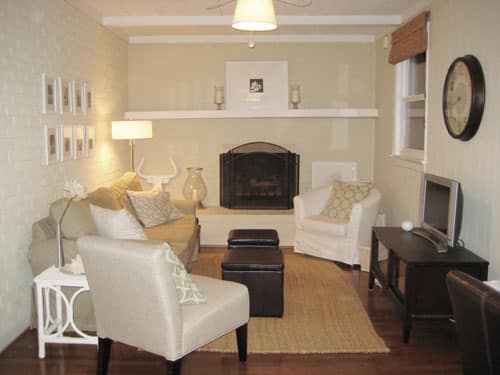 … and seagrass carpets…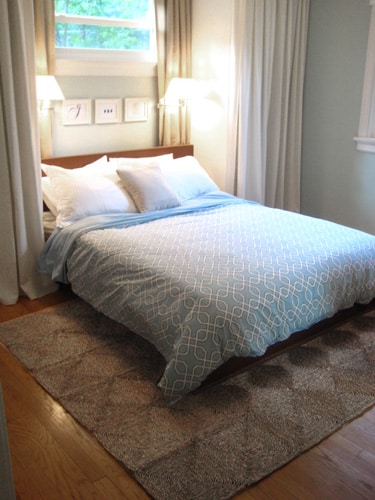 …to textured baskets of all sizes.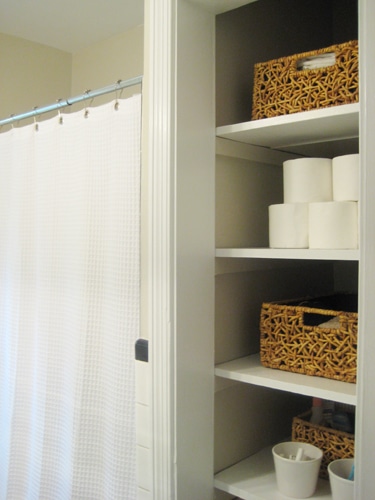 Even the bamboo blinds that appear in more than a few of our rooms have a textured woven feel, whether they're framing a window…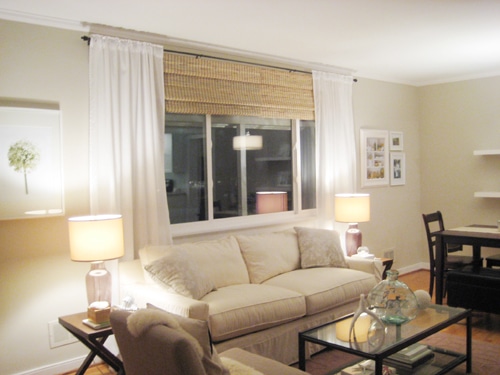 … or hiding the clutter in our laundry nook…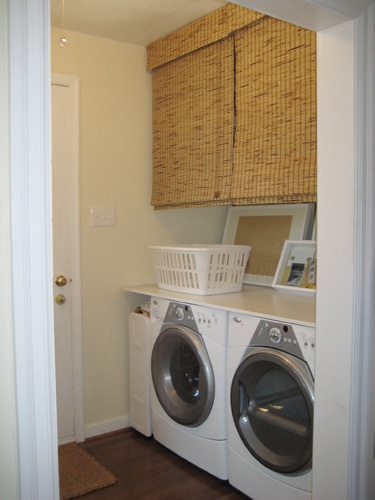 Perhaps the reason we adore all things woven are the soft neutral tones that seem to work in every space. Maybe its the calm, spa feel that they bring- reminding us of an exotic bungalow in Fiji. Perhaps it's the timelessness of the texture that's kinda rustic and kinda worldly but still super current and oh so now (not to mention oh so easy to keep clean). Or maybe it's the added visual interest- the subtle depth and pattern that they add to a space.
Whatever it is, we're hooked, as demonstrated by the ottoman we recently snagged (on sale of course) for our third bedroom: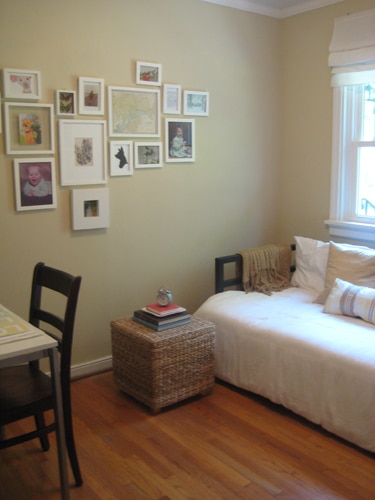 Our fabulous new water hyacinth ottoman (with a removable top for storage) was a steal at just $29 thanks to a big sale at Michael's (it was 40% off). Of course we love the certain "je ne sais quoi" that it adds to our cozy third bedroom. And we love the fact that it's so versatile (it would look just a good in the den or even the sunroom). Gotta love the magic of the weave.
It's also a good time to note that in moving around a few things for our bedroom's recent mini-makeover (stay tuned!!!) we removed the big mirror that used to lean against the wall that you see above, so we decided to rehang our entire photo collage (which used to hang on a less visible wall in the room). We love that our feature wall is now in full view- it seemed kinda silly to have it on such an obscure wall anyway (you had to walk all the way into the room and turn around to see it).
And before you ask, it was totally worth making all those holes again (and puttying and painting all the old ones). The best thing about an asymmetrical display like this is that nothing really has to be lined up at all. In fact, we like this slightly-more-haphazard arrangement better than the more painstakingly planned original version that existed on the opposite wall. Hurrah for our third bedroom's summer sprucing! Now all we need is a rug…
What about you guys? Do you have any items, patterns, colors or themes that reocurr throughout your home? Do tell.